The Pink Party 2013 at Time In Manila + The Rest of the Bar and Club Scene This Week
Your handy guide to the metro's hottest gigs and parties.
<>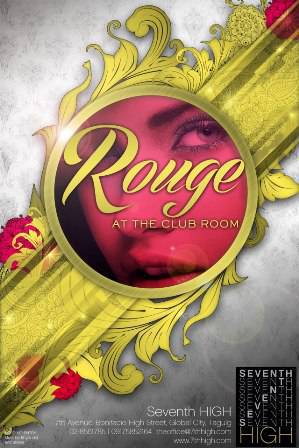 Wednesday, February 20
Bond Urban Pub - Stareoke Wednesdays
Opus - District: Urban Beats in the City
Izakaya - Izakaya Dojo Wednesday
M Café - Manteca! Salsa Night, 10 p.m.
Izumi - Sakephonic Wednesdays, Ladies and Models Night
Dillingers - CTRL ALT Delete Wednesdays 
7th High APEX Lounge - Soulful Wednesdays
7th High Club Room - Rouge
Time in Manila - Fresh Wednesdays featuring DJs Chester and Denzdvine
Reserve Liquor Lounge - Riot Wednesdays
Garage 88 - We Love House Wednesday
19 East - Freestyle
Saguijo - Pinoytuner Live! Lineup TBA
Route 196 - Benefit Gig: RICON LOQUINARIO (acoustic), The ROYAL, JEJAVIEW, SLEEPWALK CIRCUS, LIONS & ACROBATS, RUNAWAY CRIMES
Thursday, February 21
Opus - Groove Thursdays
Rocket Room - Space Camp at Rocket Room featuring Emel Rowe and Liquid A
Bond Urban Pub - Girls Night Out
Izakaya - KISS! KISS! BANG! BANG!
Libations - Lipstick Mafia
Palladium - WILD & SEXY Thursdays
Eden Nightclub - Backbeat Thursdays  
Dilingers - Thirst Days
Izumi - Rockizumi
7th High Club Room - The Boombox
ADVERTISEMENT - CONTINUE READING BELOW
19 East - Juris
Saguijo - Revolver SNC [Straight No Chaser] - Hall & Oates Night! w/ Conscious & The Goodness, Fall & Floats [Jay Durias (South Border)+Inky de Dios (Brigada,Kjwan,etc) +Francis Reyes (Peso Movement/The Dawn)+Paolo Manuel (Salindiwa/The Jerks/etc)+Miguel Dayanghirang (Malay/Reklamo)+JR Oca (Third World Project/JOE)], Jaycie & Honey, The Out of Body Special (OBS)
Route 196 - DRTY THRSDY 5: AUTOTELIC, DUENDE (GAP x NIMBUS9), MAGDALENA, SUNDOWNMUSE, TONIGHT We SLEEP
Time in Manila - Thirstday MOB Thursdays
Friday, February 22

Prive - Incognito
Excess Superclub - 2 Fab, 2 Furious, Excess 2nd Anniversary
Fiamma - Fresh Fridays
Izumi - Fortress Friday feat. DJ Ron
Opus - Uber Disko
Palladium - Fabulush Fridays 
Candyshop - Sucette Fridays
Dillingers - Get Freaky 
7th High Club Room - Nitro hosted by Titanium
Saguijo - Eleyn, Kalayo, Paranoid City. More TBA
19 East - Side A
Rocket Room - In Color featuring DJ Abdel and Supreme Fist
Time in Manila - The Pink Party 2013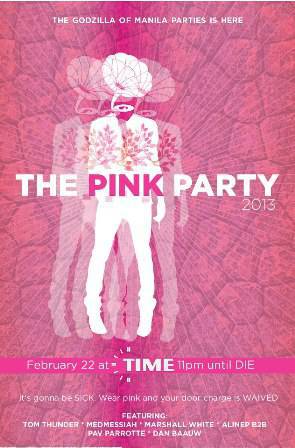 ADVERTISEMENT - CONTINUE READING BELOW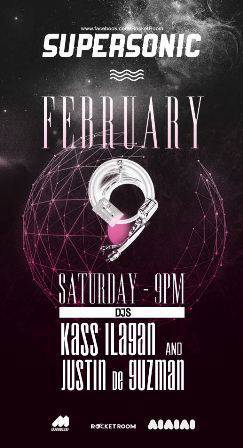 Saturday, February 23

Dillinger's - Saturday Swagger with DJ's Darrel D and Bad Boy Jeff
Eden Nightclub - Saturday Surrender feat Jet Boado
Republiq Club - Pure Saturdays
7th High - Rave hosted by Titanium and DJ Jason Go
Izakaya - Sake To Me Baby Saturdays featuring DJ Steal and Nina. Hosted by JP David
Jill's - Jill's Straight Up Saturdays
Izumi - Suteki Saturday feat. DJ Jacob
Opus - Legendary Saturdays
Excess Superclub -  Saturday Xscape
Saguijo - Revolver Ibarra "Death & Rebirth" Manila Album Tour w/ Boomslang (Baguio), Curbside, The Lowtechs, Peso Movement, Sin, At Times Provoked...( ATP) & 6.7 on the Richter Scale (Baguio)
19 East - Nina & Mic Llave
Rocket Room - Supersonic featuring DJ ANGELO MENDEZ (US/PH) & MISS BADKISS (GER/PH)
Sunday, February 24
Chihuahua Mexican Grill - Hangover Sundays
The Rocket Room - Sun Dazed with DJs Miss Badkiss & Supreme Fist
B-Side - Irie Sunday
M Café - Manteca! Salsa Night, 6 p.m.
ADVERTISEMENT - CONTINUE READING BELOW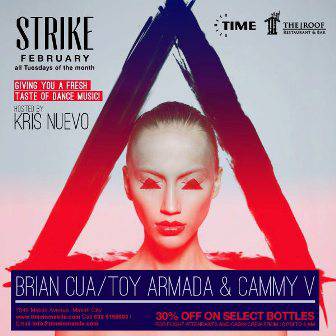 Monday, February 25

Izakaya - Moshi Moshi Mondays
Izumi - Muteki Monday
Opus - Industry Mondays
Dillingers - Misfit Mondays
Time in Manila - MONDAY FEVER! with DJs Marshall White, Matthew Carbonell & Brian Abat plus Maries & Jill on Vocals
Distillery Jupiter - iCoutsic Mondays
Reserve Liquor Lounge - Rockeoke Mondays
Eden Nightclub - Jumpstart Mondays
Jill's - Monday Mic Live
B - Side - KAMIKAZEE X QUESO X GREYHOUNDZ BAR TOUR feat. WOLFGANG & BRIGADA
Tuesday, February 26
7th High Lounge - Timeout Tuesdays
7th High Club Room - Melange feturing French House and Trance
Bond Urban Pub - The Original Models Night
Izakaya - Open Mic Tuesday
Dillingers - Hipstop Tuesdays
Beso - Viva Tuesdays 
Reserve Liquor Lounge - Twisted Tuesdays 
Distillery Jupiter - Ladies' Night
Prive - Weekday Warriors
Time in Manila - Strike Tuesdays
19 East - MYMP
Saguijo - Tubby Trousers w/ Cat Valium, Earthmover, Helen, Sheep Sarah Sleep & Tarsius
Route 196 - SoulChild Productions : JULIANNE plus other bands TBA
ADVERTISEMENT - CONTINUE READING BELOW
Load More Stories