(SPOT.ph) Formal dinners in tuxedoes and flowing gowns, steamy love affairs inside a 1912 Renault, images of flying-these are only some of what we've come to expect aboard luxury liners. But what really happens on a cruise? Can you really find love and romance aboard as so vividly promised by Titanic's Jack and Rose, and even Aga Muhlach and Kristine Hermosa in the local hit, All My Life? Is it really the picture of elegance and adventure as photos and film let on?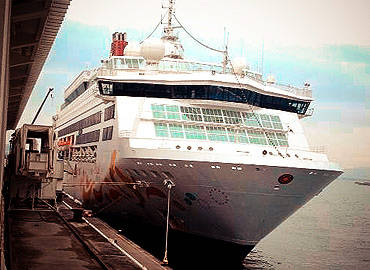 ADVERTISEMENT - CONTINUE READING BELOW
On board, one of the few English language channels replayed Tom Hanks' Castaway for two straight days. Not exactly the most encouraging movie on a cruise.
Seeing as this writer disembarked Star Cruises' Star Pisces with nary a sailor on her arm, we give the first question a big NO. Not in this case, at least. Hong Kong's freezing pre-Spring weather and the presence of around 10 other tourists in the area jabbering in several languages made opportunities for those intensely sensual arms-open, wind-in-hair moments quite slim. The answer to the second question, however, we'll reserve until later in this article.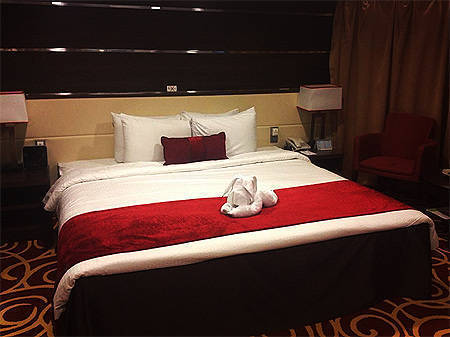 ADVERTISEMENT - CONTINUE READING BELOW
Recommended Videos
The posh Maxims Suite complete with a towel guard dog.
First, an introduction: Star Pisces is one of Star Cruises' five ocean liners that circle around Asia. The Pisces, which is the smallest in the fleet, sails daily; at 6 p.m., the doors close and the ship starts its nightly routine around Hong Kong, only to return mid-morning the next day (time varies depending on day). The cost to ride it for one night is approximately 120 USD per head, inclusive of a twin-sharing Deluxe Stateroom and three buffet tickets. Apart from its obvious tourism benefits, the nightly cruise has also become an alternative for expensive hotels, says Benson Chao, assistant vice president for Corporate Communication and Public Relations for Genting Hong Kong, the company that brings us Resorts World Manila and Star Cruises, among other enterprises.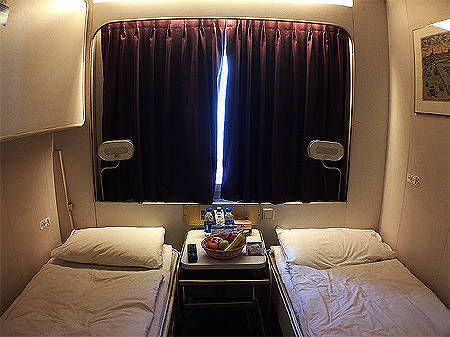 ADVERTISEMENT - CONTINUE READING BELOW
The Deluxe Stateroom which can squeeze in three people. The fruits are free, but the water costs extra.
What you'll save in hotel expenses, you can use for shopping. The proclaimed "floating shopping mall on the sea" features the city-famous Milan Station, a chain of stores that sells previously loved signature bags for a (more) affordable price. Pisces' Milan Station, however, offers items at an even bigger discount, with as much as 40% less than their "on-land" branches. Other shopping establishments include Forum Shop (souvenirs), Canopus (watches and jewelry), and China Duty Free.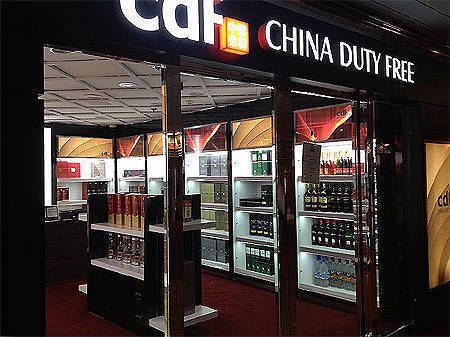 Your one-stop, pasalubong shop.
ADVERTISEMENT - CONTINUE READING BELOW
No matter how many malls sprout up in Manila, Hong Kong, where shopping is a sport on its own, will always be an extension of the the Filipino shopping culture. But not just for signature items. While the promise of reasonably priced Balenciagas is an interesting lure, by the time you disembark, you'll probably be running over to Granville for recessionista threads, clutching, of course, your Balenciaga Motorcycle purse. We've heard of stylistas living off crackers and 30-square-meter apartments to be able to afford designer duds, but you don't have to. At Pisces, you get your fill of luxury bags while living in modest quarters and having three buffet meals a day.

Star Cruises has also pioneered the concept of "freestyle" cruising, which eliminates the need for packing steamer trunks of gowns and corsets for fancy meal times. Here, you can come to dinner in your pajamas and no one would bat an eyelash. Certain social norms, however, dictate that you don't show up in anything less than decent.
ADVERTISEMENT - CONTINUE READING BELOW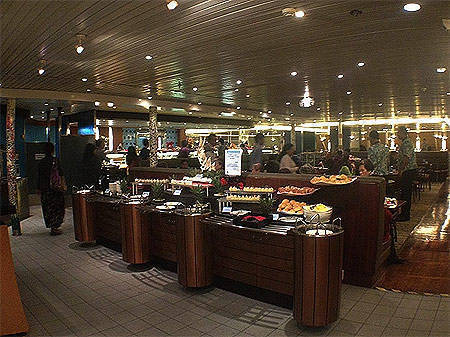 The Mariners buffet through the eyes of a fish.
The ship, however, practices a strict BYOA policy. Bring Your Own Adaptor. Put away those square ones you brought; they're of no use here. Outlets in the boat require a special round-shaped adaptor that costs an extra 20 HKD. Moreover, additional fees apply for WiFi use. If you're looking for rest and relaxation, time away from the hustle bustle of life, then a day on the ship would be perfect.

Apart from the shopping, Pisces also has a beauty salon (Oscar's Unisex Beauty Salon complete with a Filipino parlorista!), a gym and spa, a pool, a karaoke bar, two buffet restaurants (Ocean Palace and Mariners), two bars (Castaway and Sunset Boulevard), and several members-only lounges. Breathtaking cabaret performances in the Galaxy of the Stars will also leave you in awe.
ADVERTISEMENT - CONTINUE READING BELOW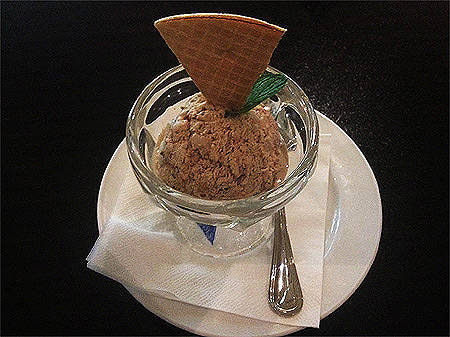 Filipino crew members, especially manager Elmer Mallari, will always be on hand to assist you, whether it's to help jiggle your door open or to translate your requests to the "foreign" receptionists. They also know every "motion sickness" remedy in the book and they have a ready supply of Bonamine tablets, lemon slices, and sour apples. The trick to seasickness, however, is a scoop or two of Movenpick ice cream at the Blue Lagoon. The cool creamy sweet treat that comes in flavors of Maple Walnut, Hazelnut, Chocolate, and more, will transport you to heaven at least in the 10 minutes you take eating it. Unfortunately at 28 HKD per scoop and over 12 hours at sea, it might not be as easy on your (newly purchased Milan Station Prada) wallet as it is on the tummy.
ADVERTISEMENT - CONTINUE READING BELOW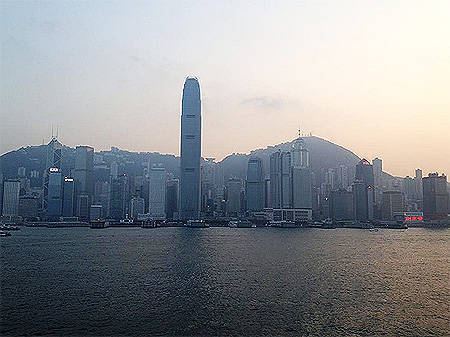 A foggy sunset just minutes before the city lights flicker on.
Watching the Hong Kong skyline via the ship's deck gives one a clearer, more unobliterated frontseat to the world-famous view. While the Avenue of the Stars provides a free opportunity to see the pretty lineup of buildings and lights, aboard the Pisces, there's less of a crowd, less people clamoring for photos of both the view and the statue of Bruce Lee.

So now we go back to our second question. Adventure? Maybe not so much. But if you're not into shopping or buffets, then cruise for the view... or the ice cream.
ADVERTISEMENT - CONTINUE READING BELOW
*Star Pisces will be dry-docked for renovations and refurbishments until March. Until then, the Superstar Aquarius will take over the Hong Kong circuit.
Share this story with your friends!
---
Help us make Spot.ph better!
Take the short survey
Load More Stories