What to Watch This Month: Our 10 Picks
We list the plays, movies, and TV shows worth checking out this March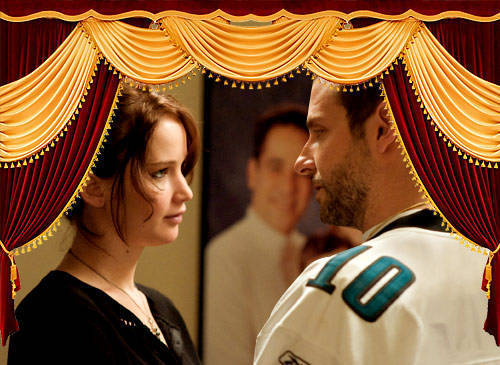 (SPOT.ph) March brings us a some Oscar-worthy movies, along with cooking shows and a biopic that's become more controversial for all the wrong reasons. Here are our picks. They range from certified crowd-pleasers and cerebral delights to those that should come with a "lower your expectations" warning (but worth watching anyway, just for curiosity's sake).
The Silver Linings Playbook

What it's about: A formerly undiagnosed bipolar History teacher named Pat has a meltdown when he comes home one day to find his wife in the shower with another man-who's also a co-worker. After eight months in a mental health facility, Pat is ordered by the court to live with his parents. He tries to be normal again, though he disturbs the peace more than once. He then meets Tiffany, a former sex addict (it's not quite what you think) who's not afraid to tell him the bitter truths about himself.
Who's starring: Jennifer Lawrence, Bradley Cooper, Robert De Niro, Chris Tucker
Why we're excited: We're all for watching JLaw's Best Actress perfomance and Cooper's fascinating transformation from "That guy in The Hangover" to a serious actor who can hold his own with an icon like De Niro.
When it's showing: Ongoing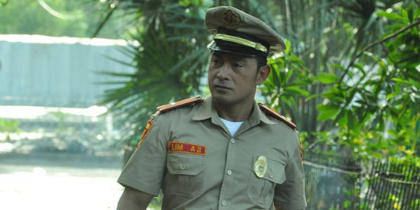 Alfredo S. Lim: The Untold Story

What it's about: It's the biopic of the incumbent Manila mayor, who was a former law enforcer. (Lim is running for reelection. However, this doesn't fall under the Commission on Elections' jurisdiction yet since the campaign period for the local elections starts on March 29.)
ADVERTISEMENT - CONTINUE READING BELOW
Who's starring: Cesar Montano, Alessandra de Rossi, Nonie Buencamino, Tirso Cruz III, Marc Abaya, Spanky Manikan, Gina Pareño, Gloria Romero, Krista Miller
Why we're excited: We're not really that excited. We're just interested to know if this flick was worth all the fuss that is the Miller-Cruz-Montano "love triangle." (Although Miller has claimed that the allegations made by Cruz are not true.)
When it's showing: Ongoing
Stoker

What it's about: It's a creepy coming-of-age story (of sorts) of a teenage girl whose father has just died. As she and her mother deal with their loss, her father's brother, whom she calls "Uncle Charlie," suddenly comes back into their lives. Things just get more unsettling from there.
Who's starring: Matthew Goode, Mia Wasikowska, Nicole Kidman, Dermot Mulroney
Why we're excited: Based on a story written by actor Wentworth Miller, the film is the first U.S. foray of South Korean director Chan-wook Park, who helmed the beyond-disturbing cult favorite, Oldboy.
When it's showing: Starts on March 1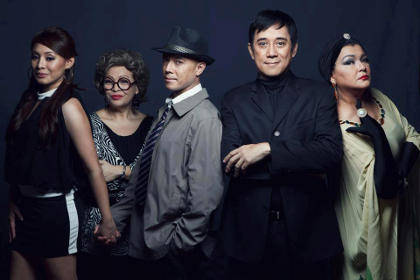 No Way To Treat A Lady

What it's about: Christopher Gill is a serial killer who is fixated on his late mother, who had been an actress. Gill preys on older women who remind him of his mother. He develops an adversarial relationship, via telephone, with Detective Morris Brummel, who's been assigned to nab him.
Who's starring: Audie Gemora (with Jamie Wilson as stand-in for the lead role), Joel Trinidad, Carla Guevara-Laforteza, Sheila Francisco, Pinky Marquez
ADVERTISEMENT - CONTINUE READING BELOW
Why we're excited: The dark subject is interesting, almost like the on-stage version of Alfred Hitchcock's Psycho.
When it's showing: March 2, 8, 9, 15, 16, 22, and 23 at 8 p.m.; and March 2, 3, 9, 10, 16, 17, 23, and 24 at 3:30 p.m. All performances are at Onstage, 2/F, Greenbelt 1, Makati City. Check the Repertory Philippines Facebook page for more details.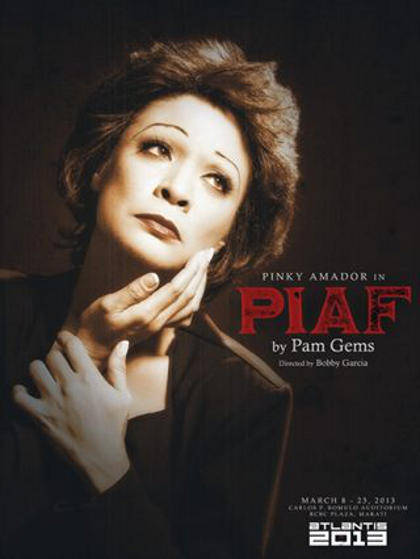 Piaf

What it's about: It's a re-worked version of Pam Greer's 1978 play about French singer Edith Piaf. It incorporates over 25 of Piaf's songs including "La Vie En Rose," "Hymn of Love," and "Non, Je non regrette  rien."
Who's starring: Pinky Amador, Ima Castro, Jamie Wilson, Reuben Uy, Altair Alonso, Hans Eckstein, Mako Alonso, Nel Gomez, and Sandino Martin
Why we're excited: Great actors, great material, and great music...what more can we ask for?
When it's showing: It runs from March 8 to 23 at the Carlos P. Romulo Auditorium, RCBC Plaza, Makati City. For details, call Atlantis Productions at 892-7078 or Ticket World at 891-9999.
Identity Thief

What it's about: A businessman confronts the woman who stole his identity and has been draining his bank account. It's a scary scenario that we're all too aware of, but this flick promises to make fun of it.
Who's starring: Jason Bateman, Melissa McCarthy, Robert Patrick, Amanda Peet
Why we're excited: You had us at Bateman (we've loved him since Arrested Development) and McCarthy (she was a scene-stealer in Bridesmaids).
When it's showing: Starts on March 6
ADVERTISEMENT - CONTINUE READING BELOW
Oz: The Great And Powerful

What it's about: This is presented as the "origin story" of the iconic Wizard of Oz from L. Frank Baum's well-loved book. We meet a small-time magician and the women who would become the witches of Oz.
Who's starring: James Franco, Michelle Williams, Mila Kunis, Rachel Weisz
Why we're excited: An amped-up "prequel" to the surreal world of Oz and the man behind is enough to make us want our own pair of magical red shoes.
When it's showing: March 7
Around The World 80 Days

What it's about: It's a reality competition show that follows 12 chefs competing in a culinary race across 10 countries in 44 days.
Who's starring: Chefs Curtis Stone and Cat Cora are the hosts
Why we're excited: Anything that has to do with food always whets our TV-viewing appetite.
When it's showing: Starts March 13 (10 p.m.) on TLC
Django Unchained

What it's about: Set in the 1800s, it tells the story if a recently freed slave who is out to find his wife, who was sold to another master. He faces added obstacles when he finds out her current owner is a brutal man who is known to literally make his slaves work to death.
Who's starring: Jamie Foxx, Leonardo DiCaprio, Samuel L. Jackson, Christopher Waltz, Kerry Washington
Why we're excited: It's a Quentin Tarantino-helmed film that won Best Original Screenplay for him. Waltz was also named Best Supporting Actor. Plus, nobody does a revenge movie like Mr. Tarantino. And, yes, DiCaprio as a villain is always a must-see.
ADVERTISEMENT - CONTINUE READING BELOW
When it's showing: Starts on March 13
G.I. Joe: Retaliation

What it's about: This time around, the G.I. Joes are not only fighting Cobra. They're also "forced to contend with threats from within the government that jeopardize their very existence."
Who's starring: Channing Tatum, Bruce Willis, Dwayne Johnson, D.J. Cotrona, Byung-hun Lee, Ray Park, Adrianne Palicki, Jonathan Pryce, RZA, Ray Stevenson
Why we're excited: It's the kind of movie that you can watch with anyone. Women can watch this for Tatum and Johnson (yes, he has shrieking female fans, too), while guys can have a blast with the standard action-movie spectacles (explosions, chases, gadgets, and fight scenes).
When it's showing: Sometime in March 2013 (no specific date available)
Load More Stories