Opulence at Opus + The Rest of the Bar and Club Scene This Week
Your handy guide to the metro's hottest gigs and parties.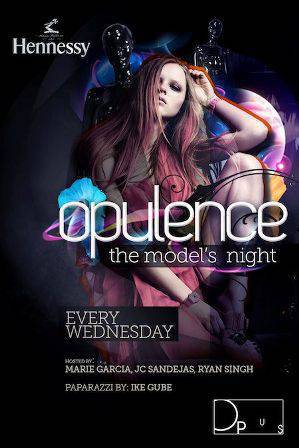 Wednesday, March 13
Bond Urban Pub - Stareoke Wednesdays
Opus - Opulence: Model's Night
Izakaya - Izakaya Dojo Wednesday
M Café - Manteca! Salsa Night, 10 p.m.
Izumi - Sakephonic Wednesdays, Ladies and Models Night
Dillingers - CTRL ALT Delete Wednesdays 
7th High APEX Lounge - Soulful Wednesdays
7th High Club Room - Rouge
Time in Manila - Fresh Wednesdays + Fresh Wednesdays (On The Roof)
Reserve Liquor Lounge - Riot Wednesdays
Garage 88 - We Love House Wednesday
19 East - Freestyle
Saguijo - - Revolver SNC[Straight No Chaser] w/ Kamikazee, Sky Junkie, Truefaith. More TBA
Route 196 - Summit Nights @ Route 196: 7th, PINAS, LANGIT/LUPA, CUT-UP IMAGERY, TURBO GOTH, The LATE ISABEL
70s Bistro - Noel Cabangon
Thursday, March 14
Opus - Groove Thursdays
Rocket Room - Space Camp at Rocket Room featuring Emel Rowe and Liquid A
Bond Urban Pub - Girls Night Out
Izakaya - KISS! KISS! BANG! BANG!
Libations - Lipstick Mafia
Palladium - WILD & SEXY Thursdays
Eden Nightclub - Backbeat Thursdays  
Dilingers - Thirst Days
Izumi - Rockizumi
7th High Club Room - The Boombox
19 East - Juris
Saguijo - Hello Strange "International Women's Month Celebration" w/ Fuseboxx, Moonwlk, Nyko Maca Presents Gafieira, Phonic Dialog. More TBA
Route 196 - Live @ Route 196: SUNDOWN MUSE
Republiq - VIP with Tim Yap
Freedom Bar - Mission To Breathe, Vie, General Luna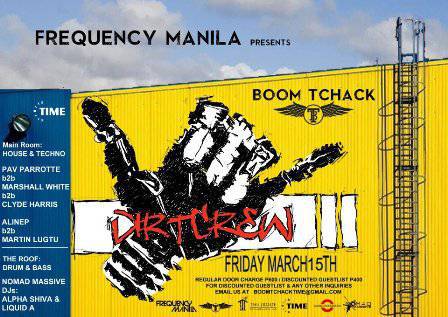 Friday, March 15

Prive - Incognito
Excess Superclub - 2 Fab, 2 Furious, Excess 2nd Anniversary
Fiamma - Fresh Fridays
Izumi - Fortress Friday feat. DJ Ron
Opus - Uber Disko
Palladium - Fabulush Fridays 
Candyshop - Sucette Fridays
Dillingers - Get Freaky 
7th High Club Room - Nitro hosted by Titanium
ADVERTISEMENT - CONTINUE READING BELOW
Saguijo - Kerplunk! Lineup TBA
Route 196 - Terno Night @ Route 196: UP DHARMA DOWN plus other bands TBA
19 East - Side A
Time in Manila - Boom Tchack
B - Side - BoomBoom Bap Fridays presents Vinyl Night
The Bar @ 1951 - Kalayo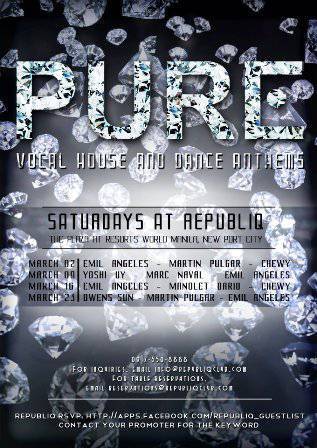 Saturday, March 16

Dillinger's - Saturday Swagger with DJ's Darrel D and Bad Boy Jeff
Eden Nightclub - Saturday Surrender
Republiq Club - Pure Saturdays
7th High - Rave hosted by Titanium and DJ Jason Go
Izakaya - Sake To Me Baby Saturdays featuring DJ Steal and Nina. Hosted by JP David
Jill's - Jill's Straight Up Saturdays
Izumi - Suteki Saturday feat. DJ Jacob
Opus - Legendary Saturdays
Excess Superclub -  Saturday Xscape
Candyshop - Overflow Saturdays
19 East - 70's Super Band
Rocket Room - Supersonic featuring DJ ANGELO MENDEZ (US/PH) & MISS BADKISS (GER/PH)
Time in Manila  - Deep Dark Saturday
Saguijo - Terno Inferno w/ Encounters with a Yeti, Hidden Nikki, Populardays, Pulso, Sleepwalk Circus, The Sleepyheads & Up Dharma Down. More TBA
B - Side - The Re+Grind Manila Launch Project featuring Chicosci, Typecast, The Butchercons, Pitik, Wilderness, Turbo Goth
70s Bistro - Brownman Revival
The Bar @ 1951 - Roots of Nature
Sunday, March 17
Chihuahua Mexican Grill - Hangover Sundays
The Rocket Room - Sun Dazed with DJs Miss Badkiss & Supreme Fist
B-Side - Irie Sunday
M Café - Manteca! Salsa Night, 6 p.m.
19 East - True Faith, 3rd Avenue, Paramita & Sky Junkie
Time in Manila - Brown Sugar (Beach, Soul, Jazz featuring Angelo Mendez, Danger Sanchez, and more)
ADVERTISEMENT - CONTINUE READING BELOW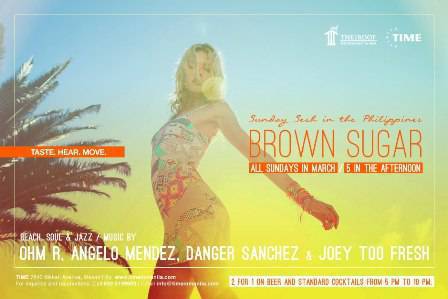 Monday, March 18

Izakaya - Moshi Moshi Mondays
Izumi - Muteki Monday
Opus - Industry Mondays
Dillingers - Misfit Mondays
Time in Manila - MONDAY FEVER! with DJs Marshall White, Matthew Carbonell & Brian Abat plus Maries & Jill on Vocals
Distillery Jupiter - iCoutsic Mondays
Reserve Liquor Lounge - Rockeoke Mondays
Eden Nightclub - Jumpstart Mondays
Jill's - Monday Mic Live
Route 196 - Guilty Acoustic Pleasures: KEVIN ROY, MIKE CANLAS, KESSENTH CHENG
19 East - Urbandub, Kamikazee & Wolfgang
70s Bistro - Silent Sanctuary
Tuesday, March 19
7th High Lounge - Timeout Tuesdays
7th High Club Room - Melange feturing French House and Trance
Bond Urban Pub - The Original Models Night
Izakaya - Open Mic Tuesday
Dillingers - Hipstop Tuesdays
Beso - Viva Tuesdays 
Reserve Liquor Lounge - Twisted Tuesdays 
Distillery Jupiter - Ladies' Night
Prive - Weekday Warriors
Time in Manila - Strike Tuesdays
The Distillery Jupiter - Insane Tuesdays
19 East - MYMP
Route 196 - 2Dididoo Productions: BARBIE ALMALBIS plus other bands TBA
Saguijo - Green Apple "The March Attack!" w/ Bubblegoo, Gaijin, Hilera, Mayonnaise, Read Between the Lions [Eric Po (Your Imaginary Friends)+ Jordy (Valley of Chrome + Jerros Dolino (Child/ren of the Pilgrimage/Urbandub/etc.)], The Strange Creatures & Sud
70s Bistro - Gracenote, Banda ni Kleggy
Load More Stories