No Other BFF: Top 10 Friend-Zoned Pinoy TV and Movie Characters
We list the characters who were always one point short of scoring.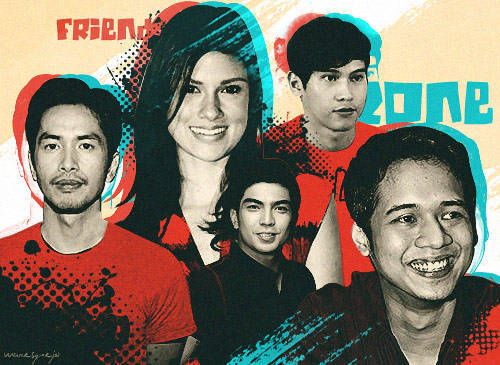 (SPOT.ph) On your own, pretending he or she is beside you? But you know, it's only in your mind? Go give the object of your affection a hug because we're sure you're going to get a friendly pat on the back. All together now: awww. Fear not, the Friendzone is the most populated place in the entire planet right now. We've all been in that fuzzy area of fuzzy feelings, some more than others, and we will continue to have those awkward moments of confessing our deepest feelings to someone, only to receive some banal platitude in response.

To ease the pain of your situation, we made a list of the company you keep in that dark abyss. We've ranked them from those who took the friend zoning well to those who went nuts from it. You are not alone and there is a way out. Follow the light, before you die trying and get a polite kiss on the forehead. Have a minute of silence for Eponine, before you proceed. Amen.
ADVERTISEMENT - CONTINUE READING BELOW
10. Mark in One More Chance (2007)

In the romantic comedy that (this early) has already become iconic in Pinoy pop culture, Mark (Derek Ramsay) could have easily been the rebound boyfriend of Basha (Bea Alonzo) when she broke up with Popoy (John Lloyd Cruz). However, Mark turned out to be a genuine friend. Of course, Popoy didn't know that and judged Mark by his looks. Because, yes, if we were Basha we would have had at least a fling with Mark. Or a one-night stand at the very least. Then again, Mark seems to be one of those rare good-looking guys who don't have enough power to short-circuit your brain. Go figure.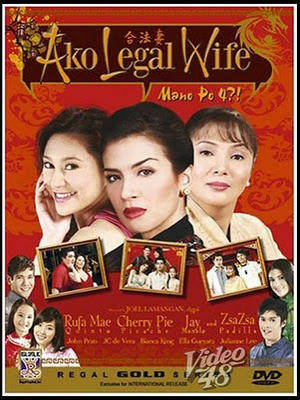 ADVERTISEMENT - CONTINUE READING BELOW
9. Trixia in Ako Legal Wife: Mano Po 4?! (2005)

The character Trixia (Binaca King) is, at first, presented as a potential arranged-marriage bride to Hamilton (John Prats), the first-born son of a Tsinoy family. Trixia thinks Hamilton is cute so she isn't exactly fighting the arrangement. However, Hamilton immediately tells her that he is gay. Trixia doesn't let the revelation faze her. She and Hamilton simply become best friends. Hamilton then plays matchmaker and introduces Trixia to his hetero half-brother, Nixon (J.C. de Vera).  We say this friend-zoned resolution is sweeter than tikoy.
8. Rolly in Videoke King (2002)

In the movie, Rolly (Gabe Mercado) plays the funny and faithful sidekick of King (Robin Padilla). They're co-workers and perpetual companions. Lally, (Pops Fernandez) the film's lead female character, is obviously meant to end up with King. But Rolly, of course, is optimistic about his chances. As such he constantly and half-jokingly drops hints to Lally about liking her and taking her out for a date. She doesn't even take him seriously. She brushes him off and continues to treat him like a BFF. Rolly gets taken aback by Lally's friendly rejection but he's not really devastated by it. He's the least troublesome friend-zoned guy, as his recovery time seems to be under five minutes. He won't be singing "I Can't Make You Love Me" anytime soon.
ADVERTISEMENT - CONTINUE READING BELOW
7. Bernard in I Do (2010)

The movie is the story of Mayumi (Erich Gonzales) and Lance (Enchong Dee), but Bernard (Janus del Prado) makes no secret of the fact that he's willing to be Mayumi's guy-in-reserve in case Lance doesn't follow through. And, heck, Lance breaks Mayumi's heart over and over again-from getting her pregnant to canceling their wedding too many times to mention. Bernard, with his unconditional love for Mayumi, always helps her pick up the pieces. Still, Mayumi tells Bernard that her heart really belongs to Lance. Bernard accepts this but doesn't stop coming to Mayumi's aid anyway. Now, that's true friend-zoned love.
6. Lovely in Kailangan Ko'y Ikaw (2000)

The rom-com tells the tale of average guy Gimo (Robin Padilla) and singing superstar Francine (Regine Velasquez). Lovely (Rufa Mae Quinto) is secretly in love with Gimo and, in true Pinay passive-agressive fashion, jokes about it constantly. Gimo is oblivious to her loaded wisecracks and pa-simple moves. Fortunately, there's more to Lovely than meets the eye. When she sees that Gimo has fallen hard for Francine, she makes it her de facto mission to ensure that the two stick together against all odds. At one point, Lovely even invites Francine to a drinking session and gives her advice on how to be patient with Gimo. It's refreshing to encounter two female characters who are in love with the same man being so friendly.
ADVERTISEMENT - CONTINUE READING BELOW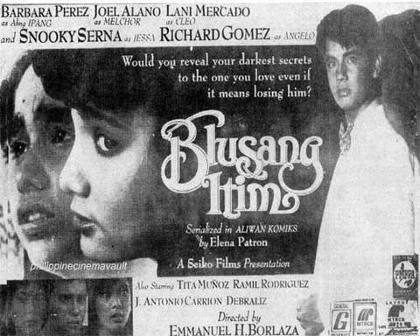 5. Melchor in Blusang Itim (1986)

In the story of Jessa (Snooky Serna), the ugly woman who becomes beautiful when she puts on an enchanted black blouse, there are two important male characters. There's Angelo (Richard Gomez), the handsome jerk whom Jessa loves despite the fact that he only loves her when she has the blouse on. Then, there's Melchor, who loves Jessa even when she's showing her real face. Despite Melchor's efforts to show Jessa that he loves her no matter what, she tells him she loves shallow Angelo. Melchor grudgingly accepts the friend-zoning, but we dare say he shows a hint of the "Buti nga sa 'yo!" look when Jessa gets rejected by Melchor in the middle of the film. All the same, Melchor comes running to help Jessa.
ADVERTISEMENT - CONTINUE READING BELOW
Recommended Videos
Load More Stories