VIP with Tim Yap at Cabana Club + The Rest of the Bar and Club Scene This Week
Your handy guide to the metro's hottest gigs and parties.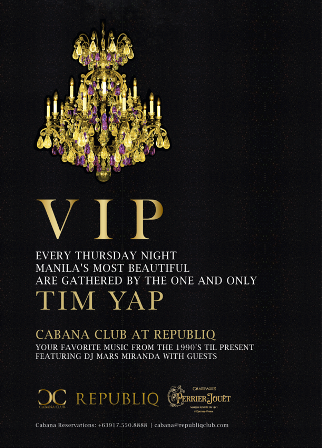 Wednesday, March 20
Bond Urban Pub - Stareoke Wednesdays
Opus - Opulence: Model's Night
Izakaya - Izakaya Dojo Wednesday
M Café - Manteca! Salsa Night, 10 p.m.
Izumi - Sakephonic Wednesdays, Ladies and Models Night
Dillingers - CTRL ALT Delete Wednesdays 
7th High APEX Lounge - Soulful Night: Music and Magic with Chris Cayzer and Erik Mana
7th High Club Room - Rouge
Time in Manila - Fresh Wednesdays + Fresh Wednesdays (On The Roof)
Reserve Liquor Lounge - Riot Wednesdays
Garage 88 - We Love House Wednesday
Palladium - Wave's Urban Music Awards
19 East - Freestyle
Saguijo - Pinoytuner Live! Mr. Bones & The Boneyard Circus The JD Set Victory Party! w/ Blue Boy Bites Back, Thy Holy Water. More TBA
Route 196 - Tatse Ni Grace: PINOY STORIES, YOSHA, ABSOLUTE ZERO, GENERAL LUNA, FLYING IPIS
70s Bistro - Join The Club, Kjwan, Sponge Cola
Freedom Bar - Acoustic Night featuring Johnoy and Ronnie
B - Side - CHRONIC WHEEZE 33 feat: FRANCO, WILABALIW, THE CHONGKEYS, BAD WEATHER, APRIL MORNING SKIES, ARCADIA, COG and EMBERCORE
Thursday, March 21
Opus - Groove Thursdays
Rocket Room - Space Camp at Rocket Room featuring Emel Rowe and Liquid A
Bond Urban Pub - Girls Night Out
Izakaya - KISS! KISS! BANG! BANG!
Libations - Lipstick Mafia
Palladium - WILD & SEXY Thursdays
Eden Nightclub - Backbeat Thursdays  
Dilingers - Thirst Days
Izumi - Rockizumi
7th High Club Room - The Boombox
7th High Apex Lounge - K24/7
19 East - Juris
Saguijo - Indiemand - December Pilipinas EP Launch w/ Mr. Bones & The Boneyard Circus, Electric Circus, Even, Maryzark, Talata & Vie
ADVERTISEMENT - CONTINUE READING BELOW
Route 196 - SA WAKAS: A New Pinoy Rock Musical (press conference) with an all-Sugarfree set from EBE DANCEL + cast members
Republiq - VIP with Tim Yap
Freedom Bar - BLIND RHYME PRODUCTIONS "Gods of War" Rap Contest and Classic Freestyle Battle
Black Kings Bar - ODATNARAT ,SEREFAMUS , PENTAVIA ,4TH DRAZTIK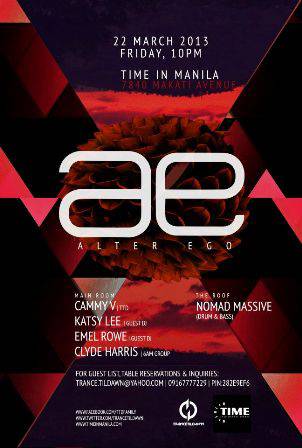 Friday, March 22

Prive - Incognito
Fiamma - Fresh Fridays
Izumi - Fortress Friday feat. DJ Ron
Opus - Uber Disko
Palladium - Fabulush Fridays 
Candyshop - Sucette Fridays
Dillingers - Get Freaky
Saguijo - Brgy. Tibay 7th Anniversary w/ Cosmic Love, Curbside, Love Me Butch (Malaysia), Motherbass, Salamin, Slapshock & Stick Figgas
Route 196 - Solid! x JV Productions @ Route 196: PASCALENE, NANAY MO, ANGSTY PROFESSOR, IMELDA, and RENDRA ZAWAWI
19 East - Side A
B - Side - BoomBoom Bap Fridays presents Vinyl Night
Freedom Bar - ELEYN , VIE , LETTER DAY STORY , WILABALIW
70s Bistro - Brownman Revival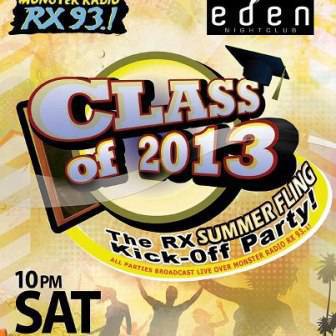 Saturday, March 23

Dillinger's - Saturday Swagger with DJ's Darrel D and Bad Boy Jeff
Eden Nightclub - CLASS OF 2013: THE RX SUMMER FLING KICK-OFF PARTY
Republiq Club - Pure Saturdays
7th High - Rave hosted by Titanium and DJ Jason Go
Izakaya - Sake To Me Baby Saturdays featuring DJ Steal and Nina. Hosted by JP David
Jill's - Jill's Straight Up Saturdays
Izumi - Suteki Saturday feat. DJ Jacob
Opus - Legendary Saturdays
Excess Superclub -  Saturday Xscape
Candyshop - Overflow Saturdays
19 East - GAIJIN , OKTAVES , DONG ABAY , RIVERMAYA
Rocket Room - Supersonic featuring DJ ANGELO MENDEZ (US/PH) & MISS BADKISS (GER/PH)
Time in Manila  - Deep Dark Saturday
ADVERTISEMENT - CONTINUE READING BELOW
Saguijo - Moonfire Productions x Earthmover Music Video Launch w/ Autotelic, Hidden Nikki Nights of Rizal & Wilderness
70s Bistro - Session Road
Sunday, March 24
Chihuahua Mexican Grill - Hangover Sundays
The Rocket Room - Sun Dazed with DJs Miss Badkiss & Supreme Fist
B-Side - Irie Sunday
M Café - Manteca! Salsa Night, 6 p.m.
19 East - True Faith, 3rd Avenue, Paramita & Sky Junkie
Time in Manila - Brown Sugar (Beach, Soul, Jazz featuring Angelo Mendez, Danger Sanchez, and more)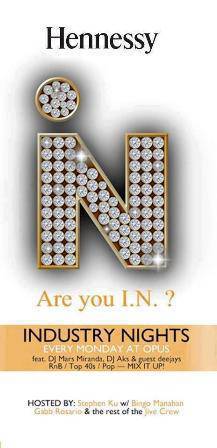 Monday, March 25

Izakaya - Moshi Moshi Mondays
Izumi - Muteki Monday
Opus - Industry Mondays
Dillingers - Misfit Mondays
Time in Manila - MONDAY FEVER! with DJs Marshall White, Matthew Carbonell & Brian Abat plus Maries & Jill on Vocals
Distillery Jupiter - iCoutsic Mondays
Reserve Liquor Lounge - Rockeoke Mondays
Eden Nightclub - Jumpstart Mondays
Jill's - Monday Mic Live
Route 196 - SANDWICH, CHICOSCI, TYPECAST, SAVE ME HOLLYWOOD. LOVE ME BUTCH
70s Bistro - Kamikazee
Tuesday, March 26
7th High Lounge - Timeout Tuesdays
7th High Club Room - Melange feturing French House and Trance
Bond Urban Pub - The Original Models Night
Izakaya - Open Mic Tuesday
Dillingers - Hipstop Tuesdays
Beso - Viva Tuesdays 
Reserve Liquor Lounge - Twisted Tuesdays 
Distillery Jupiter - Ladies' Night
Prive - Weekday Warriors
Time in Manila - Strike Tuesdays
The Distillery Jupiter - Insane Tuesdays
19 East - MYMP
Saguijo - Tubby Trousers "Sonic Youth Night" w/ Glen Coco [Katwo Puertollano (Duster/Narda)+Conrad Garcia [The Butchercons/Child/ren of the Pilgrimage,etc)/ Ymi Sy (Flying Ipis/The Naked Lights)+Cholo Hermosa (Yolanda Moon/Ernville)], Identikit, Mount Analogue, Peso Movement, Tether & Turbo Goth
ADVERTISEMENT - CONTINUE READING BELOW
70s Bistro - Sandwich
Load More Stories