Babe Watch at Prive + The Rest of the Bar and Club Scene This Week
Your handy guide to the metro's hottest gigs and parties.
<>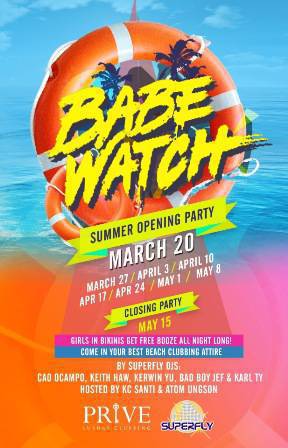 Wednesday, March 27
Bond Urban Pub - Stareoke Wednesdays
Opus - Opulence: Model's Night
Izakaya - Izakaya Dojo Wednesday
M Café - Manteca! Salsa Night, 10 p.m.
Izumi - Sakephonic Wednesdays, Ladies and Models Night
Dillingers - CTRL ALT Delete Wednesdays
7th High Club Room - Rouge
Time in Manila - Fresh Wednesdays + Fresh Wednesdays (On The Roof)
Reserve Liquor Lounge - Riot Wednesdays
Garage 88 - We Love House Wednesday
Prive - Babe Watch: Summer Opening Party
19 East - Freestyle
Saguijo - The Pocket Universe Art Collective w/ Love Me Butch (Malaysia), Sandwich, Turbo Goth. More TBA
Route 196 - Brown Bottle Prod: DIAGABOMBA, MISTRESS, EVIL TWIN WINS, MAKINA, Peryodiko
70s Bistro - REGGAE MISTRESS + COFFEEBREAK ISLAND
Saturday, March 30
B - Side - ICHIBAN FESTIVAL 3 (FULL LINE UP) DJ BAKU (Tru Thoughts/ POPGROUP/ Dis-Defense Disc, DJ TOYO (Star Festival/ Black Beatz Box, JPN), ROB SMITH aka RSD (Smith & Mighty, UK), PASTA GROOVE • DON P • RED-I • CALIPH8 • SOULFLOWER, LIVE BANDS: • FLIPPIN SOUL STOMPERS • TARSIUS • RADIO ACTIVE SAGO • HIGH FI SOUND PROJECT • PROVIBERZ, MC/ BEATBOX: • NOTHINGELSE • PICOY • RASTAR DEE (REBORN), LIVE PAINTING: • DEE JAE PAESTE • SIGMUND TORRE • TAKAKO SONO • CHICHI MONSTER • SIR GHETTO NAKAYAMA
ADVERTISEMENT - CONTINUE READING BELOW
Time in Manila - Black Saturday Special Deep Dark Party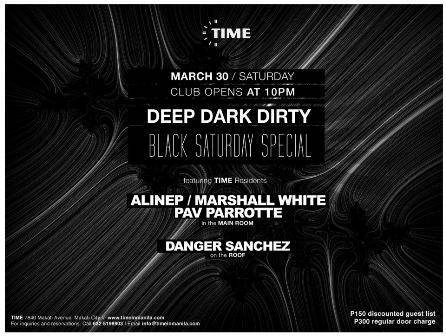 Sunday, March 31
Chihuahua Mexican Grill - Hangover Sundays
The Rocket Room - Sun Dazed with DJs Miss Badkiss & Supreme Fist
B-Side - Irie Sunday
M Café - Manteca! Salsa Night, 6 p.m.
Time in Manila - Brown Sugar (Beach, Soul, Jazz featuring Angelo Mendez, Danger Sanchez, and more)
Monday, April 1

Izakaya - Moshi Moshi Mondays
Izumi - Muteki Monday
Opus - Industry Mondays
Dillingers - Misfit Mondays
Time in Manila - MONDAY FEVER! with DJs Marshall White, Matthew Carbonell & Brian Abat plus Maries & Jill on Vocals
Distillery Jupiter - iCoutsic Mondays
Reserve Liquor Lounge - Rockeoke Mondays
Eden Nightclub - Jumpstart Mondays
Jill's - Monday Mic Live
Tuesday, April 2
7th High Lounge - Timeout Tuesdays
7th High Club Room - Melange feturing French House and Trance
Bond Urban Pub - The Original Models Night
Izakaya - Open Mic Tuesday
Dillingers - Hipstop Tuesdays
Beso - Viva Tuesdays 
Reserve Liquor Lounge - Twisted Tuesdays 
Distillery Jupiter - Ladies' Night
Prive - Weekday Warriors
ADVERTISEMENT - CONTINUE READING BELOW
Time in Manila - Strike Tuesdays
The Distillery Jupiter - Insane Tuesdays
19 East - MYMP
Saguijo - Forte! w/ DAY 27, ESCOBAR, FAEL'S BAND, HUMDINGER, THE OEMONS, ORDER 66 & PRESBEATZ MUTHA. 9PM
Load More Stories