Holy Rollers: The Basics of Bisikleta Iglesia
Two wheels will do great for Bisita Iglesia
(SPOT.ph) Truth be told, Bisikleta Iglesia isn't that much different from your typical Bisita Iglesia, except that instead of taking a car, you're taking your, well, bike. The Holy Week holidays usually mean there are fewer cars on the road. Do something different and stick to two wheels. Mother Earth will thank you.
While traditionally a religious practice, the Bisikleta Iglesia can be a cultural experience. The churches in Manila have a lot of history and culture behind each one (tip: check out the San Beda Chapel for their breathtaking murals), or simply appreciating the different decorations of the adoration chapels (head to Holy Family Parish in Kapitolyo, Pasig and Nuestra Senora de Gracia in Guadalupe for bongga decorations during this time of the year).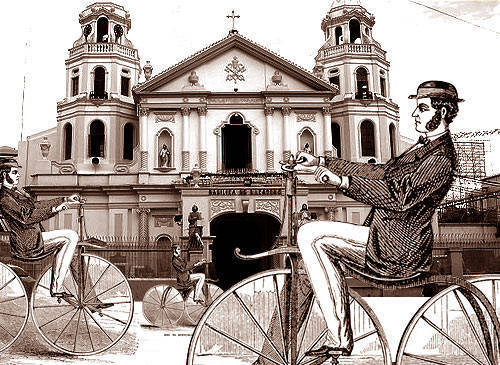 Remember to plan your route ahead of time. We give some suggestions below, but of course, you should modify your itinerary depending on where you're coming from.
ADVERTISEMENT - CONTINUE READING BELOW

Route 1: Manila has quite a lot of churches packed in one compact space, so you don't really need to bike very far to do your church-hopping. Start in one of the most historic edifices in Manila, 1) San Agustin Church in Intramuros, then move to 2) Manila Cathedral. Bike out of the walled city and head on over to the 3) Minor Basilica of San Lorenzo Ruiz and then 4) Sta. Cruz Church, both in Binondo. Finish off with the 5) Abbey of our Lady of Monserrat in San Beda, 6) Santisimo Rosario Parish (UST Church), and the 7) Minor Basilica of the Black Nazarene (Quiapo Church).
CONTINUE READING BELOW
Recommended Videos
Route 2: You can also take this Mandaluyong-Quezon City-Pasig route. Start in the 1) Archbishop's Palace Chapel in Shaw Boulevard. Move on to 2) Holy Family Parish in Kapitolyo, and the 3) Sancta Maria Stella Orientis Oratory in the University of Asia & The Pacific. Head to the corner of Shaw Boulevard and EDSA for 4) St. Francis of Assisi Parish, then cross Ortigas to 5) EDSA Shrine. Take Ortigas Avenue down to the 6)  Christ the King Church in Greenmeadows, and finish up in 7) Saint Pio of Pietrelcina in Libis.
Check if your bike is ride-ready. Pumped tires? Check. Oiled chain? Check. Working brakes? Check. All loose parts tightened? Check. Generally, this is the most basic check-up that you can do, but bring a small tool kit with you in case of on-the-road emergencies. A big bonus is bringing a friend who has some bike repair knowledge. The worst that can possibly happen is getting a flat tire when you left your tire patch kit at home-finding a vulcanizing shop that's open on Holy Week might be impossible!
ADVERTISEMENT - CONTINUE READING BELOW
Regular Bisita Iglesia practitioners usually start immediately after the 6 p.m. Mass, when the churches open their adoration chapels for the visits. Make sure you are visible and safe. Wear your helmet! Put blinkers on the rear (red) and the front (white) of your bike. Any reflective gear (vest, stickers, bracelets, etc) is optional.
On the road, be respectful and courteous to other road users. Since you'll be sharing the road with pedestrians (especially those coming from Quiapo Church making their way to Antipolo) and other vehicles, don't use the entire road. When motorists give you right of way, acknowledge them with a simple wave or smile.
Bisikleta Iglesia is not a race, so if you have alternative rides, stash those fancy racing bikes. Hide the lycra, spandex and other race gear. Instead, wear comfortable and church-appropriate clothing. Go at a pace that's comfortable for you and the group. Take rest stops. Hydrate often.
A great bike-rider perk is freedom from parking problems. You get to avoid the parking jam, especially when visiting a fairly popular Bisita Iglesia destination like the EDSA Shrine. When parking your bike, tie it to a sturdy structure with a secure bike lock.
Before entering the church, wipe yourself down with wet wipes or a towel. Don't be rowdy; respect the religious practices of others. And once inside, say a word or two of thanks for safety. Once you've finished your trip, head to the nearest 24-hour food spot and refresh yourselves with a hearty meal before Friday fasting.
ADVERTISEMENT - CONTINUE READING BELOW
Tool kit checklist: patch kit, allen keys, tire levers, spare inner tube, bike pump
Gear checklist: blinkers, reflective gear, helmet, bike lock, water bottle, snacks, money, identification, tool kit, towel/wet wipes, cell phone, camera
Share this story with your friends!
---
Help us make Spot.ph better!
Take the short survey
Load More Stories