Best Night Ever at Republiq + The Rest of the Bar and Club Scene This Week
Your handy guide to the metro's hottest gigs and parties.
<>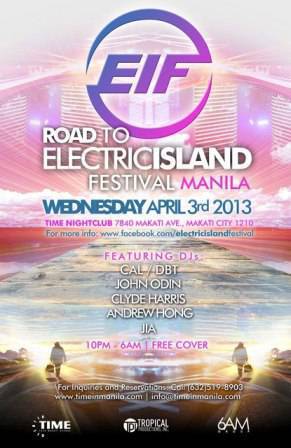 Wednesday, April 3
Bond Urban Pub - Stareoke Wednesdays
Opus - Opulence: Model's Night
Izakaya - Izakaya Dojo Wednesday
M Café - Manteca! Salsa Night, 10 p.m.
Izumi - Sakephonic Wednesdays, Ladies and Models Night
Dillingers - CTRL ALT Delete Wednesdays 
7th High APEX Lounge - Soulful Night
7th High Club Room - Rouge
Time in Manila - Electric Island Festival
Reserve Liquor Lounge - Riot Wednesdays
Garage 88 - We Love House Wednesday
19 East - Freestyle
Saguijo - Hello Strange w/ Earthmover, Farewell Fair Weather, Peso Movement, The Pin-Ups, Tarsius, Your Imaginary Friends. More TBA
Route 196 - GlamRock Stripped! with Ene + Reg + Andy (The Ronnies), K.A. (Ajka), McQueen (Balag), Mike + Kess (Bouncing Bebe Boys), Ria + Marco (Paramita), and Joobalt, The Busking Rock and Roll Man
Thursday, April 4
Opus - Groove Thursdays
Rocket Room - Space Camp at Rocket Room featuring Emel Rowe and Liquid A
Bond Urban Pub - Girls Night Out
Izakaya - KISS! KISS! BANG! BANG!
Libations - Lipstick Mafia
Palladium - WILD & SEXY Thursdays
Eden Nightclub - Backbeat Thursdays  
Dilingers - Thirst Days
Izumi - Rockizumi
ADVERTISEMENT - CONTINUE READING BELOW
7th High Club Room - The Boombox
7th High Apex Lounge - K24/7
19 East - Crib
Saguijo - Dogtown Music x Lady Ransom Track Giveaway Party w/ Andreia, Jensen Gomez, Lions and Acrobats, Mad Hatter Day & Runway Crimes
Route 196 - AMT, Ephesus, Halibas, Castigo, Slow Hello, Diachroma
Republiq - VIP with Tim Yap

Friday, April 5

Prive - Incognito
Fiamma - Fresh Fridays
Izumi - Diskoteka Fridays
Opus - Uber Disko
Palladium - Fabulush Fridays 
Candyshop - Sucette Fridays
Dillingers - Get Freaky
Republiq - Best Night Ever
7th High Apex Lounge - Manila Blues Experience
Saguijo - Revolver w/ Catriona Gray, Chocolate Grass, Flying Ipis, Library Kids, Taken by Cars, Your Imaginary Friends. More TBA
Route 196 - Spur of the Moment Prod: Musical O, Twin Lobster, Soju, tide/edit, Outerhope
19 East - Side A
B - Side - BoomBoom Bap Fridays
Time in Manila - Trance (On The Roof)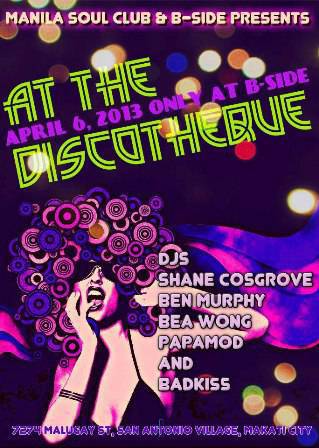 ADVERTISEMENT - CONTINUE READING BELOW
Saturday, April 6

Dillinger's - Saturday Swagger with DJ's Darrel D and Bad Boy Jeff
Eden Nightclub - CLASS OF 2013: THE RX SUMMER FLING KICK-OFF PARTY
Republiq Club - Pure Saturdays
7th High - Rave hosted by Titanium and DJ Jason Go
Izakaya - Sake To Me Baby Saturdays featuring DJ Steal and Nina. Hosted by JP David
Jill's - Jill's Straight Up Saturdays
Izumi - Suteki Saturday: Top 40, Mashup, House, Hiphop
Opus - Legendary Saturdays
Excess Superclub -  Saturday Xscape
Candyshop - Overflow Saturdays
19 East - Up Dharma Down
Rocket Room - Supersonic featuring DJ ANGELO MENDEZ (US/PH) & MISS BADKISS (GER/PH)
Time in Manila  - Boom Tchack presents: Kink (Live)
Saguijo - Rocky Mars Productions w/ Actually Not Here, Agsunta, First Band, H3O, Not Informed & Skylight Signal
Route 196 - Mismo Prod's Paramore Night IV: Ferown, Southern Lights, Stratosdays, Undecided
Sunday, April 7
Chihuahua Mexican Grill - Hangover Sundays
The Rocket Room - Sun Dazed with DJs Miss Badkiss & Supreme Fist
B-Side - Irie Sunday: Dub Explosion
M Café - Manteca! Salsa Night, 6 p.m.
Time in Manila - Brown Sugar (Beach, Soul, Jazz featuring Angelo Mendez, Danger Sanchez, and more)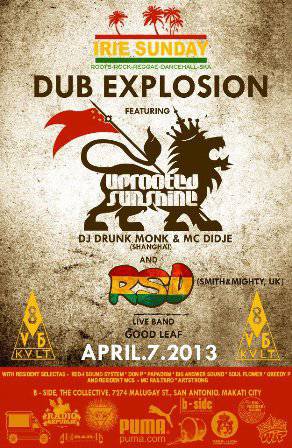 ADVERTISEMENT - CONTINUE READING BELOW
Monday, April 8

Izakaya - Moshi Moshi Mondays
Izumi - Muteki Monday
Opus - Industry Mondays
Dillingers - Misfit Mondays
Time in Manila - MONDAY FEVER! with DJs Marshall White, Matthew Carbonell & Brian Abat plus Maries & Jill on Vocals
Distillery Jupiter - iCoutsic Mondays
Reserve Liquor Lounge - Rockeoke Mondays
Eden Nightclub - Jumpstart Mondays
Jill's - Monday Mic Live
Tuesday, April 9
7th High Lounge - Timeout Tuesdays
7th High Club Room - Melange feturing French House and Trance
Bond Urban Pub - The Original Models Night
Izakaya - Open Mic Tuesday
Dillingers - Hipstop Tuesdays
Beso - Viva Tuesdays 
Reserve Liquor Lounge - Twisted Tuesdays 
Distillery Jupiter - Ladies' Night
Prive - Weekday Warriors
Time in Manila - Strike Tuesdays
The Distillery Jupiter - Insane Tuesdays
19 East - MYMP
Saguijo - Heart of Music 90s Night. Lineup TBA
Load More Stories