10 Fresh Tunes to Listen to This April
Take a listen to Vampire Weekend, The Strokes, Wavves, Sandwich, and more!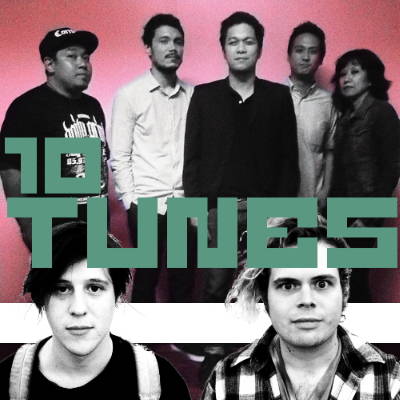 (SPOT.ph) Welcome summer with a fresh list of tunes. Hear our recommendations including Vampire Weekend's latest single, The Strokes' follow-up to "One Way Trigger," Wavves' surf-rock/punk-pop release, the sexy collab between Robin Thicke, T.I., and Pharrell, and Paramore's cheesy comeback track. Plus, we feature local tracks by Sandwich, Cut-up Imagery, Ebe Dancel with the cast of Sa Wakas, Rico Blanco, and The Ringmaster.
Song: "Step"
Artist: Vampire Weekend
Fans are getting more and more excited for Vampire Weekend's third studio album, Modern Vampires of the City, thanks to the recent release of singles "Diane Young" and "Step." The latter is a delicate and dreamy indie pop track with lyrics that get stuck with you: "The gloves are off/ The wisdom teeth are out/ What you on about/ I feel it in my bones/ I feel it in my bones."
Fun fact: The New York indie rockers' third studio album is expected to drop on May 7.
ADVERTISEMENT - CONTINUE READING BELOW
Song: "Back for More"
Artist: Sandwich
This might just be your summer anthem. Pinoy rock band Sandwich is out with their newest album Fat, Salt & Flame, and "Back for More" is their very fitting first single. The screeching, pulsating track is youthful and just plain fun.
Fun fact: RA Rivera directed the black-and-white music video for "Back for More."
Song: "All the Time"
Artist: The Strokes
From the Strokes' latest album comes "All the Time," a 100% Strokes tune that takes you back to their good old lo-fi, garage music. The track is a pleasing follow-up to the band's first single off Comedown Machine, "One Way Trigger."
Fun fact: Comedown Machine, which was released March, is the American rock band's fifth studio album.
Song: "Best Foot Forward"
Artist: Cut-up Imagery
Cut-up Imagery's debut digital single is a charming mix of indie pop, electronic, and lo-fi elements that will make you want to either chill or dance-or both. "Best Foot Forward" can be your beach soundtrack or road trip buddy this summer.
Fun fact: Among the band's influences include Air France, The Radio Dept., New Order, Saint Etienne, Prefab Sprout, Strawberry Switchblade, and Pet Shop Boys.
ADVERTISEMENT - CONTINUE READING BELOW
Song: "Afraid of Heights"
Artist: Wavves    
The title track off Wavves' latest album is a contemplative composition filled with lyrics that are (not surprisingly) lonely, angsty, and reminiscent of the late Kurt Cobain: "I'll always be on my own/ Fucked and alone."
Fun fact: The surf-rock/pop-punk trio from California is composed of Nathan Williams, Stephen Pope, and Jacob Cooper.
Song: "Bawat Daan"
Artist: Ebe Dancel featuring the cast  of Sa Wakas, A New Pinoy Rock Musical
Ebe Dancel is joined by the cast of Sa Wakas, A New Pinoy Rock Musical in "Bawat Daan." Dancel's original composition for the theater production, which features songs from Sugarfree, is a touching ballad with emotionally charged lyrics about finding love.
Fun fact: Sa Wakas, A New Pinoy Rock Musical runs at the PETA Theater Center from April 13 to 28.
Song: "Blurred Lines"
Artist: Robin Thicke feat. T.I. and Pharrell
The latest single from Robin Thicke and rappers Pharrell and T.I. is worth a listen not just for all the controversy its uncensored music video has stirred. It's catchy and sexy with the occasional falsetto and much needed rap break.
Fun fact: Billboard.com reports that the unrated music video for the single, which "features nude models prowling around Thicke and rappers T.I. and Pharrell," was banned from YouTube.
ADVERTISEMENT - CONTINUE READING BELOW
Song: "Ang Tangi Kong Pangarap"
Artist: Rico Blanco
Rico Blanco has just released the lyric video for "Ang Tangi Kong Pangrap," a single that will remind you of old love songs. This is a break from his previous electro-futuristic releases that show his new brand of music.
Fun fact: Blanco has also appeared in film and television as actor and host.
Song: "Still Into You"
Artist: Paramore
The punk rock act from Tennessee is coming out with their self-titled fourth album in a few days, and here's their latest release. "Still Into You" is lyrically cheesy yet faithful to the Paramore brand of punk rock. The contrast is interesting enough to merit repeated plays.
Fun fact: Paramore's newest album is set to come out on April 9.
Song: "The Reference"     
Artist: The Ringmaster
The Ringmaster, also known as Francis Lorenzo of Sleepwalk Circus, is out with "The Reference," an intimate, delicate, and somber track intricately pieced together by piano, guitar, atmospheric, and electronic beats.
Fun fact: The Ringmaster's debut album, Delusion of Reference, is set to come out this May.


Load More Stories