10 Best Pinoy Onscreen Bikini Moments
We go on a Pinoy two-piece-a-palooza! (Yes, videos are included.)
(SPOT.ph) When Eve took a bite from the forbidden fruit and realized she was buck naked, did she sew, with leaves, the world's first bikini? Sadly, the Bible remains tight-lipped on the subject. After all, the scandalous bikini is as close to sinful as you could possibly get without taking off your clothes.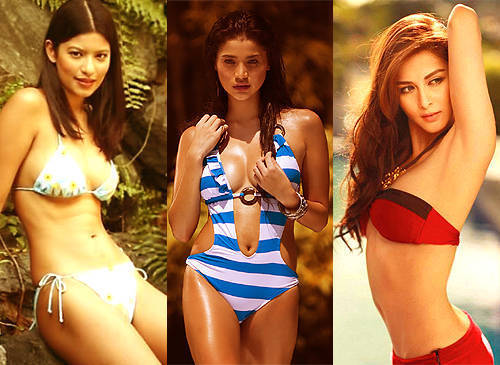 ADVERTISEMENT - CONTINUE READING BELOW
Simultaneously showing everything and nothing, the modern bikini was named after the Bikini Atoll, the site of atomic bomb tests back in 1946; its inventor, Louis Reard, correctly surmised that his creation would be just as explosive. We previously came out with a list of 10 great bikini moments, but it's only now that we took the plunge of making an all-Pinoy version, featuring the most mouthwatering two-piece moments in local onscreen history.
Naturally, we biased the list towards scenes with available YouTube clips, because women in swimwear are best seen, not talked about. Also, we're not talking about nude scenes here, though some films featured are definitely of the "S.T."/bomba variety. Sound off in the comments for anyone we might have missed-and, for the love of Eve and her leafy bikini, add a video link too.
CONTINUE READING BELOW
Recommended Videos
Warning: full movie version
10. Francine Prieto in Bikini Open
ADVERTISEMENT - CONTINUE READING BELOW
We wouldn't leave a movie with the name "bikini" out of this list. In the movie's opening bikini contest montage, the 20 contestants-both male and female-intro themselves with a "witty" one-liner or two (while Direk Jeffrey Jeturian inserts a tongue-in-cheek scene from their mundane real lives). When it's Francine Prieto's turn, though, she doesn't try to say any pa-cute witticisms, and just takes off her sheer top to reveal her two, um, piece.
9. Katrina Halili in Gigil
What to do when your long-time, good-boy boyfriend runs out on your wedding with your best man? Well, if you're Katrina Halili's character in Gigil, that means going to Boracay and turning into a "wild girl"...which apparently involves dancing around in bikinis a lot. And if he dares to return to your life? Well, Katrina ably shows that revenge is best plotted while wearing sexy swimwear.
8. The White Castle Whiskey Girls
ADVERTISEMENT - CONTINUE READING BELOW
The list of White Castle Whiskey Girls read like a who's who of Philippine acting: Cristina Gonzales, Isabel Rivas, Glydel Mercado, Lyka Ugarte, Maricar de Mesa, Roxanne Guinoo, Stef Prescott. Okay, not really. But they have, in their own ways, made an indelible mark on showbiz (and our own puberty) with their famous ads. It's not enough to wear a hot red bikini to set your TV screen aflame; no White Castle Whiskey commercial is complete without that iconic white horse.
7. Lorna Tolentino in Mga Huwad na Mananayaw
Oh, but for one letter in the title, we would have thought this movie was about stark-naked dancers...though with a dance number like this, it might as well have been. Its hopelessy-dated aesthetic puts this scene a few notches down on our list (seriously, what is going on with that backdrop?), but still, we all have to admit that back in the day, Lorna Tolentino and her agile abs definitely had it goin' on.
ADVERTISEMENT - CONTINUE READING BELOW

6. Anne Curtis in No Other Woman
As the daughter of a resort owner, Anne Curtis' character in No Other Woman has every right to wear a swimsuit whenever she wants: when jetskiing, when tempting a random swimmer into infidelity, when teaching random swimmer how to play golf. The movie brings out the big guns right away, with a shot of Anne rising gloriously out of the water, and then...and then...honestly, our memory gets kinda fuzzy after that.
5. Assunta de Rossi in Sisid
Assunta de Rossi does her best Dyesebel impression with a sexy underwater aquarium performance that will leave throats dry and pants tight. She gyrates like a porpoise! She spins through the water like a badly-navigated submarine! She makes strange come-hither motions! Watching her scenes now, it's a shame her sexy movie career was turned into its own brand of endangered species, lost at sea forever-though we're really happy for her long-lasting marriage. Really.
ADVERTISEMENT - CONTINUE READING BELOW
4. Marian Rivera in My Best Friend's Girlfriend
Thanks to such pioneers as Ms. Phoebe Cates and Ms. Anjanette Abayari, the coming-out-of-the-pool scene is a staple in the acting repertoire of any actress worth her sexy salt. For our money, Marian Rivera has perfected this to an art form, especially in this scene. Delicious slow-mo shots accentuate every curve as our modern-day Venus (a Venus with the most streetwise accent we've ever heard) rises, glistening, out of the water. This short clip is perfect for any Dingdong.
3. The Girls of Temptation Island (2011)
While the unbeatable camp factor of the original has its own sexy zing-who can forget curvy Jennifer Cortez's matchless delivery of "What are beaches for but to beach around with your fellow beaches?"-but with a cast that includes Lovi Poe, Heart Evangelista, Marian Rivera, Solenn Heussaff, and Rufa Mae Quinto all decked in swimwear for practically most of the movie, the Temptation Island remake is the one-stop island shop for our bikini fix.
ADVERTISEMENT - CONTINUE READING BELOW
2. Ina Raymundo in Burlesk Queen Ngayon
Ina Raymundo is the master of aging sensually-her body today isn't so different from her body back in 1999, when she starred in the Burlesk Queen remake. She proved her bikini-wearing chops in 1995's Bikini Watch, but she went all the way in the sexy-o-meter for this one. Just watching her gyrate in this clip makes even the cheesy strip club music sexy. Even hotter clips exist here and here-but SPOT.ph waives all responsibility if your computer suddenly explodes.
1. Vilma Santos in Burlesk Queen
Ina Raymundo wasn't bad in the Burlesk Queen remake, but for our #1 spot, we have to say that she can't hold a candle to the rawer, wilder Vilma Santos version. The current Batangas governor proved her Sex Appeal for All Seasons by dancing like a woman possessed, goaded on by a fierce drum solo, the cheers of the crowd, and a cameo of a horny Groucho Marx. Her dancing gets so hot that she gets an onstage miscarriage. Warning: sexy dancing may be dangerous to your health.
ADVERTISEMENT - CONTINUE READING BELOW
Share this story with your friends!
---
Help us make Spot.ph better!
Take the short survey
Load More Stories