Summer Fashion Show Party at Eden + The Rest of the Bar and Club Scene This Week
Your handy guide to the metro's hottest gigs and parties.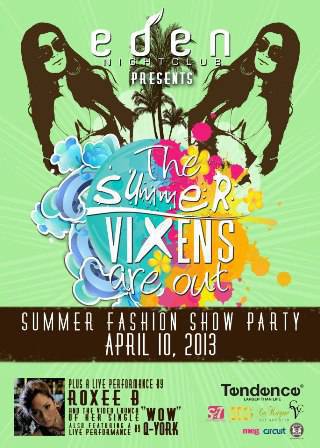 Wednesday, April 10
Bond Urban Pub - Stareoke Wednesdays
Opus - Opulence: Model's Night
Izakaya - Izakaya Dojo Wednesday
M Café - Manteca! Salsa Night, 10 p.m.
Izumi - Sakephonic Wednesdays, Ladies and Models Night
Dillingers - CTRL ALT Delete Wednesdays 
7th High APEX Lounge - Soulful Night featuring Markki Stroem
7th High Club Room - Rouge
Time in Manila (Main) - Femme (House, Techno, Electro Beats)
Time in Manila (Roof) - Fresh (Old School Hiphop, R&B, 90s, Soul Funk)
Reserve Liquor Lounge - Riot Wednesdays
Garage 88 - We Love House Wednesday
Eden - Vixen: The Summer Show Fashion Party
Freedom Bar - Movie Nights Manila presents: Strangebrew by R.A. Rivera
Saguijo - Toll Gate x Red Ninja w/ Curbside, Diachroma, Ephesus, Halibas, Lions and Acrobats, Runway Crimes & Silent Sanctuary
70s Bistro - 70S BISTRO PRESENTS MOONSTAR 88 + NEY
Route 196 - SoulChild Prod: Julianne Tarroja, Robin Nievera, Jensen Gomez
19 East - Freestyle
B - Side - Dos Cojones presents WILDERNESS , PESO MOVEMENT , SALAMIN ,KJWAN
Thursday, April 11
Opus - Groove Thursdays
Rocket Room - Space Camp at Rocket Room featuring Emel Rowe and Liquid A
Bond Urban Pub - EDM Ladies Night (Electronic Dance, free cocktails for ladies all night)
Izakaya - KISS! KISS! BANG! BANG!
Libations - Lipstick Mafia
Palladium - WILD & SEXY Thursdays
Eden Nightclub - Backbeat Thursdays  
Dilingers - Thirst Days
Izumi - Rockizumi
7th High Club Room - The Boombox
7th High Apex Lounge - Volume featuring Saia
Republiq - VIP with Tim Yap
Time in Manila (Main) - Dirty (Dance, House, Hiphop)
Time in Manila (Roof) - Shift (House, Techno)
Excess - Goddess Bodies: Bikini Open elimination round
Saguijo - Revolver SNC [Straight No Chaser] w/ General Luna, Mayonnaise, Pedicab & Peryodiko
Route 196 - Jumpstart presents ABSOLUTE ZERO , INKY DE DIOS , SOIL AND GREEN
70s Bistro - 70S BISTRO PRESENTS FRANCO + CHOCOLATE FACTORY + SOUTHCARD + FUN CITY BOYS
19 East - Monique Delos Santos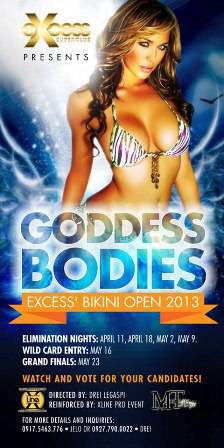 Friday, April 12
Prive - Incognito
Fiamma - Fresh Fridays
Izumi - Diskoteka Fridays
Opus - Uber Disko
Palladium - Fabulush Fridays 
Candyshop - Sucette Fridays
Dillingers - Get Freaky
Republiq - Best Night Ever
7th High - Livin' Proof featuring DJs Rags, Khalil, Snips, Budgie
7th High Apex Lounge - Alternative Escape presents Pupil
B - Side - BoomBoom Bap Fridays
Time in Manila (Roof) - Trance
Time in Manila (Main) - Shift (House, Techno)
Cabana Club - Model's Night Out
Eden - Sunny Daze: The Flow on Forbidden Fridays Summer Party Series (co-presented by Wave 89.1)
ADVERTISEMENT - CONTINUE READING BELOW
Saguijo - Kerplunk! Lineup TBA
Route 196 - Terno Inferno Northside: Up Dharma Down plus other bands TBA
70s Bistro - Blues Roll Session featuring BLUE RATS , BLEU RASCALS
19 East - Franco, Indio I, Skankin Brews & Southcard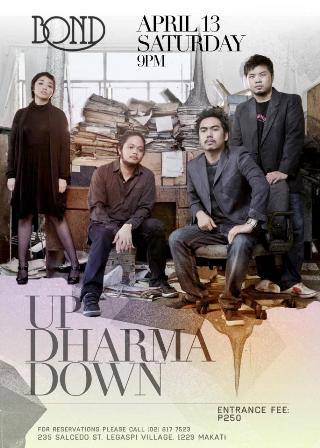 Saturday, April 13

Dillinger's - Saturday Swagger with DJ's Darrel D and Bad Boy Jeff
Republiq Club - Pure Saturdays
7th High - Rave hosted by Titanium and DJ Jason Go
Izakaya - Sake To Me Baby Saturdays featuring DJ Steal and Nina. Hosted by JP David
Jill's - Saturday Night Life featuring guest DJs (Hiphop, Top 40, Dance)
Izumi - Suteki Saturday: Top 40, Mashup, House, Hiphop
Opus - Legendary Saturdays
Excess Superclub -  Saturday Xscape
Candyshop - Overflow Saturdays
Rocket Room - Supersonic
Time in Manila (Main) - United Under Dance (Trance)
Bond Urban Pub - Up Dharma Down
Saguijo - Brgy. Tibay. Lineup TBA
Route 196 - DocDeff Prod: LTBA
19 East - Babies in Black: A Tribute to the Beatles featuring Ely Buendia, Clementine & The Eggmen
B - Side - No Ordinary Summer: A Crossfade Initiative feturing Urbandub, Franco, Queso, Salamin, Dhruva Tara
134 Aguirre Avenue - Chicosci, Curbside, Turbo Goth, Runway Crimes, Even, Jejaview, Aklas
Sunday, April 14
Chihuahua Mexican Grill - Hangover Sundays
The Rocket Room - Sun Dazed with DJs Miss Badkiss & Supreme Fist
B-Side - Irie Sunday: Dub Explosion
M Café - Manteca! Salsa Night, 6 p.m.
Time in Manila - Brown Sugar (Beach, Soul, Jazz)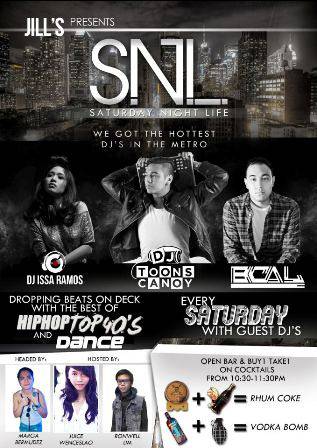 Monday, April 15

Izakaya - Moshi Moshi Mondays
Izumi - Muteki Monday
Opus - Industry Mondays
Dillingers - Misfit Mondays
Time in Manila (Roof) - Fever (Live Acoustic Set)
Distillery Jupiter - iCoutsic Mondays
Reserve Liquor Lounge - Rockeoke Mondays
Eden Nightclub - Jumpstart Mondays
Jill's - Monday Mic Live
Tuesday, April 16
7th High Lounge - Timeout Tuesdays
7th High Club Room - Melange feturing French House and Trance
Bond Urban Pub - The Original Models Night
Izakaya - Open Mic Tuesday
Dillingers - Hipstop Tuesdays
Beso - Viva Tuesdays 
Reserve Liquor Lounge - Twisted Tuesdays 
Distillery Jupiter - Ladies' Night
Prive - Weekday Warriors
Time in Manila (Main) - Strike (Dance Music)
Time in Manila (Roof) - Ruby (Sunset Sensation Session)
The Distillery Jupiter - Insane Tuesdays
Saguijo - Mondo Presents. Lineup TBA
70s Bistro - Sandwich
19 East - MYMP
Load More Stories