Top 10 Worst Pinoy Plot Piracies
If we had an OMB for this, we'd be in big trouble.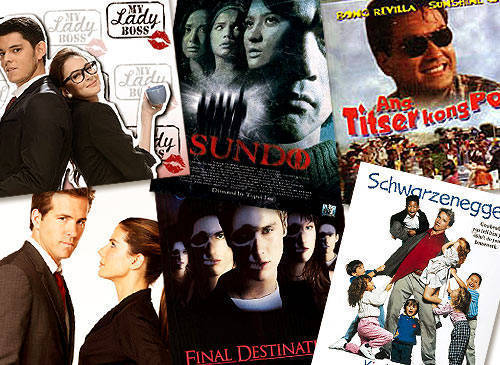 (SPOT.ph) If you felt a sense of déjà vu when you watched Kampanerang Kuba in 2005, then you're crazy. If it reminds you of Victor Hugo's Quasimodo with more singing and worse hair, then you're even crazier. Kampanerang Kuba is a highly imaginative, uniquely original masterpiece. Any similarity with the 19th-century novel is pure coincidence. Because really there's no other position in life for our hunchbacked friends apart from swinging on church bells, singing-oh and being a witch.
ADVERTISEMENT - CONTINUE READING BELOW
CONTINUE READING BELOW
Recommended Videos
Cryptomnesia, that's what it is. The uncanny similarity of Filipino films to international blockbusters. We'd rather attribute it to that: when a forgotten memory resurfaces and assumed as a new and original thought. Not that a classic such as The Hunchback of Notre Dame could ever be forgotten, but it's a much better term than blatant unoriginality. Indeed if there was ever something we perfected as far as mainstream cinema goes, it's pastiche, the result from the imitation of a previous literary or artistic work.
We admit that inspiration may be derived anywhere. Van Gogh had Impressionism, Spielberg had family war stories, Cookie Butter had peanut butter, Rizal had Uncle Tom's Cabin, Hihintayin Kita sa Langit had Wuthering Heights. But there is a line between getting a leg up and using someone else's leg all together. This is a list of movies that crossed-no, leaped-over that line.
ADVERTISEMENT - CONTINUE READING BELOW
We did not take into consideration reproductions (Marimar, Endless Love, Full House), remakes (Dyesebel, Machete), adaptations (Hihintayin Kita sa Langit from Wuthering Heights, Romeo Loves Juliet from Romeo and Juliet, Hataw Na! from Sister Act 2: Back in the Habit), or parodies (Alyas Batman and Robin).
10. F-BUDDIES FALLING IN LOVE
Friends With Benefits (2011)
Director: Will Gluck
A pair of friends who admit to being emotionally damaged and emotionally unavailable decide to take their relationship further but without the emotional complications, just the physical. Surprise surprise, Jamie falls in love with Dylan, feelings make things awkward, but they fall in love anyway after a flashy spectacle.
No Strings Attached (2011)
Director: Ivan Reitman
The less popular but nonetheless hit clone of Friends With Benefits, the story starts when a doctor and a writer have a one night stand prompting them to start a purely sexual relationship minus the hassle of emotions. When Adam confesses to cynical Emma that he's fallen in love, what happens next is a cat-and-mouse chase of the two trying but failing to tell each other how they feel.
ADVERTISEMENT - CONTINUE READING BELOW
Unofficially Yours (2012)
Director: Cathy Garcia Molina
A dentist-turned-reporter re-meets the woman he's had an amazing one-night stand with. The two continue where they left off, but with the promise that there would absolutely be no string attached. Unfortunately, the smitten Mackie falls for the love-hardened Ces.
Footnote:
Not to take anything away from this box office hit but it's too much of a coincidence when a conservative CBCP-dictated country comes out with a movie about sexual freedom a year after Hollywood churns out two of them.
9. THE BOSSY LEADING LADY
The Proposal (2009)
Director: Anne Fletcher
To avoid deportation, Satan's Mistress a.k.a. Margaret Tate forces her assistant Andrew Paxton to marry her. Tate, in order to avoid suspicion from the Department of Immigration, joins Paxton in a trip back to his hometown. There, Tate discovers that Paxton is, in fact, rich and only works as a lowly assistant because he wants to make it on his own. Oh and yes, they fall in love for real.
ADVERTISEMENT - CONTINUE READING BELOW
My Lady Boss (2013)
Director: Jade Castro
Zach, a rich yuppie, is forced to find a job after he commits a major blunder in his parent-sponsored company. His employer is Evelyn (a.k.a. Evil), an austere woman hardened by years of taking care of her family. A workaholic and extremely uptight, Evelyn gets dumped by her boyfriend and her post-breakup vulnerability exposed a softer side of her to Zach. They fall for each other, but they have other troubles: office romance is forbidden in the workplace.
Footnotes:
The similarity isn't as obvious in the plot because someone was smart enough to Filipinize it with family drama and personal failure. There are glaring elements to the imitation, however: Evelyn's style and demeanor are classic Margaret Tate and the coffee scene where Paxton gives Tate his own coffee after spilling hers? That's there too!
ADVERTISEMENT - CONTINUE READING BELOW
8. WIVES AGAINST THEIR HUSBANDS
First Wives Club (1996)
Director: Hugh Wilson
A bevy of ex-wives, after being spurned by their husbands for someone "newer and younger," finds empowerment among each other and come together to seek revenge on their husbands. As they go about their spree of blackmail and retribution, they realize that their circumstances are bigger than themselves and they eventually open a crisis center for women. In the end one celebrates a reunion with her husband, the second takes back her successful advertising career (which she put on hold to further her scum of a spouse), and the third finds someone else.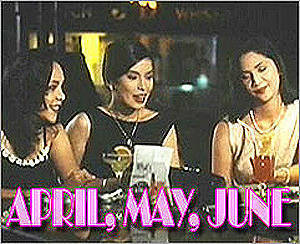 ADVERTISEMENT - CONTINUE READING BELOW
April, May, June (1998)
Director: Manny Castañeda
Three best friends find themselves in failing relationships: April has a cheating husband, May grew out of her relationship, and June's pilot live-in boyfriend just doesn't seem emotionally attached. The trio conspires against their partners in what resulted to messy and humiliating conclusions-for the men, that is. In the end May reconciles with her husband, April starts working (she didn't graduate with a magna cum laude for nothing) again, and June marries someone else.
Footnotes:
How unfortunate is it for both these groups of women: every one in their barkada seems destined to have a terrible lover. Watch out, it might be catching.
7. PEOPLE WHO CHEAT DEATH DIE IN BIZARRE DEATHS
Final Destination (2000)
Director: James Wong
A group of kids cheat death by escaping a plane crash and discover that Death is coming after them one by one. Each death, cleverly schemed to look like suicides or freak accidents, is decidedly more horrific than the last. No one is saved but only one person, the same person who inadvertently led them away from the crash, knows who's next.
ADVERTISEMENT - CONTINUE READING BELOW
Sundo (2009)
Director: Topel Lee
The legend goes that whenever a person is about to die, someone from the Other Side picks him/her up...Now that that's out of the way, here's what happens: a group of strangers (which includes a psychic!) narrowly avoids what could have been a fatal accident. Soon, each one of them dies in the most bizarre fashion-electrocution, pins to the head, a freak fall.
Footnotes:
Can Death be so cruel as to allow every one of these people to end in the most gruesome way possible? In one of the Final Destination movies, a pair of girls burn in tanning beds. In Sundo, someone boils in a sauna.
6. TORTUROUS AND MURDERING NUNS
The Nun (2005)
Director: Luis De La Madrid
A crazy nun known for tormenting her students tortures one of them after discovering she (the student) was pregnant. Sister Ursula attempts to "purge" away Mary's sins by forcing an abortion on her right there in the dormitory bathroom. Mary's friends come to her aid and accidentally kill the nun in the rescue. Years later, the nun's spirit returns and seeks vengeance on those responsible for her death. The story ends in a vicious psychological twist.
ADVERTISEMENT - CONTINUE READING BELOW
Shake, Rattle, and Roll X: Class Picture (2008)
Director: Topel Lee
One by one girls go missing from a group of college students working late for a project. The group later discovers that a deranged nun from the Spanish Period were taking their friends in exchange for the three students she killed a hundred years before for informing the principal of her violent teaching methods. Blamed for the disappearances, Sister Belonia was dismissed and the shame prompted her to commit suicide-but not before promising to "avenge" herself.
Footnote: Two nuns going nuts and going on a belated haunted killing spree? What are the odds! They should have teamed up!
5. FEMALE BOXERS WITH THE SAME HAIRSTYLE
Girlfight (2000)
Director: Karyne Kusama
A misunderstood girl channels her aggression to becoming an acclaimed boxer despite issues with an abusive father and the pressure of standing out in a male-dominated sport.
ADVERTISEMENT - CONTINUE READING BELOW
Bakit 'Di Totohanin (2001)
Director: Boots Plata
A tomboy tries to win her father's gym back by training to be a boxer against her father's wishes.
Footnote:
A female boxer finding her place in the sun isn't so unusual that we'd actually accuse Clint Eastwood of copying material for his Oscar-winning Million Dollar Baby. Plus, we have a boxing culture in the Philippines and Plata did tweak the story. It's just that...with the cornrows and the timing and everything, the copying felt pretty head on. Couldn't they have thought of a different hairstyle?
4. FATHERS WHO DRESS LIKE HOUSEKEEPERS
Mrs. Doubtfire (1993)
Director: Chris Columbus
After being granted limited custody with his kids, Daniel Hillard poses as the new nanny, Mrs. Doubtfire. As the elderly British nanny, Daniel develops both a close bond with his kids and a friendship with his estranged wife; he also learns to better himself in the process, landing himself a job hosting a kids' television show (as Mrs. Doubtfire nonetheless). The discovery of this deceit caused a riff in his family, but his wife soon understands that the children are better off with "Mrs. Doubtfire" in their lives.
ADVERTISEMENT - CONTINUE READING BELOW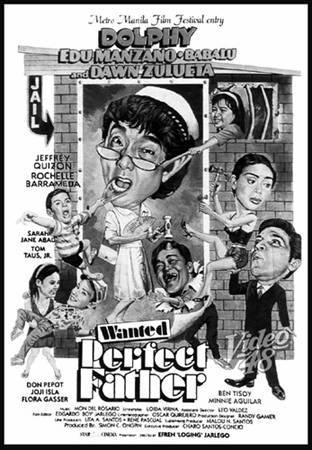 Photo from Video 48
Wanted: Perfect Father (1994)
Director: Elfren Jarlego
Roy is an exceptionally kind man who helps a mother and her two children and eventually becomes a father figure to them. Unfortunately, on the way home one night, he gets mugged with the robber taking everything he was carrying, including the clothes on his back. Drunk, the robber staggers over train tracks and was run over by a train. With only shards of fabric left to identify him, Lily, the devastated mother, confirms that it was Roy who died in the accident. They soon learn that he has taken a life insurance policy, citing her and her family as beneficiaries. The money was a tremendous help to the struggling family. Meanwhile, as Roy finds his way back home, he learns how his so-called death helped the family and opts to stay "dead." He then poses as the new nanny in order to remain close to the family he's come to know as his own.
ADVERTISEMENT - CONTINUE READING BELOW
Footnotes:
Dolphy gives Robin Williams a run for his money. We can't decide who looks better in drag, but Dolphy's hamburger boobs are a winner.
3. NANNIES WHO SING WELL AND MARRY THE FATHER
Sound of Music (1965)
Director: Robert Wise
A nun-turned-nanny turns a dull castle into a place full of music and softens up the tyrannical Captain father along the way. Oh and they fall in love, too. The Julie Andrews, Christopher Plumber blockbuster was derived from the play of the same name with little variation in the sequencing.
Wanted: Perfect Mother (1970)
Director: Lino Brocka
Pretty much the same as what's mentioned above except that it's not in Vienna. When a widower realizes that his children need a female figure to look up to, he hires a tutor to take care of them. After providing that much-needed maternal touch, the children grow attached. And the tutor and her boss, of course, fall deeply and madly in love.
ADVERTISEMENT - CONTINUE READING BELOW
Footnotes:
Wanted: Perfect Mother was remade in 1996 starring Christopher De Leon and Regine Velasquez. Like the 1965 Hollywood version, in both the Filipino renditions, the dads use a whistle to call upon their children who proceed to introduce themselves in a military fashion. That, the musical orientation, as well as many other similarities make it an obvious imitation.
2. BOXERS NAMED AFTER ROCKS
Rocky (1976)
Director: John G. Avildsen
Classic underdog story: an unknown boxer known for his small-time fights gets picked to fight against the world champion and while the move is deemed as propaganda, he wins against all odds.
Totoy Bato (1977)
Director: Abraham Cruz
FPJ channels his inner Sylvester Stallone in this boxing drama. It's Rocky all the way except less buffed and with a sack of rice for a punching bag (Stallone's bag of choice was a cow carcass).
ADVERTISEMENT - CONTINUE READING BELOW
Footnotes:
Sure they're both boxers, they both have unorthodox training techniques, but the formula is a classic so we won't exactly fault it. But really, why the need to reference stone?
1. AN UNDERCOVER COP POSES AS A PRESCHOOL TEACHER
Kindergarten Cop (1990)
Director: Ivan Reitman
Detective John Kimble go under cover to find witnesses to a large drug ring-the wife and son of an evasive drug lord. Though he has a location on them, Kimble has no idea who they are and poses as a kindergarten teacher to find out. A super disciplinarian, he starts by controlling the rowdy five-year-olds with a tough-as-nails military system. He forms a close bond with one of his charges and his mother who teaches in the gradeschool. They turn out to be the missing family of the drug dealer and things get messy.
ADVERTISEMENT - CONTINUE READING BELOW
Ang Titser Kong Pogi (1995)
Director: Danilo Cabreira
A policeman tries to clear his name by going undercover and investigating the circumstances of his frame up. His chosen identity is as a kindergarten teacher who, after subjecting his class to a torturous PNP regimen, softens up and develops an affinity with a student and another teacher-both of whom are involved in his incarceration.
Footnote:
Ang Titser Kong Pogi-the title is contestable and what on earth does being pogi have to do with anything? Oh that's right. Kindergarten Cop was taken. They didn't even bother changing the little details like the grade level he teaches or the profession.
***
Other films that didn't make the cut:
E.T. The Extra-Terrestrial (1982) and Kokey (1997)
Mighty Morphin Power Rangers (1993-1995) and Super Ranger Kids (1997)
Alone (2007) and Mag-ingat Ka Sa...Kulam (2008), Guni-Guni (2012)
High School Musical (2006) and First Day High (2006)
ADVERTISEMENT - CONTINUE READING BELOW
Load More Stories