Space Camp at Rocket Room + The Rest of the Bar and Club Scene This Week
Your handy guide to the metro's hottest gigs and parties.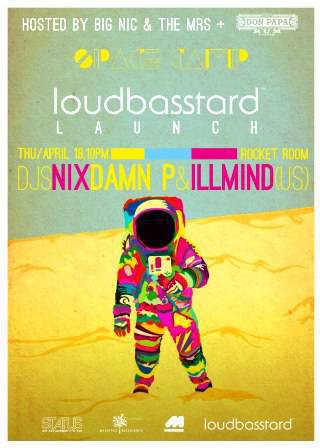 Wednesday, April 17
Bond Urban Pub - Stareoke Wednesdays
Opus - Opulence: Model's Night
Izakaya - Izakaya Dojo Wednesday
M Café - Manteca! Salsa Night, 10 p.m.
Izumi - Sakephonic Wednesdays, Ladies and Models Night
Dillingers - CTRL ALT Delete Wednesdays
7th High Club Room - Rouge
Time in Manila (Main) - Femme (House, Techno, Electro Beats)
Time in Manila (Roof) - Fresh (Old School Hiphop, R&B, 90s, Soul Funk)
Reserve Liquor Lounge - Riot Wednesdays
Garage 88 - We Love House Wednesday
Freedom Bar - Acoustic Wednesday featuring Kettle Mata, FMD, Rod Mejares, Ian Rondilla, Third Grade, Israfel
Saguijo - Pinoytuner Live! w/ Dong Abay, Gin Rum n' Truth, Greyhoundz
70s Bistro - Pupil
19 East - Kamikazee and Moonstar88
Route 196 -  Mad Hatter Day, Imelda, Andreia, She's Only Sixteen, Jensen Gomez (OFFICIAL), Runaway Crimes, Tonight We Sleep
B - Side -BEAT TALK After Party feat. !LLMIND (NYC) LIVE IN MANILA: Live Sets by
!LLMIND + MISCELLANEOUS + SUPREME FIST + RED-I + CALIPH 8 + PASTA GROOVE + RYE + ANYGMA
B - Side Courtyard - Southern Royale featuring Wilabaliw,Tanya Markova, Even, Mr. Bones and the Boneyard, Circus, Turbo Goth, Eleyn, Candy Candy, Segatron, Jurrasic, Pards, Holding On, Pen For A Bullet and Death By Mistake
Rocket Room - Loud Basstard launch
Excess Superclub - Band Night, free admission
Thursday, April 18
Opus - Groove Thursdays
Rocket Room - Space Camp at Rocket Room 
Bond Urban Pub - EDM Ladies Night (Electronic Dance, free cocktails for ladies all night)
Izakaya - KISS! KISS! BANG! BANG!
Libations - Lipstick Mafia
Palladium - WILD & SEXY Thursdays
Eden Nightclub - Backbeat Thursdays  
Dilingers - Thirst Days
Izumi - Rockizumi
7th High Club Room - The Boombox
Republiq - VIP with Tim Yap
Time in Manila (Main) - Dirty (Dance, House, Hiphop)
Time in Manila (Roof) - Shift (House, Techno)
Excess - Goddess Bodies: Bikini Open elimination round
Saguijo - Red Ninja Anniversary w/ Curbside, Earthmover, Farcuss, Jensen Gomez, Lions and Acrobats, Mayonnaise, Runway Crimes & Save Me Hollywood
Route 196 - Drty Thrsdy w/ Nights of Rizal, The Oemons, Hansom, Snakeface, Pale Yellow Light
70s Bistro - Rock Night featuring Anibughaw, Kastigo
19 East - Juris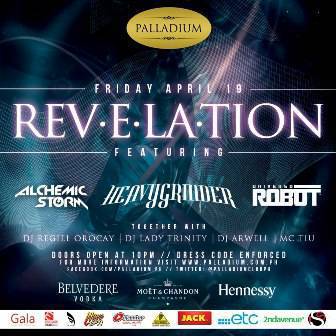 Friday, April 19
Prive - Incognito
Fiamma - Fresh Fridays
Izumi - Diskoteka Fridays
Opus - Uber Disko
Palladium - Revelation Launch
Candyshop - Sucette Fridays
Dillingers - Get Freaky
Republiq - Best Night Ever
7th High Apex Lounge - Alternative Escape presents Slapshock
7th High Club Room - Nitro
Time in Manila (Roof) - High On The House
Time in Manila (Main) - Shift (House, Techno)
ADVERTISEMENT - CONTINUE READING BELOW
Cabana Club - Model's Night Out
Eden - Sunny Daze: The Flow on Forbidden Fridays Summer Party Series
Saguijo - Grrrl Scout Lineup TBA
Route 196 - Terno Inferno Northside w/ Up Dharma Down, Radioactive Sago Project, Child/ren of the Pilgramage, Hidden Nikki, Musical O, Pulso, Populardays
70s Bistro - Session Road
19 East - True Faith & Sky Junkie
Metrotent - Toe Live in Manila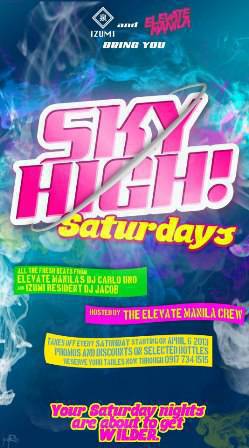 Saturday, April 20

Dillinger's - Saturday Swagger
Republiq Club - Pure Saturdays ; Big Summer Blowout in Club Paraw Boracay featuring Jay Sean
7th High Club Room - Rave 
Izakaya - Sake To Me Baby Saturdays 
Jill's - Saturday Night Life featuring guest DJs (Hiphop, Top 40, Dance)
Izumi - Sky High Saturdays
Opus - Legendary Saturdays
Excess Superclub -  Saturday Xscape
Candyshop - Overflow Saturdays
Rocket Room - Supersonic
Saguijo - Terno Inferno w/ The Charmes, Child/ren of the Pilgrimage, Encounters with a Yeti, Hidden Nikki, Maude, Musical O, Not Another Boy Band, Populardays, Pulso, Sleepwalk Circus, The Sleepyheads, Up Dharma Down, Yolanda Moon. More TBA
Route 196 - Autotelic EP Launch with performances from Farewell Fair Weather, Paranoid City, Tide / Edit, Hidden Nikki, & Autotelic
19 East - Comedy Cartel featuring Alex Calleja & Tim Tayag
7th High Apex lounge - Voices of Five
B - Side - BELANO , CIUDAD ,DANDIMITES , THE REPUBLICATS ,BLOODSHEDD , TURBO GOTH
SM MOA Coral Parking Area - Visual Music Carnival 2 featuring ODATNARAT , CANDY CANDY , PARAMITA , THE CHONGKEYS , VALLEY OF CHROME , SAYDIE
7-s Bistro - The Jerks
Sunday, April 21
Chihuahua Mexican Grill - Hangover Sundays
The Rocket Room - Sun Dazed with DJs Miss Badkiss & Supreme Fist
B-Side - Irie Sunday: Dancehall Bashment featuring Lady I
M Café - Manteca! Salsa Night, 6 p.m.
Time in Manila - Brown Sugar (Beach, Soul, Jazz)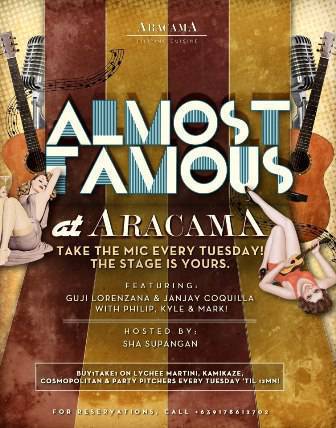 Monday, April 22

Izakaya - Moshi Moshi Mondays
Izumi - Muteki Monday
Opus - Industry Mondays
Dillingers - Misfit Mondays
Time in Manila (Roof) - Fever (Live Acoustic Set)
Distillery Jupiter - iCoutsic Mondays
Reserve Liquor Lounge - Rockeoke Mondays
Eden Nightclub - Jumpstart Mondays
Jill's - Monday Mic Live
Saguijo - Wolfgang
70s Bistro - Chicosci, Typecast
Tuesday, April 23
7th High Lounge - Timeout Tuesdays
7th High Club Room - Melange feturing French House and Trance
Bond Urban Pub - The Original Models Night
Izakaya - Open Mic Tuesday
Dillingers - Hipstop Tuesdays
Beso - Viva Tuesdays 
Reserve Liquor Lounge - Twisted Tuesdays 
Distillery Jupiter - Ladies' Night
Prive - Weekday Warriors
Bond Urban Pub - Early Nights
ADVERTISEMENT - CONTINUE READING BELOW
Time in Manila (Main) - Strike (Dance Music)
Time in Manila (Roof) - Ruby (Sunset Sensation Session)
The Distillery Jupiter - Insane Tuesdays
Aracama - Almost Famous: Open Mic Night
Saguijo - The Pocket Universe Art Collective w/ Turbo Goth
70s Bistro - Spongecola
19 East - MYMP
Load More Stories