MOVIE REVIEW: Vamps
From the makers of <em>Clueless</em> comes a comedy about vampires
(SPOT.ph) Rodent exterminator Goody (Alicia Silverstone) and college student Stacy (Krysten Ritter) are attractive New York gals who take full advantage of the city that never sleeps, staying at work and school until the sun sets, then hanging out in clubs until the sun rises. Most New Yorkers, however, are unaware that the femmes are actually fanged vampires. Happily single for decades, the lives of the BFFs are turned upside down like sleeping bats when Goody accidentally runs into fiftysomething Danny (Richard Lewis), her boyfriend from the 1970s, and when Stacy likewise falls for Joey (Downton Abbey's Dan Stevens), grandson of vampire killer Van Helsing. As if falling in love wasn't bad enough, Goody, Stacy, and other New York bloodsuckers realize that their lives are in danger, when a grisly murder threatens to expose their secret to the world. Vamps is rated R-13 (for viewers 13 years old and above) for graphic violence, blood and gore, including decapitations and scenes showing adults drinking/sipping rat blood.
ADVERTISEMENT - CONTINUE READING BELOW


PLUSES

The easygoing, game-for-anything cast. It's been a while since I saw Alicia Silverstone on the big screen, and what an unexpected treat it was to see her looking even more radiant in this 2012 US release than she did in 1997's critically reviled Batman and Robin, where cruel writers christened her Batgirl as "Fatgirl." As Goody, Silverstone is a joy to watch, even when she has to deliver punchless punchlines or do icky things like drink blood from a rat with a straw. Also delightful is co-star Krysten Ritter, whose portrayal of BFF Stacy channels the spaced-out quirkiness of singer Katy Perry. Vamps also features the likes of Sigourney Weaver, Wallace Shawn, Dan Stevens, and Marilu Henner doing stuff I never thought I'd see them do.
CONTINUE READING BELOW
Recommended Videos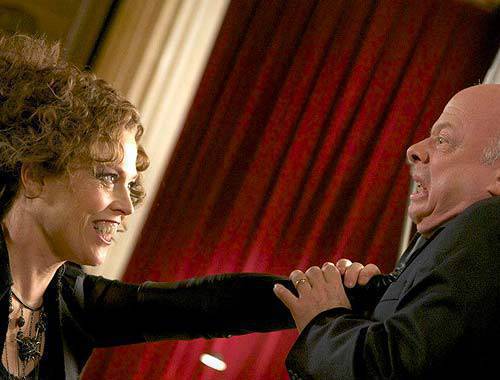 ADVERTISEMENT - CONTINUE READING BELOW
The precious few punchlines that work. As a comedy about the pitfalls and perils of aging, Vamps is also a sad metaphor for how Amy Heckerling's skills as a writer and director have deteriorated since 1995's sensational Clueless, which made her one of the most sought-after filmmakers in Hollywood. From that film, where nearly every line was impeccably written (and impeccably delivered by Alicia Silverstone), to Vamps, where most lines don't trigger any reaction at all, we are sad spectators to an artistic decline 17 years in the making. But as a reviewer who prefers to see the glass as being half full, I'm happy to report there are a handful of lines that hit the target. My favorite one is Goody's assessment of her loveless life as an undead vampire, "Staying young is getting old."


The through-the-decades climax in Times Square. Where the top of the Empire State Building played a pivotal role in both King Kong and Sleepless in Seattle, it is Manhattan's dazzling Times Square that's put to poignant use in Vamps' climax by Heckerling. In addition to showcasing its dazzling, vibrant environs in the film's most moving scene, she also shows how the area evolved over a hundred years from a dark and dull wooden plaza to the dazzling, LED-splashed tourist magnet that it is today.
ADVERTISEMENT - CONTINUE READING BELOW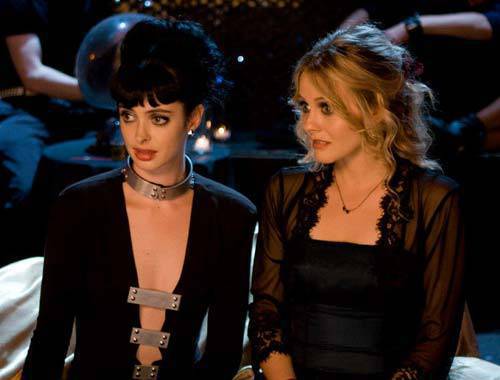 MINUSES

The gags that don't work. For every punchline that works in Heckering's script, there are about 10 that completely miss the mark, like the ones made about Twitter, Facebook, texting slang, and iPad minis.
The unimaginative makeup and cheap-looking visual effects. In the story, Stacy and Goody are members of a support group called Sanguinists Anonymous, for vampires who have weaned themselves off their desire to drink human blood. And what do the group's members look like? With black lines circling their eyes, they simply look like Fester Addams groupies or fans of The Addams Family movie. The visual effects aren't much better, with shots of vamps crawling down the sides of buildings and the aforementioned decapitation looking like they were clipped from a 90s TV show. This film's A-list cast deserved so much more.
ADVERTISEMENT - CONTINUE READING BELOW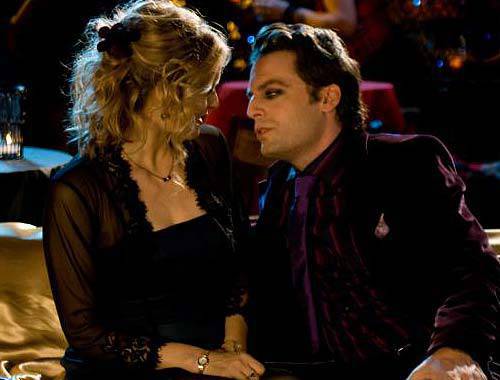 IN BRIEF: Though the majority of Vamps' jokes are unfunny and its production values are mediocre at best, the spirited cast manages to prevent boredom from seeping in, keeping viewers awake for the movie's emotionally rewarding climax.

Rating: 3 out of 5 spots •••
Share this story with your friends!
---
Help us make Spot.ph better!
Take the short survey
Load More Stories