R U Ready at Republiq + The Rest of the Bar and Club Scene This Week
Your handy guide to the metro's hottest gigs and parties.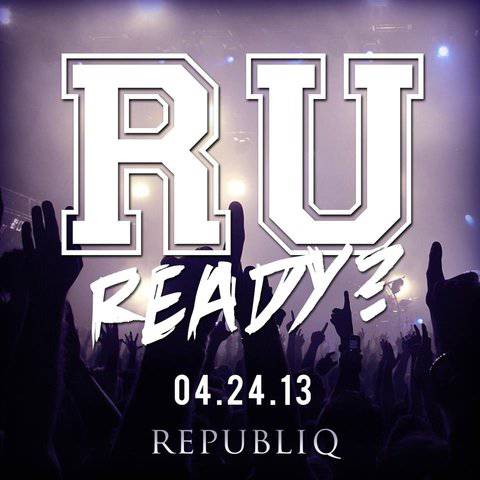 Wednesday, April 24
Bond Urban Pub - Stareoke Wednesdays
Opus - Opulence: Model's Night
Izakaya - Izakaya Dojo Wednesday
M Café - Manteca! Salsa Night, 10 p.m.
Izumi - Sakephonic Wednesdays, Ladies and Models Night
Dillingers - CTRL ALT Delete Wednesdays
7th High Club Room - Rouge
Time in Manila (Main) - Femme (House, Techno, Electro Beats)
Time in Manila (Roof) - Fresh (Old School Hiphop, R&B, 90s, Soul Funk)
Reserve Liquor Lounge - Riot Wednesdays
Garage 88 - We Love House Wednesday
Saguijo - Project Black x Escape Artists w/ Chicosci, Jejaview, The Line Divides, Maria Campbell (Cebu), Sirens & Shuffled
70s Bistro - Tanya Markova
19 East - Parokya ni Edgar, Chicosci & Typecast
Republiq - R U Ready (Unveiling of the New Republiq Wednesdays)
Thursday, April 25
Opus - Groove Thursdays
Rocket Room - Space Camp at Rocket Room 
Bond Urban Pub - EDM Ladies Night (Electronic Dance, free cocktails for ladies all night)
Izakaya - KISS! KISS! BANG! BANG!
Libations - Lipstick Mafia
Palladium - WILD & SEXY Thursdays
Eden Nightclub - Backbeat Thursdays  
Dilingers - Thirst Days
Izumi - Rockizumi
7th High Club Room - The Boombox
Republiq - VIP with Tim Yap
Time in Manila (Main) - Dirty (Dance, House, Hiphop)
Time in Manila (Roof) - Shift (House, Techno)
Excess - Diwata: Bikini Collection
Saguijo - Crank Music Relief w/ Beans Baxter, CARLOS CASTANO ,FUSEBOXX , ELEYN
19 East - Juris
70s Bistro - Dong Abay
B - Side - PROJECT ESCAPE: SHUFFLED, THE LINE DIVIDES AND MARIA CAMPBELL MANILA BAR TOUR (B-SIDE) feat SIRENS , JEJAVIEW ,QUESO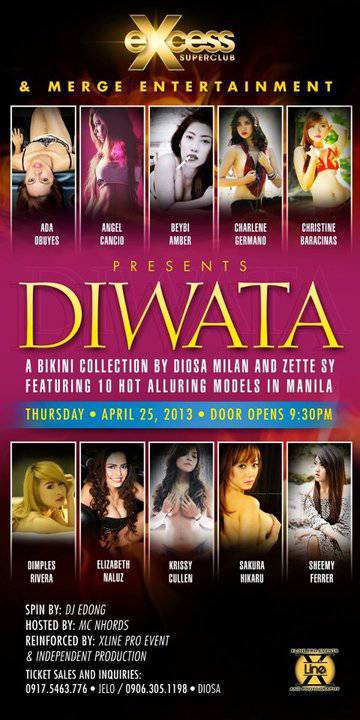 Friday, April 26
Prive - Incognito
Fiamma - Fresh Fridays
Izumi - Diskoteka Fridays
Opus - Uber Disko
Palladium - Revelation Launch
Candyshop - Sucette Fridays
Dillingers - Get Freaky
Republiq - Best Night Ever
7th High Apex Lounge - Alternative Escape presents The Oktaves
7th High Club Room - Nitro
Time in Manila (Roof) - AlterEgo: Nomad Massive (Drums and Bass)
Time in Manila (Main) - AlterEgo feat POI, Mok Arellano, Paulo Palencia
Cabana Club - Model's Night Out
Eden - Sunny Daze: The Flow on Forbidden Fridays Summer Party Series
Saguijo - Razorback. More TBA
B - Side - Launch of the single "Vanilla Carousel" with performances by: KISS ME FRIDAY, YOUR IMAGINARY FRIENDS , TURBO GOTH, PESO MOVEMENT, THE STRANGE CREATURES, CINDERBLOCK, DJ Tom Thurnherr (Switzerland)
19 East - Nina & Toto Sorioso
Hydra Bar - PROJECT ESCAPE: SHUFFLED, THE LINE DIVIDES AND MARIA CAMPBELL MANILA BAR TOUR (THE HYDRA) featuring EMBERCORE , APRIL MORNING SKIES , SIRENS, CURBSIDE
ADVERTISEMENT - CONTINUE READING BELOW
Route 196 - LOCKED DOWN ENTERTAINMENT AND GENERIC MAMAW: ANG TASTE NI GRACE AY HIPHOP YO! featuring PEOPLE'S FUTURE ,CHOCOLATE GRASS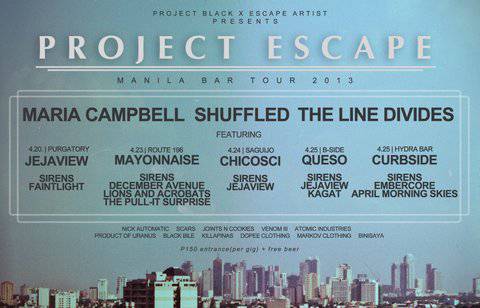 Saturday, April 27

Dillinger's - Saturday Swagger
Republiq Club - Pure Saturdays ; Big Summer Blowout in Club Paraw Boracay featuring Jay Sean
7th High Club Room - Rave
7th High The Lounge - Take 5
Izakaya - Sake To Me Baby Saturdays 
Jill's - Saturday Night Life featuring guest DJs (Hiphop, Top 40, Dance)
Izumi - Sky High Saturdays
Opus - Legendary Saturdays
Excess Superclub -  Saturday Xscape
Candyshop - Overflow Saturdays
Rocket Room - Supersonic
Saguijo - Republikha. Lineup TBA
19 East - Barbie Almalbis, Yosha, Peryodiko, Malay & Kai Honasan
70s Bistro - Razorback
B - Side - Fliptop Battle League featuring PROTEGE VS BENDER (CAN), ANYGMA VS LOE PESCI (CAN), PLAZMA VS TANTRUM (USA), SKARM VS CHARRON (CAN), BATAS VS SHAZAAM (SWE), ZAITO VS CHARRON (ENGLISH VS TAGALOG, SUBTITLED BATTLE), SINCITY VS TWIZZIE (FIL-CAN), APOC VS ONE3D
SM MOA Concert Grounds - Close Up Summer Solstice featuring Afrojack, Dev, Cobra Starship, Sandwich, Urbandub, Spongecola, etc.
Sunday, April 28
Chihuahua Mexican Grill - Hangover Sundays
The Rocket Room - Sun Dazed with DJs Miss Badkiss & Supreme Fist
B-Side - Irie Sunday: Ska Jamboree
M Café - Manteca! Salsa Night, 6 p.m.
Time in Manila - Brown Sugar (Beach, Soul, Jazz)
19 East - James Taylor Night featuring Noel Cabangon, Paolo Santos, Mon Espia & Bong Baybay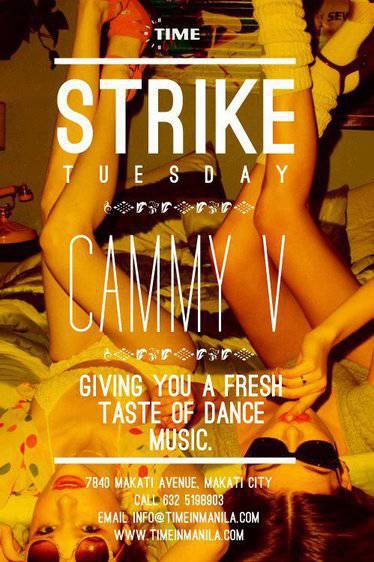 Monday, April 29

Izakaya - Moshi Moshi Mondays
Izumi - Muteki Monday
Opus - Industry Mondays
Dillingers - Misfit Mondays
Time in Manila (Roof) - Fever (Live Acoustic Set)
Distillery Jupiter - iCoutsic Mondays
Reserve Liquor Lounge - Rockeoke Mondays
Eden Nightclub - Jumpstart Mondays
Jill's - Monday Mic Live
70s Bistro - Peryodiko
Tuesday, April 30
7th High Lounge - Timeout Tuesdays
7th High Club Room - Melange feturing French House and Trance
Bond Urban Pub - The Original Models Night
Izakaya - Open Mic Tuesday
Dillingers - Hipstop Tuesdays
Beso - Viva Tuesdays 
Reserve Liquor Lounge - Twisted Tuesdays 
Distillery Jupiter - Ladies' Night
Prive - Weekday Warriors
Bond Urban Pub - Early Nights
Time in Manila (Main) - Strike (Dance Music)
Time in Manila (Roof) - Ruby (Sunset Sensation Session)
The Distillery Jupiter - Insane Tuesdays
Aracama - Almost Famous: Open Mic Night
Saguijo - Belano, Catriona Grey x Enrique de Dios, Duomo, Gui Adorno, Kamagong, The Keeprights, Logico, Soil & Green
19 East - Wolfgang
70s Bistro - 70S BISTRO PRESENTS ITCHYWORMS + IMAGO
ADVERTISEMENT - CONTINUE READING BELOW
Load More Stories