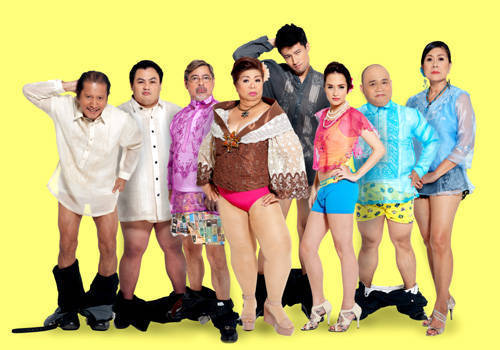 The dignified cast of Juana C. the Movie
(SPOT.ph) Prior to meeting with Mae Paner-more popularly known as YouTube sensation Juana Change-I was chatting with a friend and who told me that perhaps I could somehow underhandedly say that the Juana Change sketches aren't as funny as they should be. Later that evening, in a separate conversation, another friend's reaction was, "Who is she?"
The Juana Change Facebook page has a modest 8000 followers. Her YouTube channel has even fewer subscribers. Despite this, the character Paner has created is moving from a humble online upload format to a full-length, plot-driven feature. Juana C. The Movie is set to be shown on May 29 and for her fans and loyal followers, there is no need to sell the film. It is a must-see, by default. But what's in it for the rest of us who weren't and still aren't quite as charmed by this comedian's antics?
It Can Only Get Bigger
Paner, Rody Vera, and Raymond Lee have been producing short videos on their advocacies since 2008 and none of them have lost any of the initial energy they had for the baby they birthed. Even for those who didn't religiously follow the YouTube videos, it would be interesting to see the stamina of a sketch character in a movie.
Paner describes the venture as "kind of scary" because she didn't really have everything mapped out when she started but now that she's where she is, there is no turning back. Even Rody Vera, who said he'd only help out for a few videos, ended up going beyond the limit he set. For the creative team, it was always about making issues appeal to the apathetic masses through humor.
ADVERTISEMENT - CONTINUE READING BELOW
It was very refreshing to sit down with Paner as she openly discussed her ambitions for the film, "We can be a flop or we can be a success. Either way, I will continue to do what I want to do, which is the advocacy. But of course, we want it to be a success para marami kaming mabago na consciousness."
Let's Talk About Sex
Another apprehension Paner had was all the sex. The poster, stark as it is, reveals much about the adult content of the movie. "Hindi ko naman pinangarap na maging sexy star!" Paner tells us and the online Juana Change videos never really ventured into that territory.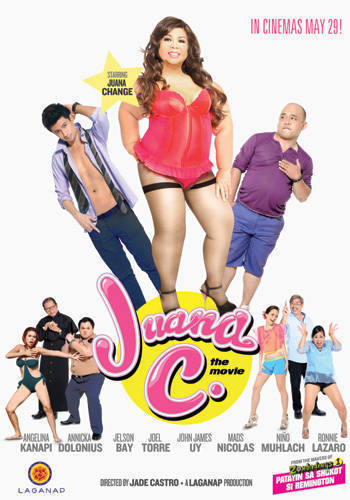 This begs the awkward question, "Why sex now?" It's easy to say "sex sells," but in this case, sex serves as a cushion for all the heavy issues crammed into the screenplay. It's all in there-illegal mining, corruption, governance, Freedom of Information, drugs, prostitution, Anti-Epal, and toxic waste in rivers. Sex offers relief from everything else in the movie that might potentially depress you as it paints the sad, sad state we are in.
CONTINUE READING BELOW
Recommended Videos
Is Juana Change really as funny as she should be? If you think about it, corruption isn't funny. You're not supposed to laugh at it but while some choose to be morose about fighting it, Juana Change takes a different path of activism from brooders and the angry mob. "We can do our maki-baka in high heels," Paner asserts.
But despite being a comedian, she is also quick to say that funny sometimes has to take a backseat. There is no conscious attempt to go for laughs and the message overshadows everything else. "We want them to laugh but kapag natawa na sila, dapat din silang mahimasmasan."
Such is the nature of satire. It exposes the ridiculous, provoking you to laugh while evoking feelings of disdain because you know that it's not really a joke because it's real. It's here, it's happening, it's life.
The Reference Game and What to be Excited About
Where articles such as this one drown you with words, the Juana Change movement strives to involve the most common of commoners in changing the nation with laughter. You may not be a fan and frankly speaking, I am not one too. Are we then the target audience for this? Are we the apathetic mass, liberally coated in cynicism, and simply submitting to the situation?
Since it's life playing out on the big screen, we're all in on the joke. There's a hidden game in it, where you can "spot the reference" and guess which politician the movie is trying to slap on the face.
ADVERTISEMENT - CONTINUE READING BELOW
Juana Change is a movement and it has been a slow crawl to get to where it is now, but the team remains earnest despite the weight of the world, "We really want to work in the realm of culture."
The film is fighting for relevance-to popularize issues and to achieve results. For Paner, the real achievement is for Juana Change to drive the message home and then perish. "Syempre ang objective namin is for the advocacy to cease to exist. Kasi if we're here forever, ibig sabihin wala kaming narating. Dapat may ending si Juana Change."
Share this story with your friends!
---
Help us make Spot.ph better!
Take the short survey
Load More Stories