Wasted Wednesdays at Palladium + The Rest of the Bar and Club Scene This Week
Your handy guide to the metro's hottest gigs and parties.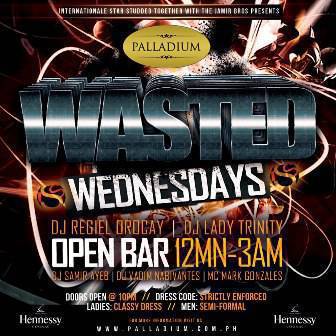 Wednesday, May 1
Bond Urban Pub - Stareoke Wednesdays
Opus - Opulence: Model's Night
Izakaya - Izakaya Dojo Wednesday
M Café - Manteca! Salsa Night, 10 p.m.
Palladium - Wasted Wednesday
Izumi - Sakephonic Wednesdays, Ladies and Models Night
Dillingers - CTRL ALT Delete Wednesdays
7th High Club Room - Rouge
Time in Manila (Main) - Femme (House, Techno, Electro Beats)
Time in Manila (Roof) - Fresh (Old School Hiphop, R&B, 90s, Soul Funk)
Reserve Liquor Lounge - Riot Wednesdays
Garage 88 - We Love House Wednesday
Route 196 - Glass House Sessions with The Ronnies! Free entrance!
19 East - Freestyle
B-Side - Subflex with live performances from Horacio Pollard, Wilderness, Inconnu Ictu, Tengal, SimilarObjects, Nonplus, Age:100 and Bent Lynchpin
Thursday, May 2
Opus - Groove Thursdays
Rocket Room - Space Camp at Rocket Room 
Bond Urban Pub - EDM Ladies Night (Electronic Dance, free cocktails for ladies all night)
Izakaya - KISS! KISS! BANG! BANG!
Libations - Lipstick Mafia
Palladium - Luxe Thursdays
Eden Nightclub - Backbeat Thursdays  
Dilingers - Thirst Days
Izumi - Rockizumi
7th High Club Room - The Boombox
Republiq - VIP Night
Time in Manila (Main) - Dirty (Dance, House, Hiphop)
Time in Manila (Roof) - Shift (House, Techno)
Excess - Goddess Bodies: Bikini Open
Saguijo - NUNCYSPUNGEN Reunion Tour w/ MR. BONES & THE BONEYARD CIRCUS, MONSTERBOT & TWISTED HALO. 9PM. P150w/1drink.
Route 196 - iPod Night (play what you want) and PhP300 per person on RhumCoke ALL YOU CAN
19 East - Juris
Friday, May 3
Prive - Incognito
Fiamma - Fresh Fridays
Izumi - Diskoteka Fridays
Opus - Uber Disko
Palladium - Revelation Launch
Candyshop - Sucette Fridays
Dillingers - Get Freaky
ADVERTISEMENT - CONTINUE READING BELOW
Republiq - Best Night Ever
7th High Apex Lounge - Alternative Escape
7th High Club Room - Nitro
Time in Manila (Main) - Time in Manila - Return To The Future Replay
Cabana Club - Model's Night Out
Eden - Sunny Daze: The Flow on Forbidden Fridays Summer Party Series
Route 196 - Dong Abay & The Tanods, Gaijin, Flying Ipis, Tarsius, Dash, Protege
Saguijo -  Forte - Moral Victory! w/ HUMDINGER, LESLIE & CO., LUCILLE, THE OEMONS, OPHIDIA, THE TENTATIVES. More TBA. P150w/1drink
19 East - Urbandub & Nuncyspungen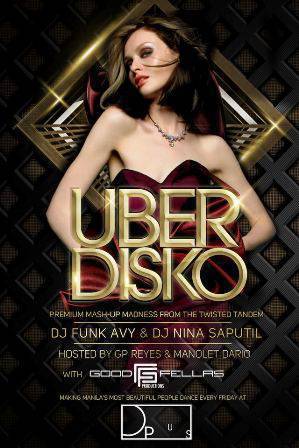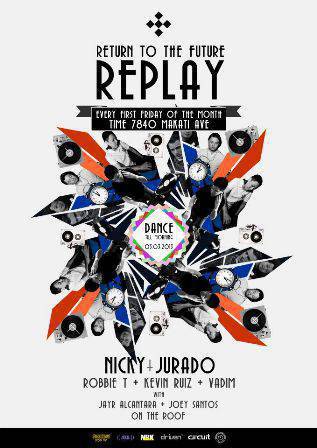 Saturday, May 4

Dillinger's - Saturday Swagger
Republiq Club - Pure Saturdays
Izakaya - Sake To Me Baby Saturdays 
Jill's - Saturday Night Life featuring guest DJs (Hiphop, Top 40, Dance)
Izumi - Sky High Saturdays
Opus - Legendary Saturdays
Excess Superclub -  Saturday Xscape
Candyshop - Overflow Saturdays
Rocket Room - Supersonic
Route 196 - Attraction! Reaction! with The Purplechickens, Moonwlk, Identikit, Your Imaginary Friends, Child/ren of the Pilgrimage, Don't Bogart The Can
Saguijo - Solid! x Red Ninja - Swerve City: Deftones Night! w/ EARTHMOVER, FARCUSS, IMELDA, JEJAVIEW, LIONS AND ACROBATS, SIMILAR OBJECTS. 9PM P150w/1drink.
Freedom Bar - OURSELVES THE ELVES ,LIGHTS IN TRANSIT ,STOMACHINE , AIZO , IVAN THEORY , AUTOTELIC ,TIDE/EDIT , ANG BANDANG SHIRLEY
19 East - Up Dharma Down
The Venice Piazza in McKinley Hill - Do-Over Manila 3
Sunday, May 5
Chihuahua Mexican Grill - Hangover Sundays
The Rocket Room - Sun Dazed with DJs Miss Badkiss & Supreme Fist
B-Side - Irie Sunday
M Café - Manteca! Salsa Night, 6 p.m.
ADVERTISEMENT - CONTINUE READING BELOW
Time in Manila - Brown Sugar (Beach, Soul, Jazz)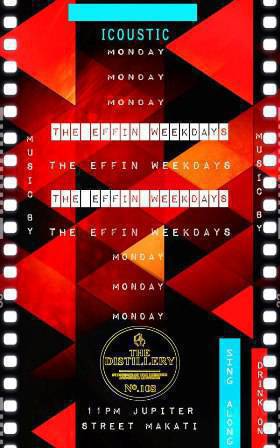 Monday, May 6

Izakaya - Moshi Moshi Mondays
Izumi - Muteki Monday
Opus - Industry Mondays
Dillingers - Misfit Mondays
Time in Manila (Roof) - Fever (Live Acoustic Set)
Distillery Jupiter - iCoutsic Mondays
Reserve Liquor Lounge - Rockeoke Mondays
Eden Nightclub - Jumpstart Mondays
Jill's - Monday Mic Live
Eastwood Central Plaza - Rock for a Fully-Abled Nation featuring UP DHARMA DOWN ,ITCHYWORMS , FRANCO ,EBE DANCEL , MALAY ,KAMIKAZEE , SOAPDISH ,MAUDE , PULSO , MIKE PEPITO , RIGHTEOUS ONE ,LONG TIME NO SEE ,TURPITUDE
Tuesday, May 7
7th High Lounge - Timeout Tuesdays
7th High Club Room - Melange feturing French House and Trance
Bond Urban Pub - The Original Models Night
Izakaya - Open Mic Tuesday
Dillingers - Hipstop Tuesdays
Beso - Viva Tuesdays 
Reserve Liquor Lounge - Twisted Tuesdays 
Distillery Jupiter - Ladies' Night
Prive - Weekday Warriors
Bond Urban Pub - Early Nights
Time in Manila (Main) - Strike (Dance Music)
Time in Manila (Roof) - Ruby (Sunset Sensation Session)
The Distillery Jupiter - Insane Tuesdays
Aracama - Almost Famous: Open Mic Night
19 East - Freestyle
Load More Stories