Strike Your Vote at Time In Manila + The Rest of the Bar and Club Scene This Week
Your handy guide to the metro's hottest gigs and parties.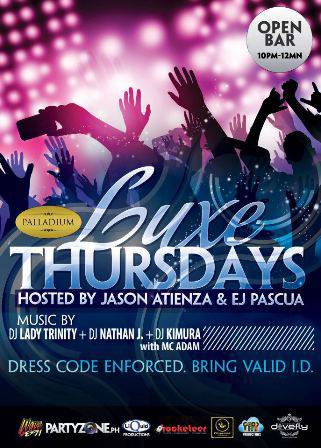 Wednesday, May 8
Bond Urban Pub - Stareoke Wednesdays
Opus - Opulence: Model's Night
Izakaya - Izakaya Dojo Wednesday
M Café - Manteca! Salsa Night, 10 p.m.
Palladium - Wasted Wednesday
Izumi - Sakephonic Wednesdays, Ladies and Models Night
Dillingers - CTRL ALT Delete Wednesdays
7th High Club Room - Rouge
Time in Manila (Main) - Femme (House, Techno, Electro Beats)
ADVERTISEMENT - CONTINUE READING BELOW
Time in Manila (Roof) - Fresh (Old School Hiphop, R&B, 90s, Soul Funk)
Reserve Liquor Lounge - Riot Wednesdays
Garage 88 - We Love House Wednesday
Saguijo - The Pocket Universe Art Collective w/ The Butchercons, Identikit, Kapitbahay, Monochrome, Tether, Turbo Goth & Wilderness
Route 196 - Mary Moon Prod. presents "Cheers to the Night" with Ang Bandang Shirley, Archipelago, Hidden Nikki, Tonight We Sleep, andThe Nameless Heroes (note: at exactly 12 midnight, no more alcohol will be served at Route 196. so start drinking early, folks!)
B  - Side - NEVER THE STRANGERS, SHE'S ONLY SIXTEEN,YOLANDA MOON, JENSEN GOMEZ, BANAT BOYS, KAPNOBATAI, RUNMANILA, GABE PIOLO, MITHI, ANJ FLORENDO, NO FACE, RALPH AND THEM
Thursday, May 9
Opus - Groove Thursdays
Rocket Room - Space Camp at Rocket Room 
Bond Urban Pub - EDM Ladies Night (Electronic Dance, free cocktails for ladies all night)
Izakaya - KISS! KISS! BANG! BANG!
Libations - Lipstick Mafia
Palladium - Luxe Thursdays
Eden Nightclub - Backbeat Thursdays  
Dilingers - Thirst Days
Izumi - Rockizumi
ADVERTISEMENT - CONTINUE READING BELOW
7th High Club Room - The Boombox
Republiq - VIP Night
Time in Manila (Main) - Dirty (Dance, House, Hiphop)
Time in Manila (Roof) - Shift (House, Techno)
Friday, May 10
Prive - Incognito
Fiamma - Fresh Fridays
Izumi - Diskoteka Fridays
Opus - Uber Disko
Palladium - Revelation Launch
Candyshop - Sucette Fridays
Dillingers - Get Freaky
Republiq - Best Night Ever
7th High Apex Lounge - Alternative Escape
7th High Club Room - Nitro
Cabana Club - Model's Night Out
Eden - Sunny Daze: The Flow on Forbidden Fridays Summer Party Series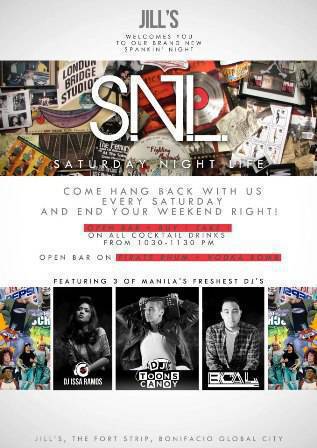 ADVERTISEMENT - CONTINUE READING BELOW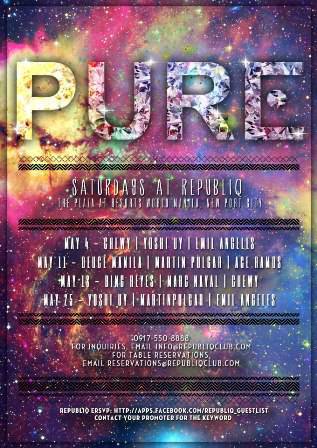 Saturday, May 11

Dillinger's - Saturday Swagger
Republiq Club - Pure Saturdays
Izakaya - Sake To Me Baby Saturdays 
Jill's - Saturday Night Life featuring guest DJs (Hiphop, Top 40, Dance)
Izumi - Sky High Saturdays
Opus - Legendary Saturdays
Excess Superclub -  Saturday Xscape
Candyshop - Overflow Saturdays
Rocket Room - Supersonic
ADVERTISEMENT - CONTINUE READING BELOW
Saguijo - Serum Productions w/ Anj Florendo, The Croons, Curbside, Imelda, Jensen Gomez, Kapnobatai & She's Only Sixteen
Route 196 - Paramore Night (a gig with zero alcohol. sorry folks, let's keep this clean). with Ferown Band Official, Circa, Southern Lights, Aleph, Mad Hatter Day, Stratosdays, Clair de Lune, and Psychochem
Amoranto Stadium - DENSYO , 4TH DRAZTIK ,AMMOS , BAD WEATHER ,KEEP RIGHTS , LION AND THE SCOUTS , ENGKANTO REGGAE , CIUDAD TRIBU ,MOMSCAKE , ARCADIA ,SAD MACHINE , JURASSIC PARDS , MARYZARK ,MAYONNAISE , HILERA ,NEVER THE STRANGERS ,MR. BONES AND THE BONEYARD CIRCUS ,OKTAVES , WILABALIW
Mall of Asia Arena - Vans Off The Wall feat THE CHONGKEYS , SAVE ME HOLLYWOOD ,MOONSTAR 88 , FRANCO ,URBANDUB , KAMIKAZEE
Sunday, May 12
Chihuahua Mexican Grill - Hangover Sundays
The Rocket Room - Sun Dazed with DJs Miss Badkiss & Supreme Fist
B-Side - Irie Sunday
M Café - Manteca! Salsa Night, 6 p.m.
Time in Manila - Brown Sugar (Beach, Soul, Jazz)
ADVERTISEMENT - CONTINUE READING BELOW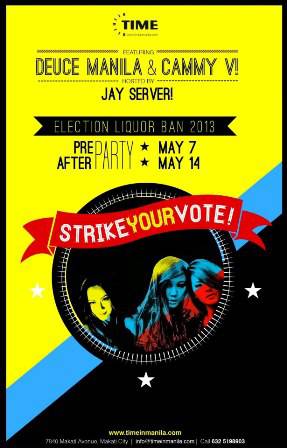 Monday, May 13

Izakaya - Moshi Moshi Mondays
Izumi - Muteki Monday
Opus - Industry Mondays
Dillingers - Misfit Mondays
Time in Manila (Roof) - Fever (Live Acoustic Set)
Distillery Jupiter - iCoutsic Mondays
Reserve Liquor Lounge - Rockeoke Mondays
Eden Nightclub - Jumpstart Mondays
Jill's - Monday Mic Live
Tuesday, May 14
7th High Lounge - Timeout Tuesdays
ADVERTISEMENT - CONTINUE READING BELOW
7th High Club Room - Melange feturing French House and Trance
Bond Urban Pub - The Original Models Night
Izakaya - Open Mic Tuesday
Dillingers - Hipstop Tuesdays
Beso - Viva Tuesdays 
Reserve Liquor Lounge - Twisted Tuesdays 
Distillery Jupiter - Ladies' Night
Prive - Weekday Warriors
Bond Urban Pub - Early Nights
Time in Manila (Main) - Strike (Dance Music) Your Vote After Party
Time in Manila (Roof) - Ruby (Sunset Sensation Session)
The Distillery Jupiter - Insane Tuesdays
Aracama - Almost Famous: Open Mic Night
Saguijo - Buzz Night! Lineup TBA