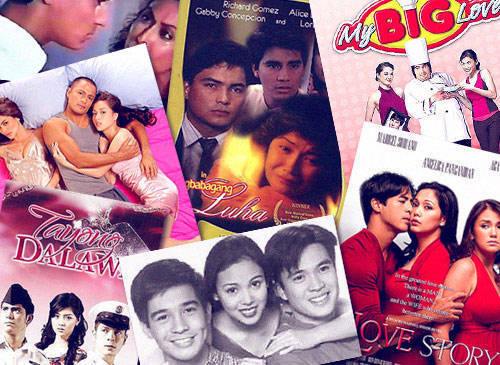 (SPOT.ph) In 1963, Armand de Guzman directed Sapagkat Kami'y Tao Lamang starring three stellar actors (Eddie Rodriguez, Lolita Rodriguez, Marlene Dauden) with a relatively untested chemistry. The film detailed a complicated love triangle, which, by that time's standards, was so revolutionary in terms of storyline that it became a huge hit critically and financially. In fact, it was so successful that their love triangle spawned six more films featuring that exact formula: a man caught between the affections of two beautiful women.
Nowadays that plot is old hat, becoming almost a prerogative in local romantic comedies which, by the way, take up more than 50% of the movie industry. With the liberties writers and directors have been taking with this formula, we're taking this age-old tradition and listing down who did it best.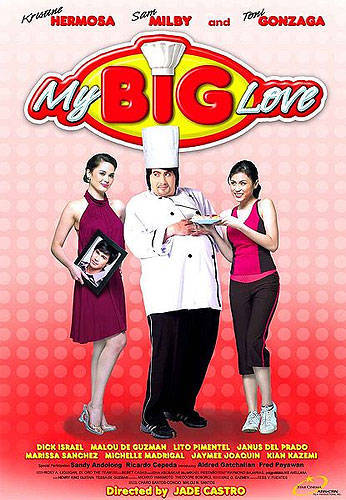 10. My Big Love (2008)
The players: Aira (Toni Gonzaga), Macky (Sam Milby), Niña (Kristine Hermosa)
ADVERTISEMENT - CONTINUE READING BELOW
An overweight but sweet pastry chef gets dumped by his hot crush after an embarrassing spectacle involving a broken chair and YouTube. Determined to win her back and to better himself, Macky enrolls in a gym and develops a romance with his encouraging trainer, Aira. They separated (in friendly terms) due to distance, but when Aira returns, she discovers that a now slim (and ripped) Macky has rekindled his flame for the lovely Niña.
Line: "Talk about karma, falling in love with someone who used to love you." -Niña
Lesson learned: We're taking it from Aira's five-step weight-loss program, Step No. 5: Be happy!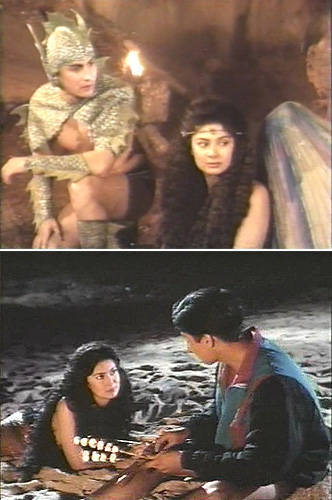 9. Dyesebel (1996)
The players: Juno (Gary Estrada), Dyesebel (Charlene Gonzales), Matthew Mendoza (Fredo)
This version of the fishtailed wonder just goes to show that if you're half skin, half fish, you can go both ways. Already smitten with the the long-legged-and just legged-Fredo, Dyesebel easily dismisses the scaly Juno.
CONTINUE READING BELOW
Recommended Videos
Line: Nothing cheesy or overly dramatic here. But we know what Dyesebel is saying: "There are plenty of fish in the sea."
Lesson learned: Fins don't look attractive on Gary Estrada.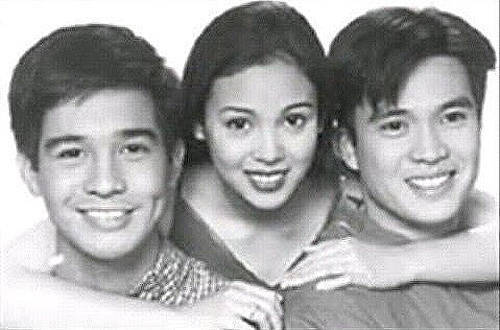 8. Mula sa Puso (1997 to 1999)
The players: Gabriel Maglayon (Rico Yan), Olivia Pereira (Claudine Barretto), Michael Miranda (Diether Ocampo)
After nearly being kidnapped, Via falls in love with her rescuer, the kind-hearted though poor Gabriel. In a twist, Gabriel turns out to be the adopted son of Via's biological mother, and her father, unwilling to let his daughter know the truth, keeps them apart and sets Via up to marry her childhood friend and betrothed, Michael. This emotional upheaval plus escaping a murderous pyschotic aunt plus the rediscovery of a mother she thought she lost plus choosing between two important men in her life test this heroine's limits.
Line: "You can call me selfish pero hindi kita basta maibibigay ng ganoon ganoon na lang. Kalimutan mo na si Gabriel. Matututunan mo rin akong mahalin." -Michael Miranda after Via asks for his help to free Gabriel from prison.
ADVERTISEMENT - CONTINUE READING BELOW
Lesson learned: Clearly a relationship with a woman who gets kidnapped, nearly murdered (several times), and shot is worth fighting for.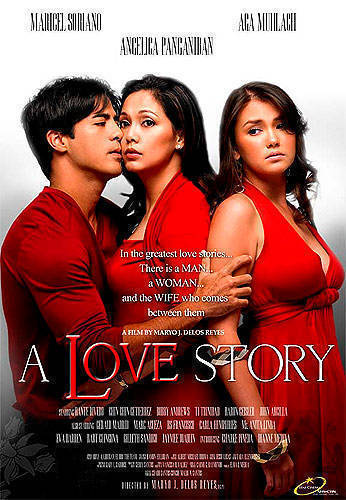 7. A Love Story (2007)
The players: Joanna Villanueva (Maricel Soriano), Ian Montes (Aga Muhlach), Karyn Torres-Montes (Angelica Panganiban)
An emotionally broken man yearns for the love he didn't have as a child. Enter Karyn, a beautiful young stewardess full of life, passion, and worldliness. Ian and Karyn eventually get married and become the epitome of a perfect family: a successful husband with a devoted wife already expecting a baby. Enter Joanna, a passionate doctor who rescues him from a water-skiing accident. Ian's world is shaken as he falls in love all over again, believing that he's met the "Right One" after marriage.  Now what?
Line: "I thought I could pretend you don't exist. Mali ako eh." -Joanna to Karyn (the mistress to the wife!)
ADVERTISEMENT - CONTINUE READING BELOW
Lesson learned: Be careful what you wish for.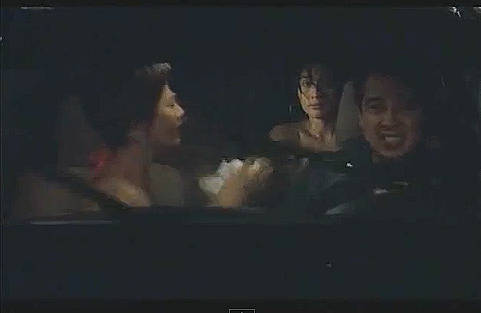 6. One More Chance (2007)
The players: Basha (Bea Alonzo), Popoy (John Lloyd Cruz), Trisha (Maja Salvador)
A budding architect suffering from quarter-life crisis, Basha breaks up with her overbearing, over-protective, long-term boyfriend Popoy. After a painful recovery, Popoy finds love again in the free-spirited, Trisha. Basha, upon seeing Popoy happy with his new lady, wakes up from her revelry of painting T-shirts and asks him to once again-incoveniently, we might add-take her back. Poor Trisha!
Line: ""She loved me at my worst. You had me at my best, but binalewala mo lang ang lahat... And you chose to break my heart." -Popoy (You tell her, Popoy!)
Lesson learned: That even if you break someone's heart, send a truckload of pain their way, make them abandon their friends, it's okay. They'll take you back anyway. Basta TL!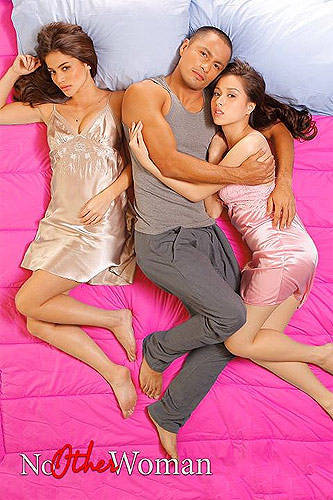 ADVERTISEMENT - CONTINUE READING BELOW
5. No Other Woman (2011)
The players: Charmaine Escaler (Cristine Reyes), Ram Escaler (Derek Ramsay), Kara Zaldarriaga (Anne Curtis)
A shaky couple becomes even more unstable when a potential client with loose morals wrapped in tightswimsuits seduces Ram. When Charmaine learns about the affair, she engages Kara in an epic catfight of bikinis and one-liners.
Line: "Why don't you have dinner with us tonight? Pa-thank you ko na rin dahil kinuha mo ang asawa ko... bilang supplier ng furniture sa resort niyo?" -Charmaine Escaler to Kara Zalderiaga
Lesson learned: Charmaine knows best: "Alam mo, ang marriage, para 'yang exclusive village. Kailangan yang bantayan para hindi makapasok ang squatters."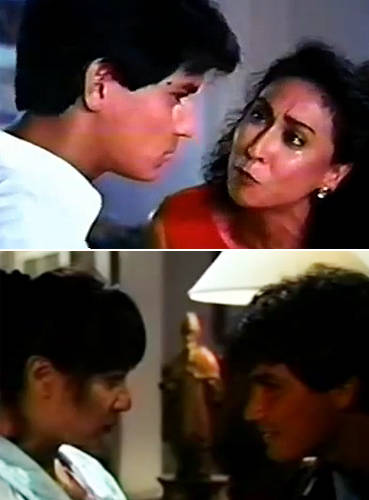 4. Ngayon at Kailan Man (1992)
The players: Ayra Noche (Sharon Cuneta), Edwin Torres (Richard Gomez), Donna Benitez (Cherie Gil)
The children of opposing hacienderos fall in love only to be separated by their meddling parents. Ayra is shipped off to the States to put a stopper on their romance. When she returns, now destitute, she learns that her former beau has taken over her father's land. Edwin, still harboring feelings for Ayra, offers to marry her so that she might have a claim on her old property. The plot thickens with the glamorous and shrewd Donna, Edwin's former girlfriend who helped him further his business.
ADVERTISEMENT - CONTINUE READING BELOW
Fans of Bituing Walang Ningning might enjoy Ngayon at Kailan Man as it features a very entertaining slapping session between the two women.
Line: "Mukhang nahihirapan kang sundin ang pinagkasunduan natin. Ang kinukuha ko ay ang parte ko bilang kabayaran mo sa kunwa-kunwariang set-up na 'to!" -Ayra Noche
Lesson learned: When you marry someone, make sure they don't have any crazy exes around.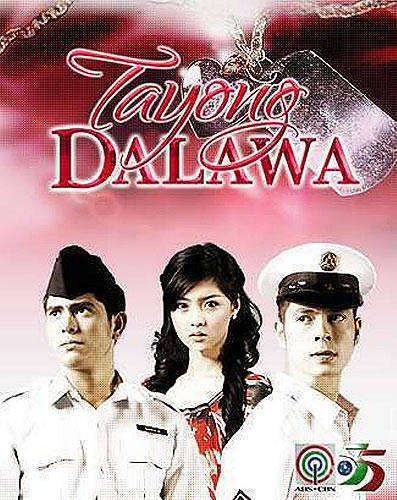 3. Tayong Dalawa (2009)
The players: David Garcia (Gerald Anderson), Audrey King (Kim Chiu), David Garcia (Jake Cuenca)
A little girl falls off a cliff and is rescued by a boy who introduces himself as David Garcia. Later that day, Audrey and her dad meet a vacationing family with a son whose name is also David Garcia. Audrey assumes that he was her savior and the two develop a romance. Their relationship, however, is shaken with the reappearance of the first David Garcia. Audrey chooses her real rescuer, but Dave (that's the fake rescuer), determined to win her back, gives his dying, apparently twin brother his kidney in exchange for her hand in marriage. The wedding turns out to be a sham and she ends up marrying JR (that's the real one) instead.
ADVERTISEMENT - CONTINUE READING BELOW
Line: "JR, hindi importante kung mahal pa rin kita o hindi kundi ang mali sa tama...Kaya JR kung mahal man kita, isasantabi ko muna 'yon. Mas mamahalin ko ang sarili ko ngayon. Napaso na kasi ako eh. Pagod na pagod na ako. Pwede bang ngayon, ako naman. Pwede bang ngayon magdamot naman ako para sa sarili ko?" -Audrey to JR.
Lesson learned: Because, really, when you have two hunks eating out of the palm of your hand, it's not pagdadamot! Why are they even  fighting over a woman who wants to be alone?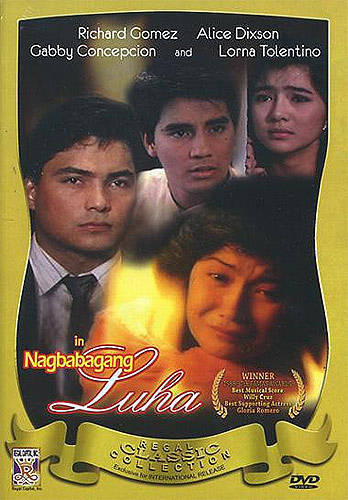 2. Nagbabagang Luha (1988)
The players: Maita (Lorna Tolentino), Alex (Gabby Concepcion), Cielo (Alice Dixson)
Alex, who's separated, decides to take their daughter to the States away from her mother, Maita. Maita, in turn, asks her sister Cielo to reclaim her daughter from Alex. There, he confesses his true feelings for his ex-wife's sister and the two fall madly in love. The conflict is, in fact, a love "square," but Richard Gomez somehow gets lost in the hustle of crying and betrayal and quotable quotes.
ADVERTISEMENT - CONTINUE READING BELOW
Line: "Noong inagaw mo sa akin si Alex muntik na rin akong mamatay. Puwes, ikaw naman ngayon ang mamatay!" -Maita
Lesson learned: Why, and we're not judging here, would anybody go for their sister's ex?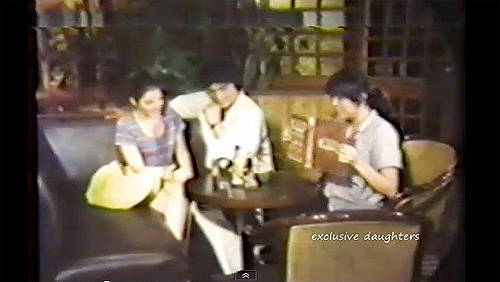 1. My Only Love (1982)
The players: Cindy (Sharon Cuneta), Billy (Gabby Concepcion), Trixie (Jackie Lou Blanco)
An indecisive boy breaks up a pair of BFFs by giving them each a bracelet engraved with sweet nothings. One of them reads "My Love" while the other, "My Only Love."
Line: "Nice coincidence ha, Cindy. Pareho rin ba yung nakalagay?" -Trixie
Lesson learned: We have several lessons here. First, huwag mong i-two-time ang BFFs (Girls talk!); second, if you do, don't give them the same things! It's called "effort." 


Share this story with your friends!
---
Help us make Spot.ph better!
Take the short survey
Load More Stories