(SPOT.ph) Rated R-18 by the MTRCB for excessive gore, violence, foul language and horror themes, Evil Dead is a reimagining of Sam Raimi's no-budget 1983 cult classic, The Evil Dead. In this 2013 update, a group of 20-somethings go to a forest cabin in the outskirts of Michigan to help their friend Mia (Jane Levy) cure her drug habit. Present for the intervention are Mia's brother David (Shiloh Fernandez), his girlfriend Natalie (Elizabeth Blackmore), registered nurse Olivia (Jessica Lucas), and high school teacher Eric (Lou Taylor Pucci). What starts out as a detoxification weekend quickly becomes a bloodbath of death and dismemberment after Eric unwittingly unleashes an evil spirit from an ancient book.      


Note that only horror aficionados will consider the following as positives. If you're squeamish about blood and scary movies, then avoid  Evil Dead like the plague.

PLUSES


The old-school, over-the-top blood and gore. The director of Evil Dead, Fede Alvarez, kept the budget of his feature film directorial debut at a very low $17 million by shooting many of the more graphic scenes traditionally. He employed talented makeup and prosthetics artisans rather than more costly computer animators, and reportedly used 50,000 gallons of fake blood for the climax alone. And so, the horrific violence in Evil Dead is way more intense and more palpably realistic than we've seen in many recent horror flicks. I'm one of those who believe, for instance, that the recent Guillermo del Toro horror presentation Mama was quite the bonechiller until we got a good look at Mama herself at the end, and she turned out to be a distractingly fake-looking computer creation. Save for two scenes in Evil Dead where people are burned alive, the gruesome setpieces that punctuate Alvarez's movie look like they were filmed in the more innocent, pre CGI era of Sam Raimi's original Evil Dead trilogy. Among the instruments of sadistic mutilation which are put to sick use in Evil Dead are a nail gun, a crowbar, an electric carving knife, a syringe, and a chainsaw. As gleefully gory horror movies go, there's no school like old school!
ADVERTISEMENT - CONTINUE READING BELOW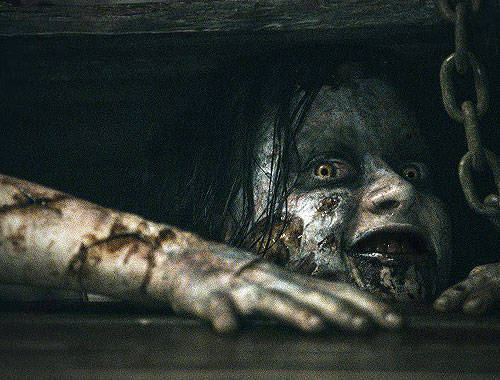 Tiyanak, Part II



The frighteningly efficient camerawork. Whether they're employing high-velocity tracking shots to simulate approaching evil or using Hitchcock's famed dolly-zoom shots to evoke dawning dread, director Fede Alvarez and lenser Aaron Morton know exactly which buttons to push to milk every jolt of surprise or trigger every shudder of suspense from game-for-anything viewers.


The intensely immersive multi-source sound. Because the movie's visual production values are topnotch, it might be easy to take the contributions of the brilliant audio engineers for granted. But Evil Dead's efficiency as a scare machine has as much to do with what it lets the audience hear vis a vis what it's shown. Whispers, screams, a dying animal's moans and a chilling children's lullaby are just some of the unnerving sounds that will come at you from various points inside state-of-the-art cinemas thanks to the magic of Dolby Digital. (I saw the movie in Trinoma and the sound was superb there.)
CONTINUE READING BELOW
Recommended Videos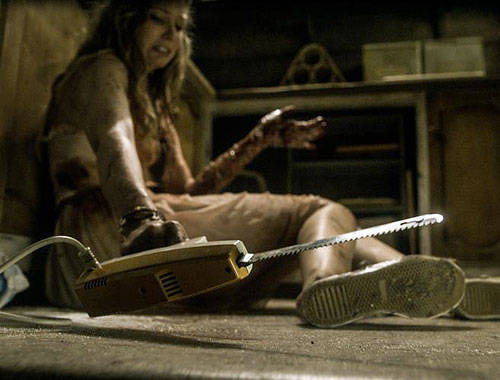 Natalie (Elizabeth Blackmore) fears an electric carving knife



MINUSES


The contrived plot points. The rain and subsequent floods that isolate the good guys and prevent them from getting help are acceptable, as is the "convenient" detail that no one has a cell phone that works. Harder to swallow is the fact that the supremely evil book that causes all the trouble was simply left on a basement table by its previous user for future generations to find, its demonic contents protected from future Pandoras by nothing but barbed wire. And when the tome's protection is defeated by a pair of pliers, what does it reveal? That the unspeakably evil demon it describes needs to possess five victims so it can rise again. And how many people are at the cabin at the time to help detoxify Mia? Why, five of course!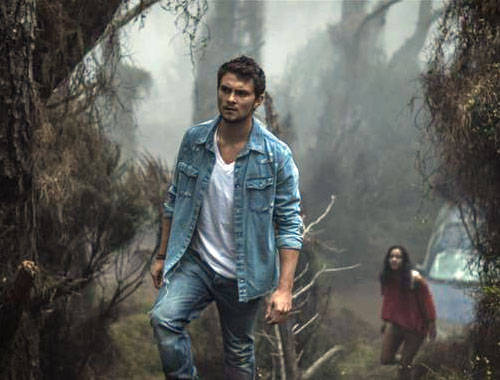 ADVERTISEMENT - CONTINUE READING BELOW
David (Shiloh Fernandez) is ready for some scares
IN BRIEF: Best seen with friends who have a ghoulish appetite for cinematic sadism,  Evil Dead is revolting, shocking, disgusting and totally entertaining. Its contrived story aside, this is one of the scariest horror films in years.  


Rating: 3 ½ out of 5 spots  •••.
Share this story with your friends!
---
Help us make Spot.ph better!
Take the short survey
Load More Stories