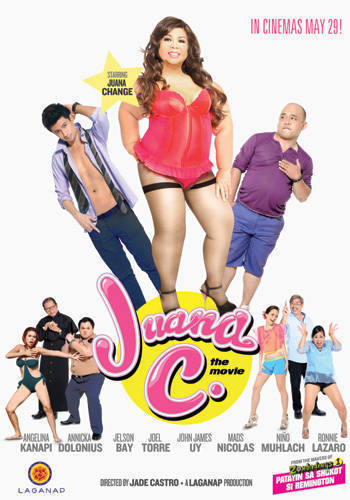 (SPOT.ph) Election season is always a colorful and messy time for the country, and at least one film reflects this colorful mess-Juana C. The Movie was made not to rake it in at the box office but to encourage social awareness for the current political climate of the Philippines which, like the weather, is hot and sticky.
This sex comedy/political satire (directed by Jade Castro and written by Rody Vera) is just as hot and sticky, with the titular Juana Change (Mae Paner) engaging in everything from partying with Assumptionistas to high level prostitution for Very Important Politicians. Juana, a simple girl from Kaploc, rises from her humble roots through sheer kagagahan-she is sent to study in a sosyal school in Manila, falls in with the wrong crowd including the free-spirited party girl Eva (Annicka Dolonius), and soon turns into an urban sophisticate complete with a collection of designer handbags and a smooth boyfriend named Yani (John James Uy). But Juana's high-flying lifestyle cannot last for long; soon she amasses huge credit card debt and becomes a call girl to pay it off. With her boyfriend as her pimp and his mother (Angelina Kanapi in a wonderfully alta turn) as the mama-san, Juana is debuted (decked out in baby pink lingerie) to a group of politicians. There she learns about money stashed away in secret rooms, engages in a ménage a trois, and generally becomes sort of a gangster moll-running dubious errands and becoming privy to the macho dancer parties of the powerful elite. In the end, Juana changes and saves the day by broadcasting evidence of corruption.


ADVERTISEMENT - CONTINUE READING BELOW
Only Mae Paner, poster girl for The New Sexy-and our answer to Lena Dunham-can prance across the screen with abandon, reminding us that it doesn't matter what you look like, as long as you have a strong message, that is, a call for awareness and action. The Juana Change Movement, which for the last four years has been posting satirical sketches made into viral videos on YouTube, encourages "critical thinking and social action." The movie encompasses several advocacies-human rights, the environment, the Freedom of Information Bill, to the dismantling of political dynasties among others-and adds a heavy dose of slapstick and droll humor. At least someone out there is ballsy enough to make a statement. Behind the comedy there is a sharp criticism of the political and social status quo. Rizal did it through his novels and was eventually executed for it, perhaps this time we don't need to shoot anyone in Luneta-we only need to sit up and pay attention.
Thank goodness someone thought of making a satire because it has been many years since a really fierce one-clad in animal print underwear-was made. In the '80s, there was the television show Sic O Clock News which I always watched. I was in grade school, it was post-EDSA, and I thought Jimmy Fabregas and Ces Quesada were brilliant. They used cartolina props and ridiculous wigs, but the acting from the cast of theater stalwarts had more than enough enthusiasm to keep the show going. Why oh why did they never make Sic O'Clock News The Movie?
CONTINUE READING BELOW
Recommended Videos
And then in the '90s there was the sitcom from ABS-CBN called Abangan ang Susunod na Kabanata, which was brilliantly written by Jose Javier Reyes. There was the powerful political elite Tengco clan, headed by Congressman Anding Tengco (Noel Trinidad) and his ilusyonada wife Barbara Tengco (the hysterical Tessie Tomas)-characters not-so-subtly based on former President Ferdinand Marcos and his First Lady Imelda. There was a semi-retarded son, a bodyguard, a social climbing friend, and a married gay beautician, truly a great cast of characters.
Only Barbara Tengco could adopt Aeta kids and hope to transform them into junior socialites from Makati. "Gusto ko, mag-blend sila sa mga bagets sa Faces, Mars, at Euphoria," she says imperiously. It was campy and theatrical-which we are apparently good at-and a true reflection of how ridiculous it has become for our nation. Juana C. The Movie is a part of this glorious tradition. Let's laugh at ourselves but also, let's do something about it.

***
Juana C. The Movie opens in theatres on June 5. Go!


Share this story with your friends!
---
Help us make Spot.ph better!
Take the short survey
Load More Stories