Femme at Time In Manila + The Rest of the Bar and Club Scene This Week
Your handy guide to the metro's hottest gigs and parties.
<>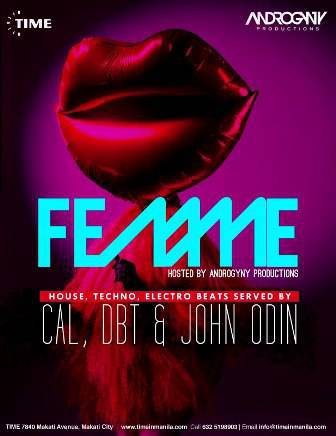 Wednesday, May 15
Bond Urban Pub - Stareoke Wednesdays
Opus - Opulence: Model's Night
Izakaya - Izakaya Dojo Wednesday
M Café - Manteca! Salsa Night, 10 p.m.
Palladium - Wasted Wednesday
Izumi - Sakephonic Wednesdays, Ladies and Models Night
Dillingers - CTRL ALT Delete Wednesdays
7th High Club Room - Rouge
Time in Manila (Main) - Femme (House, Techno, Electro Beats)
Time in Manila (Roof) - Fresh (Old School Hiphop, R&B, 90s, Soul Funk)
Reserve Liquor Lounge - Riot Wednesdays
Garage 88 - We Love House Wednesday
Saguijo - Pinoytuner Live!!! w/ Autotelic, Bad Hair Day, The Oemons & Sheenola
19 East - Gloc 9, Sandwich & Franco
Alphonse Bistro - KJWAN , EBE DANCEL ,NOEL CABANGON ,MAYONNAISE , GENERAL LUNA , STEADY MACHINE, KATE TORRALBA ,HUMANFOLK , JIM PAREDES , JAY DURIAS ,GUS ABARQUEZ , MIRO VALERA , ANGULO
Thursday, May 16
Opus - Groove Thursdays
Rocket Room - Space Camp at Rocket Room 
Bond Urban Pub - EDM Ladies Night (Electronic Dance, free cocktails for ladies all night)
Izakaya - KISS! KISS! BANG! BANG!
Libations - Lipstick Mafia
Palladium - Luxe Thursdays
Eden Nightclub - Backbeat Thursdays  
Dilingers - Thirst Days
Izumi - Rockizumi
ADVERTISEMENT - CONTINUE READING BELOW
7th High Club Room - The Boombox
Republiq - VIP Night
Time in Manila (Main) - Dirty (Dance, House, Hiphop)
Time in Manila (Roof) - Shift (House, Techno)
Saguijo - Revolver x Locked Down w/ MC Dash, Kjah, Paranoid City, Syke, Tanya Markova & Tarsius
19 East - Juris
70s Bistro - Itchyworms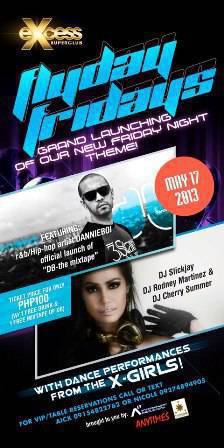 Friday, May 17
Prive - Incognito
Fiamma - Fresh Fridays
Izumi - Diskoteka Fridays
Opus - Uber Disko
Candyshop - Sucette Fridays
Dillingers - Get Freaky
Excess - Flyday Fridays
Republiq - Best Night Ever
7th High Apex Lounge - Alternative Escape feat WILABALIW , GAYUMA ,TONIC TUBE
7th High Club Room - Nitro
Cabana Club - Model's Night Out
Eden - Sunny Daze: The Flow on Forbidden Fridays Summer Party Series
Saguijo - Kerplunk! w/ At Times Provoked (ATP), Badburn, Cog, Murder Death Kill (MDK), Snake Face & Valley of Chrome
19 East - Side A
Southbar - MAYONNAISE ,MARYZARK , BANAT BOYS, JURASSIC PARDS ,PROLOGO , EGANUNE ,KILDA , HEY REIA ,CONSOLIDAR , GOING MERRY , DREAMING AT SUNSET
ADVERTISEMENT - CONTINUE READING BELOW
Mugen Bar - Kamikazee, Franco
B - Side - Fliptop Tournament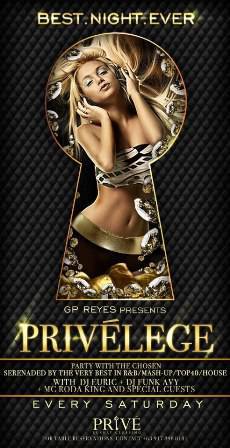 Saturday, May 18

Dillinger's - Saturday Swagger
Republiq Club - Pure Saturdays
Izakaya - Sake To Me Baby Saturdays 
Jill's - Saturday Night Life featuring guest DJs (Hiphop, Top 40, Dance)
Izumi - Sky High Saturdays
Opus - Legendary Saturdays
Excess Superclub -  Saturday Xscape
Prive - Best Night Ever: Privelege
Candyshop - Overflow Saturdays
Rocket Room - Supersonic
Saguijo - Terno Inferno w/ The Charmes, Child/ren of the Pilgrimage, Encounters with a Yeti, Hidden Nikki, Maude, Musical O, Not Another Boy Band, Populardays, Pulso, Sleepwalk Circus, The Sleepyheads, Up Dharma Down, Yolanda Moon. More TBA
Side A - Nina & Mic Llave
Tiendesitas - PUPIL , BANDA NI KLEGGY
Globe Circuit Grounds - Wanderland feat UP DHARMA DOWN ,YOLANDA MOON , PULSO, TAKEN BY CARS , SHE'S ONLY SIXTEEN +more
Marikina Sports Complex - PARAMITA , SLAPSHOCK ,KAMIKAZEE , LIGHT OF LUNA , CHICOSCI ,6CYCLEMIND , THE CHONGKEYS ,URBANDUB ,STICKFIGGAS ,WILABALIW , THYRO & YUMI , TYPECAST ,CALLALILY , PUPIL , EVEN, POW CHAVEZ , 5TH WAVE THEORY ,SHEHYEE
ADVERTISEMENT - CONTINUE READING BELOW
B - Side - Blow Out Au Go Go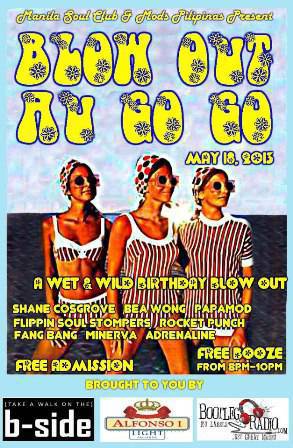 Sunday, May 19
Chihuahua Mexican Grill - Hangover Sundays
The Rocket Room - Sun Dazed with DJs Miss Badkiss & Supreme Fist
B-Side - Irie Sunday
M Café - Manteca! Salsa Night, 6 p.m.
Time in Manila - Brown Sugar (Beach, Soul, Jazz)
19 East - U-Bass Solo Competition
Monday, May 20

Izakaya - Moshi Moshi Mondays
Izumi - Muteki Monday
Opus - Industry Mondays
Dillingers - Misfit Mondays
Time in Manila (Roof) - Fever (Live Acoustic Set)
Distillery Jupiter - iCoutsic Mondays
Reserve Liquor Lounge - Rockeoke Mondays
Eden Nightclub - Jumpstart Mondays
Jill's - Monday Mic Live
19 East - Urbandub, Franco & Junior Kilat
Tuesday, May 21
7th High Lounge - Timeout Tuesdays
7th High Club Room - Melange feturing French House and Trance
Bond Urban Pub - The Original Models Night
Izakaya - Open Mic Tuesday
Dillingers - Hipstop Tuesdays
Beso - Viva Tuesdays 
Reserve Liquor Lounge - Twisted Tuesdays 
Distillery Jupiter - Ladies' Night
Prive - Weekday Warriors
ADVERTISEMENT - CONTINUE READING BELOW
Bond Urban Pub - Early Nights
Time in Manila (Roof) - Ruby (Sunset Sensation Session)
The Distillery Jupiter - Insane Tuesdays
Aracama - Almost Famous: Open Mic Night
Saguijo - Sagilid Presents w/ Brisom, Bullet Dumas, Donkey Hottie, Happiness Stan (New Zealand), The Purplechickens & Tao Aves
19 East - MYMP
Load More Stories