(SPOT.ph) Fans would be able to rattle off all the times that Jason Mraz has performed in Manila, starting with a mini concert at Dish in Power Plant in 2004 (the same trip that had him making a guest appearance on Eat Bulaga). His concert last night, May 14, at the Araneta Coliseum certainly wasn't the first, but the venue was no less packed than it was in 2011, when he was here for an acoustic session with percussionist Toca Rivera. And just like before, the concert turned out to be a celebration of good music, good vibes, and a-w-e-s-o-m-e singing. We list a few of our favorite moments.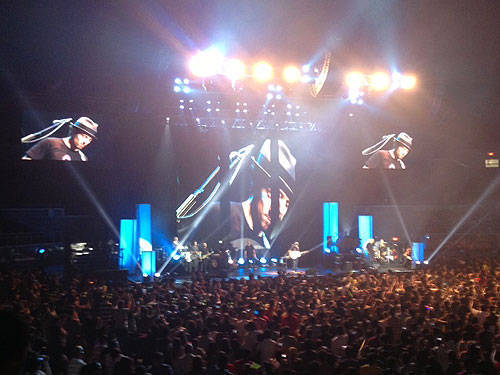 5. After a performance by YouTube discovery, Zendee, Mraz walks nonchalantly onstage to the crowd's wild cheering, blows a kiss at the audience, and starts "The World As I See It," from his latest album, Love Is A Four-Letter Word. Everyone screams nonstop, happy to welcome him back.
ADVERTISEMENT - CONTINUE READING BELOW
4. The concert's setlist included songs from practically all of Mraz's albums, and the hits from his debut, Waiting For My Rocket To Come, were the ones that everyone sang along to from start to finish. The audience didn't miss a beat in "The Remedy (I Won't Worry)," as he started dancing a little jig-or doing a cardio workout, it could be either-in the middle of the song.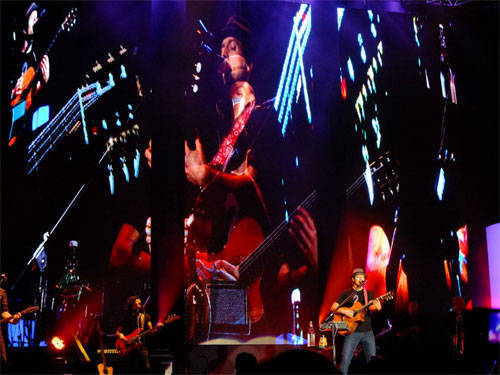 Photo by Macy Alcaraz
3. "I thank the boys who kicked my ass when I was 17/I thank the ones who chose to laugh and those who acted mean/I thank the bullies for all the scraps and accidents and then some/they shaped my life, they made me like who I've become," Mraz sang in "Who I Am Today," a single that has yet to be recorded on an album, and one he seems to like personalizing for concerts. Near the end, he changed the lyrics to say, "Salamat po."
CONTINUE READING BELOW
Recommended Videos
2. The concert was a genius, seamless mix of upbeat songs performed with a 10-piece band interspersed with slower acoustic songs by just Mraz standing on one side of the stage with his guitar. Every single female fan who was present most likely fell in love with him even more during the quiet, stripped-down version of "You And I Both" that he performed by himself, with just the spotlight for company onstage.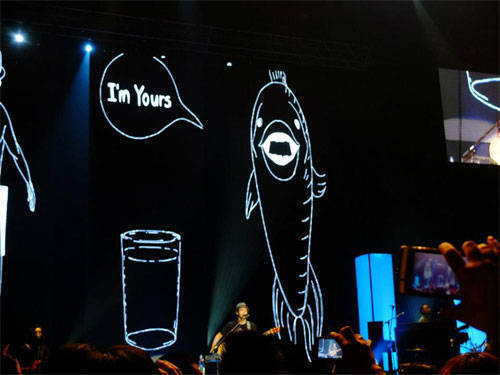 The encore performance of "I'm Yours" was highlighted by cute background graphics (Photo by Macy Alcaraz)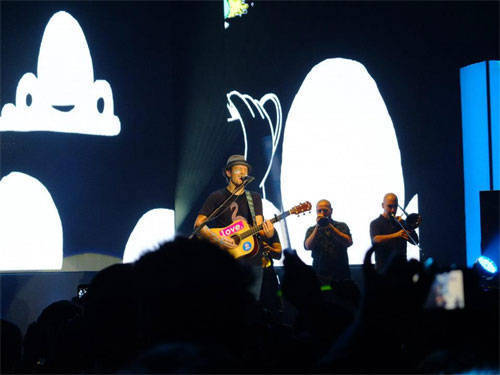 ADVERTISEMENT - CONTINUE READING BELOW
Photo by Macy Alcaraz
1. He started with a disclaimer, saying that they had performed the song for penguins and that, if it was safe for penguins, "It's safe for you," so the audience pretty much already knew he was going to launch into a live performance of "You Fckn Did It," a frantic, tongue-twisting song that had everyone just listening in awe. He did the song with only his percussionist, Mona Tavakoli, who rocked out from hands to belled feet and even tapped her drumsticks on Mraz's guitar while he worked the chords, creating an amazing fusion of guitar and percussion.
None of us wanted the night to end and hoped to keep him onstage for as long as we could with all the crazy cheering. But two hours later, he had to make his final bow, and all we could think was: we hope he comes back next year.
Share this story with your friends!
---
Help us make Spot.ph better!
Take the short survey
Load More Stories