(SPOT.ph) Your love for Star Trek Into Darkness hinges upon two things. First, you have to have at least liked the premise of the first one where an alternate/parallel universe was created to permit, above all things, the romantic relations between Spock (Zachary Quinto) and Uhura (Zoe Saldana). Second, it helps if you also like BBC's reimagining of Sherlock featuring Benedict Cumberbatch and his cheekbones.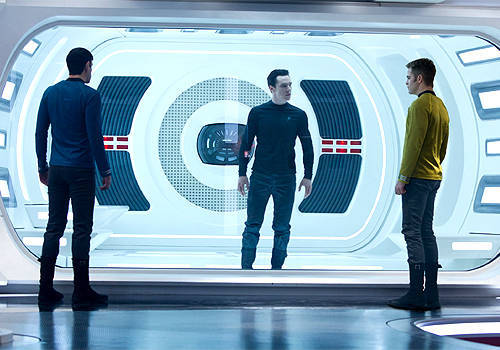 We felt like there were three Spocks in this film and that is a good thing!
The fact that this is J.J. Abrams' second Star Trek feature speaks well of the reception of the first because much to the delight of most Trekkies, the reboot made no attempts to rehash the gimmicks that made the original a cult hit. The characters are anchored on key pieces from the classic series but they are given enough slack to go where none of them have gone before.
ADVERTISEMENT - CONTINUE READING BELOW
Into Darkness begins with a volcano about to erupt on an alien planet and when the plot starts with that kind of energy, you expect it to mellow out and drag. Instead, the action is sustained and even increased, and you won't feel like you're just sitting through it as you'll be on the edge of your seat waiting for the resolution. You know they're going to live but you're eager to find out how they're going to outwit the enemy.
Hardcore fans will inevitably notice that Star Trek Into Darkness vaguely resembles or even pays tribute to Star Trek II: The Wrath of Khan from 1982. We all know that The Wrath of Khan is considered to be one of the best films of the Star Trek series, credited for renewing the interest in the franchise. Into Darkness simply cannot measure up to that kind of prestige but as fellow fans, we'll say that the J.J. Abrams version does not disappoint in terms of being an action-packed adventure.
Picky film buffs in particular might find the extensive use of close-ups quite bothersome. You'll start memorizing the details of Captain Jim Kirk's face since it fills the screen for a good portion of the running time. Sometimes his mug doesn't even fit in the frame anymore but then, Chris Pine pulls it off by owning the role. He's the captain of the Enterprise and he lets you know it. Zachary Quinto, on the other hand, still has the larger Star Fleet uniform to fill as the iconic Spock. If he's intimidated by the role, we can't tell. The impassive, composed look from the first film is great but we see more of his spin on the character in Into Darkness. There's a perplexed expression in his eyes that makes you believe he's really a half-Vulcan baffled by the workings of the human mind.
CONTINUE READING BELOW
Recommended Videos
There's a good balance between the thrill of chasing the terrorist "John Harrison" (Cumberbatch) and developing the relationships among the USS Enterprise crew. It has to be said that the bromantic link that Spock has with Kirk outshines the loveydovey one he has with Uhura by ten million suns. With the origin story over, Into Darkness gives the characters more room to breathe and more space to explore. Simon Pegg as second officer and chief engineer Scotty is an absolute show-stealer and even Anton Yelchin as the navigator Chekov has his shining moments. The script is busy with banter that will have you chuckling and cheering as Dr. "Bones" McCoy (Karl Urban) utters, "Damn it, Jim! I'm a doctor not a-"
Now let's talk Benedict Cumberbatch. He played supporting roles to James McAvoy in Starter for 10 and Atonement, starting out a bit under the radar but his role as Sherlock Holmes catapulted him into (Internet) superstardom. If you enjoyed his fictional fighting skills in Sherlock's The Blind Banker, rejoice! He's nothing but smoldering hotness in this film, enough to probably make some guys question their sexual preference. It's okay to like him, guys. He's pretty.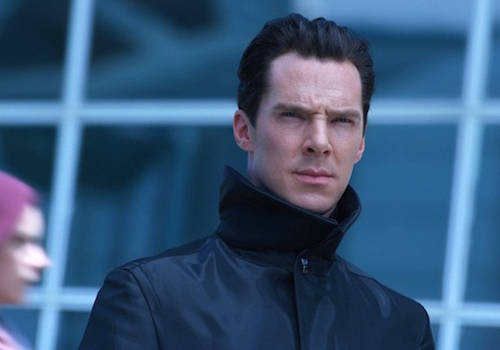 ADVERTISEMENT - CONTINUE READING BELOW
Admit it. You'll pursue him in enemy territory too
So what's not to love about this film? We go back to the first prerequisite for enjoying it: you have to like the "alternate/parallel universe" within which the plot operates. The Star Trek franchise isn't exactly known for fistfights and big explosions. It's about exploration and inevitably, that leads to some insights about humankind. There's some glimmer of this in Into Darkness but that's all it is: a faint twinkle.
We like that punches are thrown in real-time because in a post-300 world, most fight scenes are done in stylized slow motion but much as we enjoy action, the story lacks depth. We also don't like that the women aren't given key roles while John Cho as Hikaru Sulu gets to sit in the captain's chair. We like Cho's stern speech but they could've written better parts for the women and made Uhura and Carol (Alive Eve) a little less like Disney Princesses.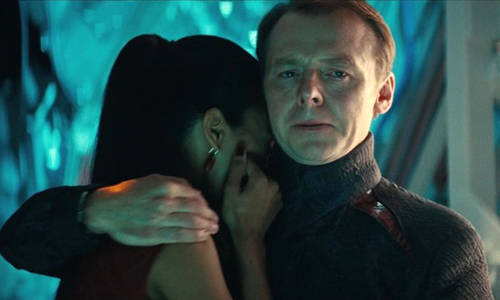 ADVERTISEMENT - CONTINUE READING BELOW
We're sure you can kick butt, Uhura. No need for tears.
Forgive us for this one little spoiler, which happens in the first few minutes: We would've like to see the effect of the USS Enterprise being revealed to an unwitting civilization because that's what Star Trek is about: Discovery (often of the self) and the humility the vastness of the universe brings.
SPOT.ph RATING: •••• 4 out of 5 spots
Share this story with your friends!
---
Help us make Spot.ph better!
Take the short survey
Load More Stories