(SPOT.ph) The last time Manila hosted a red-carpet Hollywood style premiere was  in the early 80s. It was Imelda Marcos' idea, of course. A 16-year-old Brooke Shields was the celebrity highlight of the Manila International Film Festival premiere, though one wonders if construction worker ghosts were also among the audience.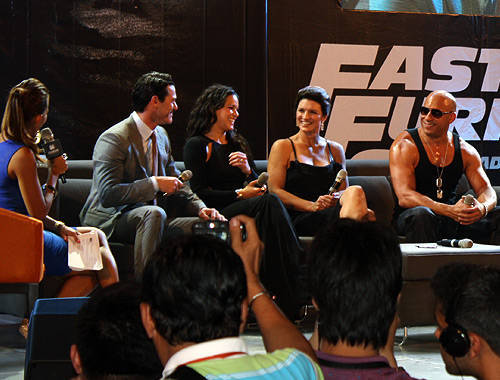 Host Gelli Victor, Luke Evans, Michelle Rodriguez, Gina Carano, and Vin Diesel
cozy up on the couch.
Fast forward (or should we say, Fast & Furious forward) to 30 years later, and Vin Diesel is walking the red carpet, waving, thumbs-upping, and flexing for crowds at the Mall of Asia, coincidentally constructed not far from Marcos' Film Center. This is what a Hollywood-style movie premiere looks like: black steel barricades, sparkly fireworks, each actor arriving in a Dodge Challenger SRT, and media from all over the region holding up microphones. Everyone-but most especially Vin Diesel-was covered in a shiny layer of sweat. A handler had to dab the actor down with a towel midway through the red carpet.
ADVERTISEMENT - CONTINUE READING BELOW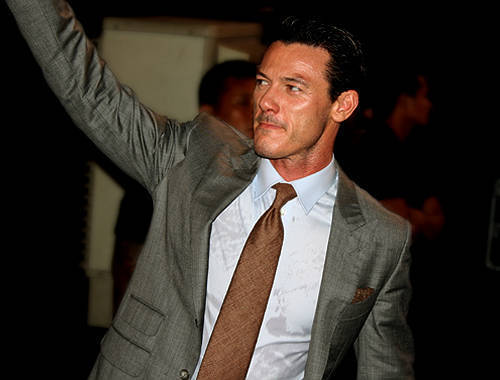 Luke Evans and his sweat stains
You have got to hand it to Luke Evans, though. The Fast & Furious 6 villain said that he had already visited Manila 10 years before, but even with that experience, he insisted on coming to the premiere in a full suit. When congratulated on surviving the sultry heat, he wryly remarked, "I'm not sure I'm surviving."
As the first of the Fast 6 actors to arrive, he cut a dapper figure as he worked the home crowd, taking his time signing autographs and, later on stage, singing a few lines off Leah Navarro's "Kailangan Kita." On screen, though, he cut the ham to a minimum. Unlike most movie villains, who have a fondness for chewing scenery, Luke is all business, letting his lithe, steely competence do all the talking.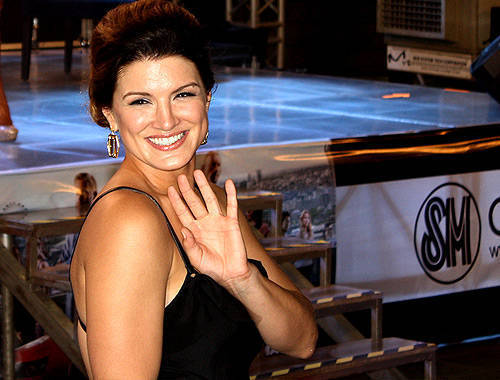 Inside an MMA cage, Gina Carano does not look as sweet as this
CONTINUE READING BELOW
Recommended Videos
The others arrived in quick succession. Gina Carano looked breathtakingly glamorous, though she didn't seem to be used to wearing a dress-she stumbled over her train a few times as she walked the red carpet. Host Gelli Victor made a big deal out of her "shimmy."
No shimmies were in evidence in Fast & Furious 6. Gina is most known for being an MMA fighter, and as one of the franchise newcomers (along with Luke), she had the honor of knocking around Fast mainstay Michelle Rodriguez in a bone-crunching fight scene in the London Tube. Few actresses can look tougher than Michelle Rodriguez, but Gina Carano is one of them.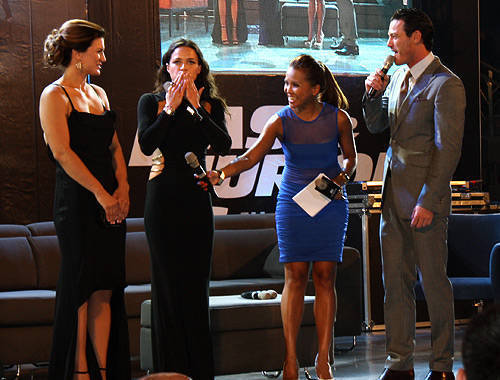 Michelle Rodriguez gets ready to blow some kisses
Michelle Rodriguez shed her tough girl image as soon as she stepped out of her Dodge. She became a little girl again, running through the red carpet, high-fiving all the fans, her face a mask of disbelieving delight. On the live feed broadcasted on a gigantic screen, we saw her mouth "OH MY GOD" over and over again. At the photo wall, she nearly teared up as the crowd cheered her on.
ADVERTISEMENT - CONTINUE READING BELOW
"This is probably the most love the franchise has ever gotten in one place," she later said onstage. "I just love you guys!"
She ain't heard nothing yet.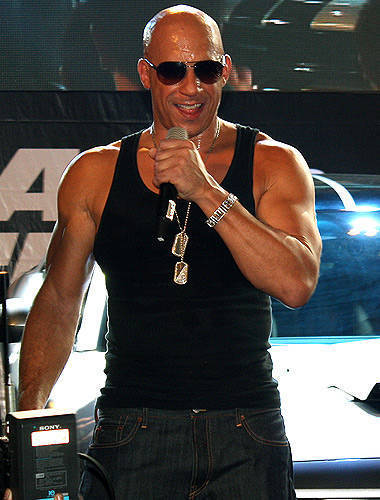 We'll have some beefcake au Vin
Vin dressed as only Vin Diesel can: in a black sando, looking very ripped and Riddick. The aforementioned sweat didn't seem to bother him in the slightest; he was cool and unfazed as the crowd's roaring went into overdrive. "DIESEL! DIESEL! DIESEL!" went one chant.
The moment he got his hands on a mic, he roared out, "Mahal kow kayoooooow!" He did it again, longer this time, growling from the throat. "Maaaaahaaaaal kooooooow kayoooooooow!"
Both Michelle and Vin's characters-Letty Ortiz and Dom Torretto-provide the story linchpin to Fast & Furious 6. If you aren't up to date on the  franchise, the dramatic tension may fly over your head. But no matter: slam-bang set piece after slam-bang set piece propel the film forward and forward, finally redlining in a white-knuckled sequence set in what must be the longest airplane runway in the world. The night scenes make the London chases kind of muddy, but the film's centerpiece alone (a gorgeously-filmed toe-to-toe car duel against a tank in Spain) is worth the price of admission.
ADVERTISEMENT - CONTINUE READING BELOW
For fans, FF6 neatly ties pieces of the franchise together. There is, of course, the return of Michelle Rodriguez, last seen in Movie No. 4. There's a set up for the events of Movie No. 3, which takes place, confusingly enough, after FF6. There's a nice callback to the series' riceboy roots with a street-race scene. There's witty banter and enough onscreen moments for all the major players, though Ludacris and Tyrese Gibson are reduced to mere comic relief.
At six movies in, Fast & Furious is fast approaching saga territory. After all, Harry Potter only made it to eight movies, and judging from the end-credit sequence (with a very surprising cameo), the story of Dom Toretto's gang-or family, as they so cheesily call themselves-is far from over.
As producer Neal Moritz said at the red carpet Mall of Asia premiere: "Who knows, someday, maybe we'll be shooting Fast & Furious in Manila."
Share this story with your friends!
---
Help us make Spot.ph better!
Take the short survey
Load More Stories