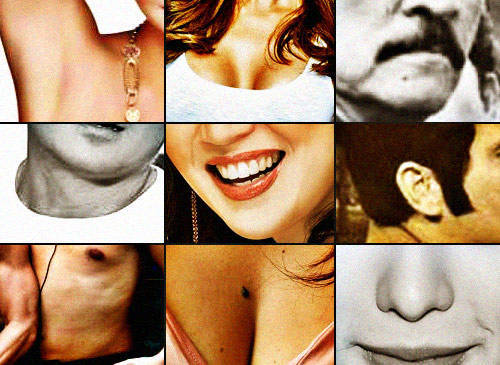 (SPOT.ph) There is no formula for reaching neck-breaking heights of fame-the kind that lasts longer than your time here on earth-and thus, it is a must that we celebrate the little landmarks of stardom.
Angelina Jolie's leg, specifically the right one, made headlines when they made a bold appearance on the red carpet. It earned the merit of being a meme, and bigger than that, it took on a life of its own in the form of a Twitter account.
The Twitter account has since been deactivated and in its place, a void. A void that not even the appearance of Anne Hathaway's nipples on the Oscar's red carpet can replace. What we need, what we always need, are things that are closer to home.
In that spirit of jest and a very mild hint of wit, SPOT.ph brings you these celebrity body parts that have earned the status of "icon."
ADVERTISEMENT - CONTINUE READING BELOW
1. Anne Curtis' Mole

Her moles have made headlines. Sometimes, the actress worries about them as she revealed that some of her moles are increasing in diameter. They really do have a life of their own. Her most prominent mole, for instance, has been getting a lot of buzz.
We can imagine it tweeting:
Cancer-free daw ako sabi ni Tita Vicki B!
So sad that I didn't make it on Cosmo's cover! 15th anniversary issue pa naman! :(
2. Sarah Geronimo's wig as Laida Magtalas

SPOT.ph blogger Ria Limjap points out that Sarah Geronimo's hair (or non-hair) was a character of its own in the movie. It may not have been part of the heroine's body, but it was a scene-stealing "extension" of her pretty little head, deftly catching our attention.
ADVERTISEMENT - CONTINUE READING BELOW
We can imagine it tweeting:
Watch out for the DVD release of It Takes a Man and a Woman! I'm not on the poster but you can't miss me in the movie.
I have more screen presence than most actresses out there #confidence
3. Gabby Concepcion's Neck

ADVERTISEMENT - CONTINUE READING BELOW
We don't want to be mean but we are human and we look for familiarity. A head should rest on something, a pedestal of sorts, to separate it from the rest of the body. It's distracting, like a magic trick, to see body parts molded together. Not that Gabby's face doesn't distract us from everything else. The man's cheeks, red and rosy, deserve attention, too.
We can imagine it tweeting:
There are things in life that you have to take on faith. You can't see it, but you know it's there.
Balang araw, sisikatan din ako ng araw.
4. Paquito Diaz's Moustache

ADVERTISEMENT - CONTINUE READING BELOW
This is the moustache that defined villainy. Each strand is like a Spartan warrior, looking out for the strand to its right, making sure everything is in place.
We can imagine it tweeting:
Konting himas naman diyan
I am what your bigote wants to be
5. John Lloyd's (Lack of) Abs

ADVERTISEMENT - CONTINUE READING BELOW
"Tunay na lalake, walang abs" and "Okay lang walang abs, basta totoong ang labs." Phrases that are redefining the body landscape. Why have pan de sal when you can have soft jelly on the belly? And who else but John Lloyd Cruz has shown dedication and commitment to keeping it real? (In fact, he's ranked No. 1 in the "Abs Not Required: Top 10 Pinoy Male Stars Who Made It Work" list.)
We can imagine it tweeting:
I'm the jiggle that makes you giggle #banat
Hinding hindi ako makikipagmatigasan sa iyo #banat
6. Fernando Poe Jr.'s Sideburns

ADVERTISEMENT - CONTINUE READING BELOW
Nobody, and we mean nobody, has ever sported the FPJ look succesfully. This is why he is royalty. Everyone else who came after him is just some dweeb trying to prove he's a man.
We can imagine it tweeting:
Papunta ka pa lang, patilya na ako. Diba, @Manoy
Ako ang pambansang patilya.
7. Marian Rivera's Underarm

ADVERTISEMENT - CONTINUE READING BELOW
Marian Rivera is neither a Dove girl nor a Rexona model but she hasn't let us down and we love it! While endorsing Fit 'n Right, it was her kilikili that was doing most of the work in the posters. In the Maxi Peel facial cleanser commercial, she raises her hand to reveal the supple skin of her underarm as the camera focused on her face. In each shoot that she does, there's bound to be one or two or three pictures where she raises her arms to reveal... that she truly wants to embody Darna! Lipad, Marian, lipad!
We can imagine it tweeting:
Kailangan kong magpakita ulit. Hindi pwedeng ma-outshine ako ng kibit balikat pose.
Natakpan ako ng hairdo sa FHM magazine cover. Anyway: TAAS KAMAY PA RIN!
8. Kris Aquino's Open Mouth

ADVERTISEMENT - CONTINUE READING BELOW
Disclaimer: This has nothing to do with words that come out of Kris Aquino's open mouth. Legend has it that she can keep quiet but it is by choice that she keeps talking. It is her verb. It is her life. With that in mind, we just need to point out the elephant in the room because we noticed the photographers frequently catch her in mid-speech. Thus, creating this distinct, open-mouth look that occasionally graces the billboards along EDSA.
We can imagine it tweeting:
Upper lip to lower lip: Long time no see!
Upper lip to lower lip: Sana marami pang words na may bilabial sounds. I miss you so much.
9. Kim Chiu's Nose

ADVERTISEMENT - CONTINUE READING BELOW
It's quite difficult to escape from the past in this world of wide webs. Kim Chiu has put quite a distance between her old PBB self and the Primetime Princess that she is now. It's good progress but alas, she is being chased by rhinos. Nosey people with too much time on their hands keep comparing the old Kim to the new Kim, outraged by her transformation. Speculations of enchancements and all that only proves that Kim Chiu has truly arrived.
We can imagine it tweeting:
Keep your noses out of mine, please. Inggit lang kayo.
Gumaling na talaga akong mag-project. Ibang iba na ang angulo ko. #proudmoment
10.  Heart Evangelista's Clip-on Cleavage

ADVERTISEMENT - CONTINUE READING BELOW
Girls love this feature in Heart's frame. We suppose guys like them too but to be perfectly frank, we're just being practical here. There are clothes that need a little "umph" or "ooh" around the chest area but there are clothes that need a little more modesty. With the way technology is advancing, we're hoping that detachable bossoms will get developed and be made available to the masses.
We can imagine it tweeting:
We would like to thank all the support we're getting!
Kapag hindi kailangan, huwag umeksena!
Art by Warren Espejo, with screenshots of celebrity body parts from various publicity photos
Share this story with your friends!
---
Help us make Spot.ph better!
Take the short survey
More Videos You Can Watch
Load More Stories