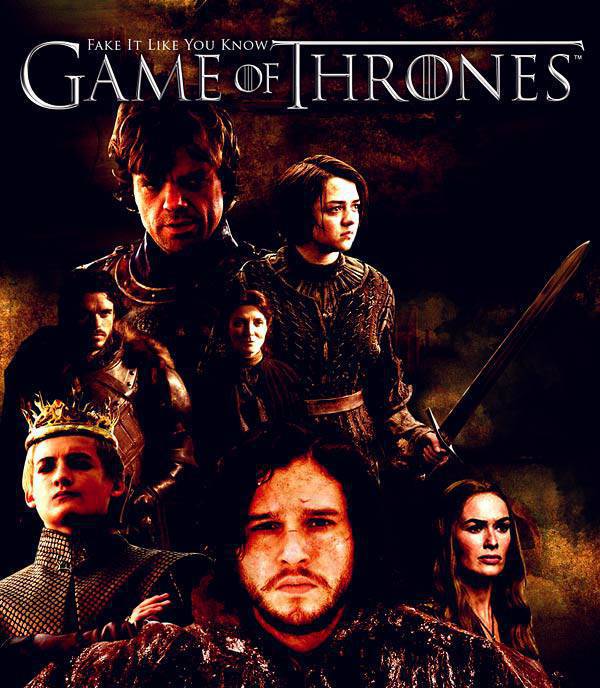 (SPOT.ph) Have you just come out of deep freeze to find all your friends still enraged or crying (or both) over the "The Red Wedding"? Are you baffled that "Winter is coming" is such a hot phrase? If your answer to "Have you watched Game of Thrones (GoT)?" is "Not today," then it's high time you get clued in on what the hell it's about. The series is done for the year, closing Season 3 with a bloody penultimate episode.
This cheat sheet may not tell you everything, but it equips you with enough working GoT knowledge to keep up with avid fans.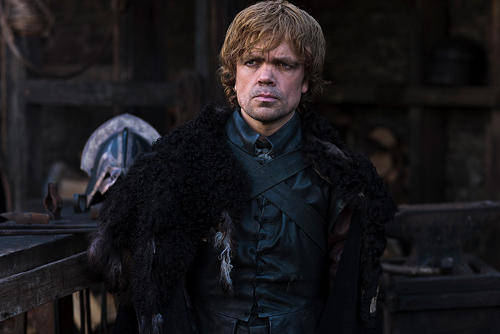 ADVERTISEMENT - CONTINUE READING BELOW
Move over, Frodo. If there's any guy who can prove that size doesn't matter, it's fan favorite TYRION LANNISTER (played by Peter Dinklage). His father Tywin hates him because his mom died giving birth to him and also because he's not "perfect." He's the younger brother of twins Cersei and Jaime Lannister, who are having an incestuous affair (twincest, fans call it) and have begotten children from their abominable union. Tyrion pretends to be a good-for-nothing man, but he's actually clever, compassionate, and charming. If you're asked, "Who's your favorite Lannister?" You should answer with this guy's name.

For starters, GoT is like The Lord of the Rings-only with more sex and violence. Then again, it just has one prominent male "Hobbit." (Though he isn't called that in the GoT universe.) Instead of Middle Earth, GoT is set in a land called Westeros.

But that's getting ahead of this particular SPOT.ph Fake It discussion. Before anything else, you must know the following:
1. It's a killer serial. There's A Game of Thrones book and there's Game of Thrones the HBO series. The TV series is based on the books in George R.R. Martin's A Song of Ice and Fire series. A Game of Thrones (1996) is simply the first of the seven installments. The other novels in the series are A Clash of Kings (1998), A Storm of Swords (2000), A Feast for Crows (2005), A Dance With Dragons (2011), The Winds of Winter (forthcoming), and A Dream of Spring (forthcoming). The HBO series, though, will forever be known as Game of Thrones. TV execs must have thought that Thrones are cooler than Songs. The recently concluded Season 3 of GoT is based on A Storm of Swords. This Fake It guide is based on the HBO series, which starts sometime after Robert's Rebellion.
ADVERTISEMENT - CONTINUE READING BELOW
2. Don't get attached to anyone. Major characters are killed off in GoT-sometimes several of them in one go. Being extraordinarily good, badass, or pregnant won't exempt you from a brutal death. There's bound to be more deaths as the Iron Throne is perceived to be up for grabs. 

3. Brace yourself for adult content. We'll say it again: GoT is violent. There's a whole lot of amputation going on-from hands to heads (as well as other body parts). Even pets aren't spared from extraordinarily cruel deaths. Nudity and taboo subjects such as consensual incest also abound. GoT is also known for lengthy "sexposition" scenes, wherein subjects have a discussion while having sex. In fact, the word "sexposition," was reportedly coined by blogger Myles McNutt in 2011 to  describe the said scenes in GoT.
A Quick Guide of Season 1 through Season 3
Season 1: The Starks disguise themselves as the main characters and we get introduced to a beautiful lady named Daenerys,  who has platinum blonde hair. She will go on to "birth" a trio of dragons through magic and fire. King Robert Baratheon gets wounded badly while trying to kill a boar and dies. His very blonde son Joffrey takes his place. We get really uncomfortable because Queen Cersei is sleeping with her twin brother Jaime, the discovery of which will cause a little boy named Bran Stark to become paralyzed (not just petrified at the sight of sex, he becomes an actual cripple because he gets pushed off the tower). Tyrion Lannister, the dwarf sibling of the incestuous twins, becomes everyone's favorite character. Jon Snow goes to the Wall, brief mention of White Walkers but they're not explained, Ned Stark dies, Sansa Stark is housed by the Lannisters, and Arya Stark starts her "boyhood." Jaime Lannister is held hostage.
ADVERTISEMENT - CONTINUE READING BELOW
Season 2: Baby dragons. This season features a lot of allegiance being formed and broken. Lots of betrayal within the families (Here is where Robb Stark went, "Mooom! Why'd you let my hostage go?") and negotiations are made. Jaime Lannister escapes, gets captured but is released. Theon Greyjoy, hostage-slash-best friend of Robb Stark causes a lot of drama and screws up all kinds of connections with people. Robb falls in love with Talisa Maegyr and regrets agreeing to marry into the House Frey. Tyrion retains his title of Token Badass. Arya Stark gets really good at being a boy.
Season 3: White Walkers getting closer, so is winter. Jaime Lannister makes his way back to his family, grows a conscience in the process. Sansa gets married to Tyrion (because the Lannisters like to keep things in the family). Daenerys gets her own taste of betrayal, is dismissed by the Lannisters, but gains more power. Theon gets tortured, Talisa is pregnant (making her death, in a manner of speaking, super sad), and Jon Snow gets more endearing. Season 3 is basically two weddings and a massacre. House Stark falls, so everyone's confused because they were supposed to be the main characters. Right?
ADVERTISEMENT - CONTINUE READING BELOW
A Quick Guide to the Major Houses

Westeros is composed of former kingdoms/regions each ruled by a Great House, to whom a number of lesser houses swear allegiance. The Great Houses, in turn, swear loyalty to the ruling power. A crisis of succession led to the ongoing War of the Five Kings, while magic is returning to the world, in the form of dragons and direwolves and the mysterious White Walkers.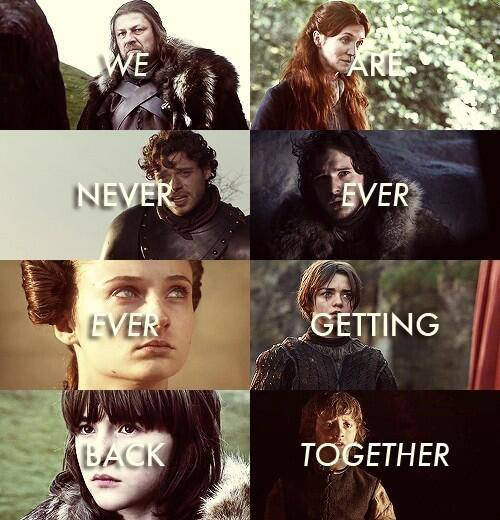 ADVERTISEMENT - CONTINUE READING BELOW
Stark reality. This meme caption, which is from a Taylor Swift song, says it all. This family has such bad luck. They are (clockwise from top right), mom CATELYN (dead), bastard brother JON SNOW (alive, suspected to be half-Stark and half-Targaryen), ARYA (now pretending to be a boy and on the run), Rickon (still alive but on the run), BRAN (crippled after being pushed from the tower by Jaime Lannister because he witnessed incest in progress, has partial amnesia, still alive but on the run), SANSA (the pretty sister, now married to Tyrion Lannister, the dwarf), ROBB (legit big brother, dead), NED (big daddy, dead). (Screenshot of image from Starknotes.tumblr.com)
HOUSE STARK OF WINTERFELL
We were tricked into believing that House Stark is at the center of Game of Thrones but then, Ned Stark got his head chopped off. That should have tipped us off that things can't go very well but we were still shocked when the rest of the clan got rather brutally murdered in The Red Wedding. Yes, we are spoiling you but it's better than getting a heart attack.
ADVERTISEMENT - CONTINUE READING BELOW
Identifying characteristics: They're the ones with the wolves (and yes, the wolves get slaughtered too). Great with military strategies, not so good at being alive. Half of them are dead now and the living ones aren't doing so well. They have major beef against the Lannisters since the Lannisters killed the head of the household.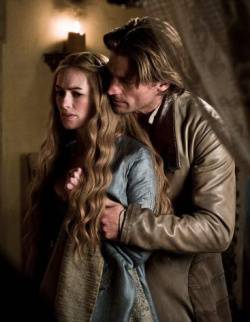 ADVERTISEMENT - CONTINUE READING BELOW
Double trouble. Cersei became queen when she married King Robert Baratheon (dead), but she was hooking up with her own twin brother Jaime all along. The twins have three kids-Joffrey, Myrcella, and Tommen-whom Cersei has passed off as King Robert's kids. There's no DNA testing in their world, but the ill-fated Ned Stark figured it out when he noted that all Baratheons have dark hair while Cersei's kids are all blonde-haired, just like her and Jaime. Cersei continues to be bad news, while Jaime is slowly developing a conscience...although an enemy has cut off his right hand. (Screenshot from HBO trailer clip)


HOUSE LANNISTER OF CASTERLY ROCK
These are the kids you wanna hang with! They have most of the cash, the youngest one is the king, the shortest one is the coolest character in the series, and Lena Headey (she has now played two queens, isn't that awesome?).
ADVERTISEMENT - CONTINUE READING BELOW
They also cause a lot of trouble but at least they always pay their debts (unofficial motto).
Identifying characteristics: They are the blonde ones. Though they may be second to the Starks when it comes to military strategies, they're great political tacticians. They have some sob story behind them (like falling under Targaryen rule, the mother's death while giving birth to Tyrion, and Tyrion's tragic romances) but they're pretty annoying cause... well, they're not the underdogs. It's kinda hard to relate to rich people who commit incest.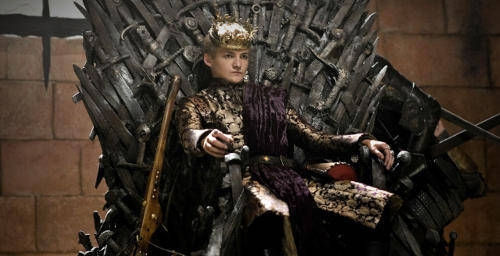 ADVERTISEMENT - CONTINUE READING BELOW
Psycho king. Upon the death of King Robert Baratheon, his alleged son JOFFREY sat on the Iron Throne. Joffrey's mom is Cersei Lannister and his real dad is actually also his uncle, Jaime Lannister. Joffrey is cruel and deplorable. Just like mommy. (Screenshot from HBO publicity photo)
HOUSE BARATHEON OF STORM'S END
We'd really rather not mess with Joffrey's house. He's really a Lannister but he doesn't know it (yet?) and he's a sorry excuse for a human being, much less a King. Don't tell him we said that.
Anyway, the back story is that Baratheons (aided by the Starks) got the Lannisters out of the Targaryen claws and they are sort of in command now. Sort of.
Identifying characteristics: Dark of hair, that's it basically. And obviously, Joffrey's too gold to be a Baratheon.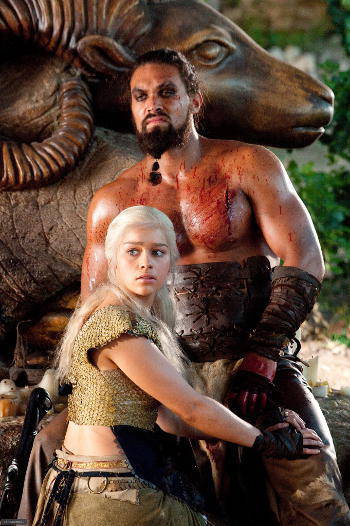 ADVERTISEMENT - CONTINUE READING BELOW
Odd couple. Beautiful DAENERYS TARGARYEN and she was once married to KHAL DROGO, who was the ruler of the Dothraki (a tribe of nomadic warriors). Sadly, Daenerys is now a widow who runs around with her dragons. Aside from being beautiful, Daenerys is also fireproof. Yes, you can set her on fire and she won't burn. (Screenshot from HBO publicity photo)
HOUSE TARGARYEN
They have dragons! DRAGONS! There's only one of Targaryen now because her husband her crazy brother by pouring liquid gold over his head. She's the one they refer to as Khaleesi (you'll see her boobs a lot) and she used to travel with the nomadic tribe of her late husband. They were a cute couple for a while (as cute as a burly man can get) until he died from a blood infection. After that, she got herself some dragons (barters them and then takes them back) and friendzones Ser Jorah Mormont. Also, Daenerys seems to like freeing slaves.
ADVERTISEMENT - CONTINUE READING BELOW
Identifying characteristics: Platinum hair and pale skin, the greatness/madness dichotomy, a propensity for acquiring courtesy titles, older male advisers, eclectic ethnic costuming. DRAGONS.
Not-really-a-Stark. Lusty THEON GREYJOY was raised with the Stark kids. (He's actually sort of a hostage because his dad once led an uprising against King Robert Baratheon. The Starks are known Baratheon allies.) That's part of the reason why he has a chip on his shoulder. When he goes back to his real family, he doesn't really feel welcome. Theon is still alive, but he's already a broken man after being captured by Stark allies who see him as a traitor. He has been tortured repeatedly and castrated. (By the way, his torture hasn't ended yet.) At least, his sister Yara still wants to save him.
HOUSE GREYJOY OF PIKE
We don't quite like the Greyjoy clan, mostly because Theon is just depressing (his dick is in a box). He tried to seduce his sister (unknowingly) in Season 2 and then his father expressed much shame in him (not for seducing the sister). After that, he attempts to betray the Starks to make his father proud but after a series of tragedies, he gets captured and is tortured endlessly.
ADVERTISEMENT - CONTINUE READING BELOW
Identifying characteristics: Salt-encrusted clothing. Awkward homecomings. Thinking highly of their exploits while remaining firmly on the sidelines of the main narrative.
Tune in on HBO and HBO HD every Monday at 8 a.m. starting August 12 for back-to-back episodes of Game of Thrones Season 3.
Share this story with your friends!
---
Help us make Spot.ph better!
Take the short survey
More Videos You Can Watch
Load More Stories