MOVIE REVIEW: Despicable Me 2
No surprise here: this sequel is a riot!
(SPOT.ph) In this sequel to the surprise 2010 hit Despicable Me, former moon thief Gru (voiced by Steve Carell) has now retired from plotting world domination and is doing his best to be less despicable. With his time, he concocts flavorful jams and jellies and tries to be a good father to his three adopted daughters, Margo (Miranda Cosgrove), Edith (Dana Gaier), and Agnes (Elsie Fisher). Gru, however, is drawn back into the world of criminal masterminds when a giddy secret spy named Lucy Wilde (Kristen Wiig) asks him to join the Anti-Villain League in order to foil the schemes of a mysterious, giant magnet-wielding villain.


PLUSES

The helium-voiced Minions. They sing, they clean house, they fantasize, they even speak Filipino (Masarap!). Gru's helium-voiced, banana-colored assistants are given more screen time in DM2, an acknowledgment of their phenomenal popularity. They're even getting their own movie in a year or so! It's been a while since I was in a crowded theater that was showing a comedy where an audience of mostly young people would erupt with laughter after nearly every sight, gag, or punchline, and DM2 offers this kind of a once-in-a-blue-moon treat. Thanks to the Minions, DM2 has about four times more laugh-out-loud moments compared to Monsters University.       


ADVERTISEMENT - CONTINUE READING BELOW
CONTINUE READING BELOW
Recommended Videos
Gru as a mother. If the Minions are responsible for 90% of the laughs in DM2, it's Gru's awkward relationship with his three adorable daughters that provide the rest of the humor and most of the sequel's heart. In his quest to become a good father and mother to his girls, Gru dons a dress, gives advice about dating bad boys, and even offers tips about speaking in public. He even goes on a blind date with a woman whose sexy lips put Angelina Jolie's to shame.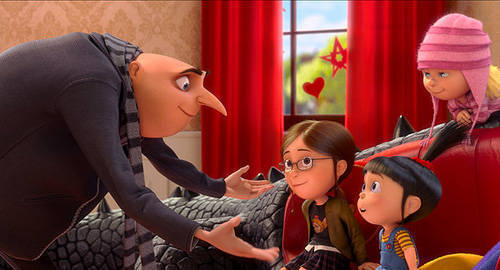 How would you like Gru: as a mom or a pop?
ADVERTISEMENT - CONTINUE READING BELOW
The nostalgic songs and music. Thanks to the scene-stealing performances of the Minions, such timeless chart-toppers as "YMCA,"  "I Swear," and the romantic, disco-flavored "Love's Theme" by Barry White (popularized by Cathay Pacific in their 80s commercials) are put to hilarious use in a riotous love montage and fantasy sequence. You've never seen these songs used quite like this, and you never will again.


The mall. If there's a computer-animated movie that's ever set a big chunk of its action in a mall, I don't remember it. DM2's fresh and fanciful rendition of the modern world's commercial and leisure hub is so artful and alluring that it feels like you're seeing a mall in a computer-animated film for the first time.  Following the memorable theme park/carnival sequence in 2010's Despicable Me, the DM2 filmmakers now give us a candy-colored depiction of a mall in the sequel, one that has such inviting spots as the Bake My Day pastry shop and the Salsa & Salsa Mexican restaurant.
ADVERTISEMENT - CONTINUE READING BELOW

MINUSES

The Lucy Wilde character. In movies where the performances of the actors range mostly from good to excellent, it's the bad actor who stands out. If the Man of Steel ensemble was ruined by the actress playing Kal El's Kryptonian mom, the stain in DM2's cast is the OA (over-animated) "performance" of Lucy Wilde, the character voiced by Bridesmaids star Kristen Wiig. Methinks the film would have been even better if her over-the-top body movements were dialed down a notch or two.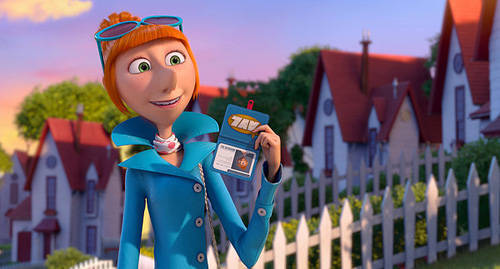 Wilde performance


ADVERTISEMENT - CONTINUE READING BELOW
No immortal one-liners. Though the laughs are more abundant in DM2, none of them are as unforgettable as Agnes' "He's so fluffy I'm gonna die!" exclamation from the first film's carnival sequence, or the shattering, simian insult which Gru's mom Malena (voiced by Julie Andrews) crushed him with when he told her he wanted to go to the moon.  


IN BRIEF: Despicable Me 2 is a delightful comedy adventure that the whole family can and should enjoy together. Parents and their kids can bond over Gru's attempts to be mom and dad to three girls, and engage in laugh therapy over the vocal and slapstick antics of the Minion multitude.


Rating: •••• 4 out of 5 spots for the 2D version; ••••. 4½ out of 5 spots for the Imax 3D release.


Load More Stories