A Pogi Rock Playlist: Truly, Madly, Crazily in Love with You
Admit it: You miss the cute rockstar movement!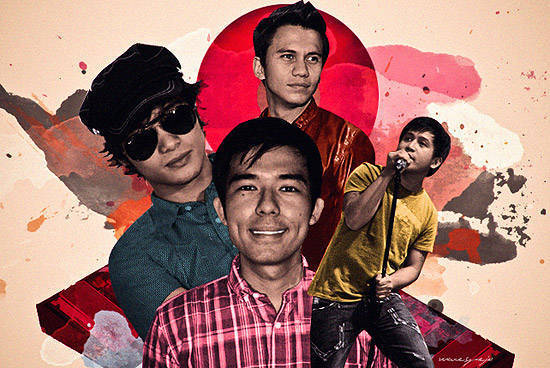 (SPOT.ph) You know the songs: earnest, emotive love anthems delivered with Coldplay-like vulnerability and Creed-like warbling. You know the faces: frontmen-oftentimes good-looking-who gaze longingly and achingly into the distance as their bandmates disappear into the background. You know the names: Cueshe, 6CycleMind, Callalily-the poster boys of the pogi rock movement that reached its peak between 2005 and 2008.


While critical praise was hard to come by for many pogi rock acts, who were dismissed by the music culturati as commercial, derivative, or worse, "boy bands that can play the guitar," pogi rock bands made up for it with mainstream success: singles received heavy airplay on radio and TV, albums reached platinum or even double or triple platinum status, swarms of females flocked to their shows and fought for a picture, an autograph, or that elusive kiss.


Here, we take a look back at some of the most adored-and in some cases, most maligned-hits that came out from the period when pogi rock was king.
ADVERTISEMENT - CONTINUE READING BELOW
Artist: The Speaks
Song: "High"
This Washington, DC-based Fil-Am group broke into the local scene in 2005 with the inspirational hit "High," a song that speaks of holding your head up, well, high. Another version features a duet with Barbie Almalbis, but the original is undoubtedly more pogi because it puts vocalist Rafael Toledo's macho, Scott Stapp-style gravitas on full display.

Artist: Stonefree
Song: "Sayang"
The name may not ring a bell with many readers, but Stonefree was one of pogi rock's pioneers. While debut single "Listen" gave the band their first brush with chart success, it's the heart-wrenching ballad "Sayang" that hits listeners the hardest. Hear an anguished Miro Valera cry out "Kung lilisan ka na, sinong papalit sa iyo?" and feel your heart break just the tiniest bit.
Artist: Soapdish
Song: "Pwede Ba"
The theme song to the ABS-CBN Koreanovela It Started with a Kiss, "Pwede Ba" features the kind of heart-on-sleeve openness and shy-guy hesitation that women find irresistible. "Pwede bang sabihin mo na itatago mo ang mga sulat ko?/Kasi medyo maiinis ako kung itatapon mo," vocalist Jeff Bolivar ventures at the beginning of the song. In the video, he runs his hands through his hair in mild frustration as he sings this. It's sweet, adorable, and ladies lapped it all up.
Artist: Top Suzara
Song: "Sabihin Mo Na"
After leaving R&B band Freestyle in 2005, Top Suzara proved his mettle as a solo performer with the single "Sabihin Mo Na," a pop-rock track heavy with the weight of romantic distress and inner turmoil. The track was also used as the theme song to another ABS-CBN Koreanovela, My Girl, further proving how patok sa panlasa ng chicks it is.
ADVERTISEMENT - CONTINUE READING BELOW
Artist: Shamrock
Song: "Alipin"
It was impossible to escape this song when it came out years ago; you heard it on jeepney stereos, on primetime TV (Jewel in the Palace, anyone?), even on the sidewalk while walking. But more than the instantly memorable melody, it's easy to see why "Alipin" would be so ubiquitous. How can anyone ignore a song that has unbridled adoration dripping from every pore?
Artist: Callalily
Song: "Magbalik"
One of the things that have prevented Callalily from being taken seriously as musicians is Kean Cipriano's good looks, which was perceived to eclipse any musical merit the band may have. But never mind the critics; it's that pretty face that made fans flock to their shows, along with brooding emo-rock croonings in songs like "Magbalik," and his full head of perfectly tousled hair.
Artist: Spongecola
Song: "Jeepney"
For the ladies, a huge part of Spongecola's appeal is frontman Yael Yuzon. Diminutive stature notwithstanding, Yael has deep-set eyes framed by mestizo features, and he sings with a rough intensity that sounds physically painful if you try it yourself. As he blares, "Naaalala ko ang mga gabing magkatabi sa ulan," he makes whatever memory he has conjured up sound excruciatingly painful, too.
Artist: Hale
Song: "The Day You Said Goodnight"
Heavily influenced by Coldplay, the now-defunct Hale employs soft, sensitive singing against larger-than-life choruses, a style that also shows in singles like "Broken Sonnet," "Blue Sky," and "Waltz." But more than any song in their discography, their biggest hit "The Day You Said Goodnight" is responsible for endearing the perpetually sad-faced frontman Champ Lui Pio to legions of female admirers.
ADVERTISEMENT - CONTINUE READING BELOW
Artist: 6cyclemind
Song: "Aaminin"
During ex-frontman Ney Dimaculangan's tenure, 6cyclemind had some pretty big earworms on radio, including "Sige," "Biglaan," "Sandalan," and their covers of The Teeth's "Prinsesa" and Two Minds Crack's "Upside Down." But we're putting "Aaminin" on this playlist because of its sheer, baldfaced emotion: "Aaminin ko, ikaw pa rin ang hinahanap ko," a pained Ney, writhing with regret, wails in the chorus. Ouch.
Artist: Cueshe
Song: "Stay"
"Stay" occupies a special place in OPM as one of the most highly contended songs to ever hit the airwaves, with both fans and haters in countless numbers. Another controversy plaguing "Stay" was the charge that the band had ripped off the melody from the chorus of Australian rock band Silverchair's "The Greatest View." Copycats or not, no one can deny the lasting impact this song has had on listeners all over the country, thanks in no small part to vocalist Jay Justiniani's sensitive eyes and luscious locks.


Load More Stories