Quick Change : Drop Dead Gorgeous
How far would one go for beauty? SPOT.ph blogger Ria Limjap finds that sometimes, it involves things as extreme as needles and tire black.
(SPOT.ph) In my forgotten years as a beauty editor, I saw a lot of beauty products and skin/hair/body/teeth procedures that sold in the millions because women are forever chasing beauty. From fairly innocuous things like bath gel (sea weed bath gel was the thing back then) and pretty-sounding cosmetics like "cream blush" to the superduper latest treatment guaranteed to zap the zit or the fat or both-I saw them all. It seems I read hundreds of press releases about makeup and perfume and skin care and treatments, and I wondered each time-is it gonna work? I was always slightly in awe of the amount of science and technology and "years of careful research" behind a skin cream but I sure bought into the concept of grape polyphenols nourishing the skin and keeping it fresh and moisturized. I never got far enough on the beauty editor ladder to get complimentary fat-blasting treatments and whatnot, but I did enjoy the occasional facial at Institut Clarins. For an hour and a half, they pamper you in a room painted with little fluffy clouds with the air subtly infused with their soothing aromatherapy blend, lulling you into a state of bliss where you believe anything is possible, even a beautiful and cellulite-free life. It's nice to feel beautiful even for ninety minutes. It can get addicting.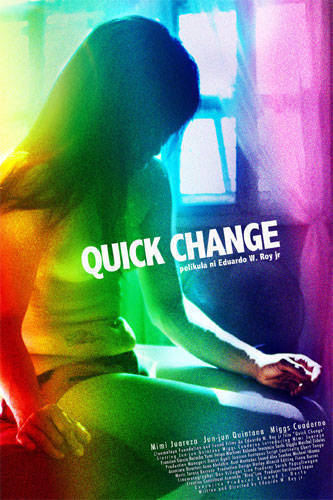 ADVERTISEMENT - CONTINUE READING BELOW
Quick Change, written and directed by Eduardo Roy Jr., is about the relentless pursuit of beauty set in the transgendered world. Dorina Pineda (Mimi Jureza, who should win an acting award) is hope in a syringe-she provides home service collagen injections to any needle-happy sister who wants instant hips and breasts, luscious lips, defined cheekbones (when bronzer just ain't enough), and smoother foreheads. Dorina does brisk business in the colourful universe of gay beauty pageants and drag shows, injecting her "patients" with collagen from a dubiously sure source. For a while it's all fun and chika, but soon enough Dorina realizes the awful consequences of her quick beauty fixes. Dorina should know that there's no such thing.
CONTINUE READING BELOW
Recommended Videos
The leggy legs, gay speak, and cheekbones do not distract from the tragedy behind the camp. Of course, it reveals itself as a cautionary tale when Dorina's clients start dying at the prick of her needle, but it's also a rare and interesting glimpse into a very marginalized (yet fabulous) sector of society. This film is a finely wrought portrait of transgendered beauty queens who will do anything to make themselves "more beautiful", even inject baby oil or tire black into their bodies.
It would have been terribly easy to make fun of these people-the gay pageant is a hotbed for comedy-but in Quick Change they are corresponded with the same sensitivity given to the mothers, babies, and nurses in Bahay Bata (which was also a Cinemalaya entry from 2011). I rather like the way Eduardo Roy looks at the overlooked and marginalized, giving them voices to tell their stories which are not often told. This film manages to do it with enough parts pretty (thanks to the cinematography of Dan Villegas) and pathos. But not too much, always just enough for us to realize that if you think your life is hard, it's an even tougher world for unwanted babies and transgendered beauty queens.
ADVERTISEMENT - CONTINUE READING BELOW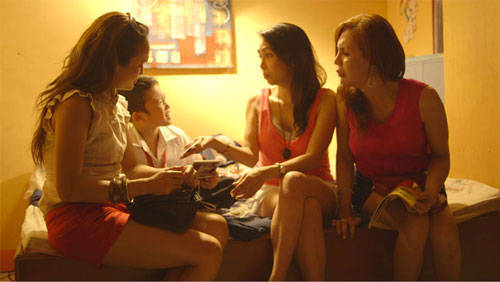 One night I found myself at a tranny bar off Makati Avenue, chitchatting with the performers. I think they found me entertaining because they initially thought I was a Korean tourist but turned out to be an inquisitive Pinay and they bantered with me in top form. There were a lot of bitchin' outfits and false eye lashes and overdrawn lips. They told me that sex change operations, not surprisingly, are very expensive and Bangkok is the best place to get them. I left the club impressed by these awesome queens because I learned they will go to any length-any-to be beautiful. It takes a lot of balls.
***
Quick Change is part of the Cinemalaya Philippine Independent Festival screening at the Cultural Center of the Philippines, and selected theatres in Greenbelt 3, Trinoma, and Alabang Town Center cinemas! Check out the SPOT.ph Guide to Cinemalaya 2013: Cinesthesia
Share this story with your friends!
---
Help us make Spot.ph better!
Take the short survey
Load More Stories