MOVIE REVIEW: RED 2
SPOT.ph blogger Paul Daza says the sequel is okay but the first movie is better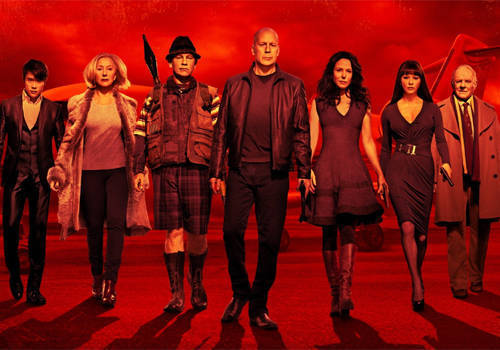 STORY: In this sequel to the 2010 smash hit, our gang of cantankerous oldies comes out of retirement again, this time to look for a nuclear weapon that's been missing for 32 years. The search for the device takes Frank (Bruce Willis), Marvin (John Malkovich), and Victoria (Helen Mirren) to Paris, London, and Moscow, where they must face the likes of Soviet spy Katja (Catherine Zeta-Jones), British physicist Bailey (Anthony Hopkins), and Kong Kong killer-for-hire Han Cho Bai (Byung-hun Lee). Rated R-13 for stylized violence, excessive gunplay, profanity and suggestive sexual situations.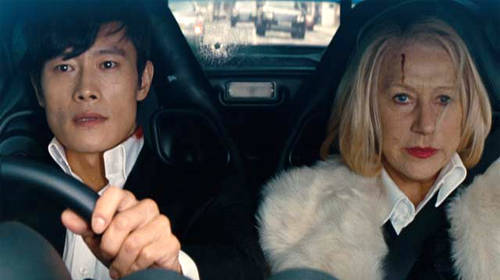 Lee Byung-hun and Helen Mirren, killer pair
PLUSES
The return of the retired but extremely dangerous oldies. The chief pleasure of the RED films is seeing how the likes of Jason Bourne and James Bond might handle their world-in-peril missions if they were in their sixties. In RED 2, Bruce Willis, Helen Mirren, John Malkovich and Brian Cox once again treat viewers with A-game performances you'd only expect from seasoned pros. Willis is superb at balancing disbelief and pathos in an early wake scene, while Mirren is a hoot in an asylum bit that takes a swipe at her Oscar-winning performance from The Queen. Malkovich's angry paranoia is as hilarious as ever, as is Cox's lusty fascination with the sight of Mirren killing people. This is one ensemble cast that elevates the delivery of one-liners to a whole new level.
ADVERTISEMENT - CONTINUE READING BELOW
Lee Byung-hun as "the best contract killer in the world." Following G.I. Joe: Rise of the Cobra, RED 2 is the second consecutive sequel where Korean superstar Byung-hun Lee shares the screen with a bald Hollywood action star (G.I. Joe 2 starred Dwayne Johnson). And though Lee was surely added to RED 2's ensemble to broaden the film's appeal to the Asian market, there's nothing about the kinetic ferocity of Lee's action scenes that feel like a mere add on. Lee's scenes are all set pieces unto themselves, the best of which are his airport mano a mano with Bruce Willis, and an even more awesome scene set in a convenience store that's evocative of Jackie Chan at his prime.
CONTINUE READING BELOW
Recommended Videos
Anthony Hopkins. The Silence of the Lambs Oscar winner does a riff on his iconic Hannibal Lecter portrayal, making his first appearance inRED 2 halfway into the picture in an insane asylum. But just when you think you have his eccentric Professor Bailey character all figured out, a surprise or two will come along that's liable to make you chime, "I didn't see that one coming."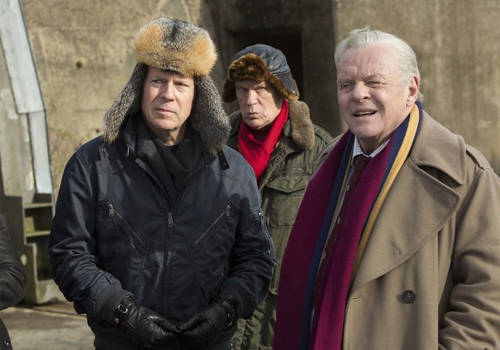 ADVERTISEMENT - CONTINUE READING BELOW
It's Hannibal!
MINUSES
The forgettable meeting of the two Hannibal Lecters. A recent issue of Entertainment Weekly promised that Hannibal Lecter fans would be "delighted" by a scene in RED 2 where two actors who have played the most famous cannibal psychiatrist in pop culture-Anthony Hopkins (The Silence of the Lambs, Hannibal, Red Dragon) and Brian Cox (Manhunter)-would share the screen for the first time. My reaction to the scene when it finally played out? Meh.
Nothing in the sequel outshines the original. Despite the addition of Hopkins, Byung-hun Lee and Catherine Zeta-Jones to the mix, not to mention the use of such scenic locales as Paris, London, and Moscow, nothing in RED 2 trumps its more modestly budgeted, unassuming predecessor. The first film was better scripted, better directed, and better acted.
IN BRIEF: Though RED 2 delivers solid entertainment on the action and comedy fronts while it lasts, it's also one of those formulaic sequels you won't remember much about mere hours after you see it.
Rating: ••• 3 out of 5 Spots
Share this story with your friends!
---
Help us make Spot.ph better!
Take the short survey
Load More Stories