Boses : Language where language ends
SPOT.ph blogger Ria Limjap on an independent gem that is "a story of healing and the ability of people to transcend their personal tragedies"
(SPOT.ph) The poet-novelist Rilke, in his poem On Music, called it "the breathing of statues" or the "silence of paintings." My favorite line comes next: "Language where language ends." I borrow it from Rilke as I write about Boses, the award-winning film directed by Ellen Ongkeko-Marfil, about an abused boy who cannot talk and a depressed and reclusive musician who finds himself teaching the child how to play the violin.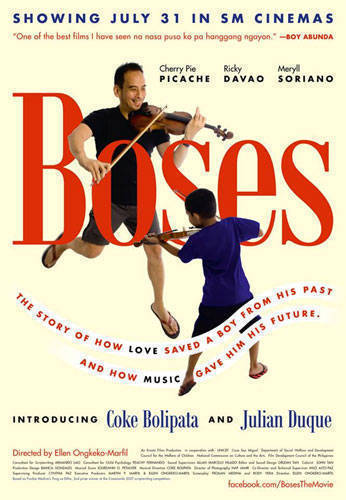 Music is the language that frees both Onyok (Julian Duque at age 7) and Ariel (Coke Bolipata, the famed violinist, in his first foray into acting) and saves both of them from their traumatic pasts. Onyok's father Marcelo (Ricky Davao) is a bad drunk and a drug addict forced to give up his son. The boy is sent to live in a shelter (lovely Casa San Miguel in Zambales) run by a kindly woman named Amanda (Cherry Pie Picache). Onyok thrives under their care and makes friends and enemies despite his inability to speak. The shelter kids spend their days in a safe and loving environment, playing on the grounds and spying on the "crazy man" who spends his time playing the violin. He drives the children away but one boy ends up hiding in his cabinet. Ariel and Onyok strike up a tenuous relationship that slowly becomes strengthened by their love for music.


The teacher finds a worthy student, and the child finds an adult worth his trust.
ADVERTISEMENT - CONTINUE READING BELOW

While Boses sometimes slips into good old fashioned melodrama mode-mostly due to the pacing and the slightly overblown performances of the veteran actors in the cast-the real charm of the film comes from the utterly delicate observance of Julian Duque's vulnerability as a child and his prodigious talent with the violin. Coke Bolipata, too, is a natural actor and a joy to watch on screen. Indeed some of the most moving moments from the film are between Ariel and Onyok: whether during a lesson about how to properly hold the violin or while they are playing on the beach-it is when the connection shines through that the world feels instantly brighter.


The real triumph of Boses comes five years after it was made in 2008 for the Cinemalaya Independent Film Festival. Since then, the film went on the typical path for an independent gem: it won awards and critical praise, it went to international film festivals, it screened in schools, both here and abroad. But still not a lot of people had seen it-including myself, until I saw it at the recently concluded Cinemalaya Film Festival. Thankfully, Boses has found its way to a commercial release in cinemas. And the very good news is that it opened last Wednesday (July 31) and reportedly made 1 million in two days. It makes me glad to see an independently produced film (with an advocacy, instead of big-name stars, attached to it) perform decently at the box office. Sure, it's not hundreds of millions but still one million pesos in two days is healthy performance, a good sign, positive news. It means more people are ready for something worthy.  


Not a lot of films combine artistry and advocacy and come out both moving and watchable.


Boses hits all the right notes. It presents the painful truth about violence against children-in fact, shows the abuse-but does not highlight it as the central theme. Instead, it is a story of healing and the ability to people to transcend their personal tragedies. Music is the medium, and as the song goes, love is the message.


***


Boses is playing exclusively at selected SM Cinemas nation-wide. Check screening schedules.


CONTINUE READING BELOW
Recommended Videos
ADVERTISEMENT - CONTINUE READING BELOW
Share this story with your friends!
---
Help us make Spot.ph better!
Take the short survey
Load More Stories