Dark City: Maynila sa mga Kuko ng Liwanag
SPOT.ph blogger Ria Limjap celebrates the screening of Brocka's masterpiece with a look at "remaining pockets of grandeur of a gorgeous city that existed decades ago"
(SPOT.ph) Manila is literally a dark place. Roam the streets of Ermita, traditionally known as the red light district, certainly gaudy although it isn't very bright-and watch were you walk, navigate the dark corners carefully lest you bump into the figures huddled on the sidewalks. At the top of the Bayleaf Hotel on the corner of Victoria and Calle Muralla in Intramuros, there is a magnificent 360-degree view of the city. But look down and you will see only the inky depths of Intramuros, the old walled Spanish enclave, where it seems some things haven't changed since the 18th Century. Roxas Boulevard, probably the most accessible of all public spaces in Manila-littered with joggers and masahistas, lovers and dogs of all kinds-is lined with those awful lamps that in fact do not brighten anything up. It seems the only bearable way to look at Manila is to focus your gaze on the little remaining pockets of grandeur of a gorgeous city that existed decades ago, before the war: the great pink confection that is the Central Post Office sitting on the banks of the Pasig River, the green oasis of Luneta framed by a clear blue sky, that famous sunset over the Boulevard. There are moments when the city is actually pretty, especially in the late summer afternoons, but as the city falls into darkness it goes back to feeling seedy and forlorn. Just wait until it rains.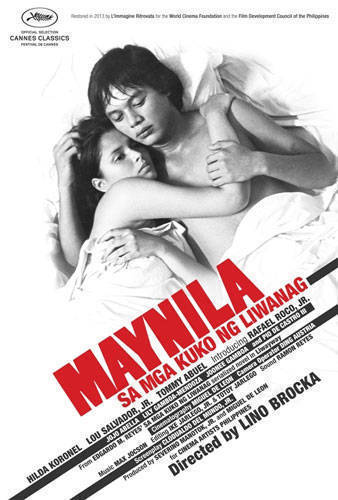 ADVERTISEMENT - CONTINUE READING BELOW
To savor the inherent darkness of Manila, read Manila Noir, the new anthology of contemporary noir fiction edited by Jessica Hagedorn. These stories, set in different parts of the city from Tondo to Forbes Park, are violent, clipped, chilling. Life is cheap in the city, people are too easily disposed of and hacked to pieces-and its citizens too easily desensitized and willingly blind to the cheapness.
It is even more apparent in Maynila sa mga Kuko ng Liwanag, Lino Brocka's iconic film about a provincial boy's attempt to survive life in the city. Julio Madiaga (Bembol Roco) has one goal: to find his lost love Ligaya Paraiso (Hilda Koronel) in the metropolis. He suffers the soul-crushing existence of a poor man without much of a choice: a construction laborer, a call boy. But he waits patiently for her on the corner of Misericordia Street, hoping to catch a glimpse of his childhood sweetheart. Julio finds Ligaya and they are reunited. But there can be no truly happy ending for these tragic lovers whose lives have been swallowed by the dark city.
CONTINUE READING BELOW
Recommended Videos
Maynila sa mga Kuko ng Liwanag (which went to Cannes last May and will be at the Toronto International Film Festival in September) is a major classic of Philippine cinema and should not be missed. In the beautifully restored version Mike de Leon's peerless cinematography allows the city to bloom as it was in the mid-70s: the neon-lit streets of downtown, the teeming slums, the eerily quiet streets of Binondo early in the morning. Manila's internal logic has never been more lovingly preserved on film.
ADVERTISEMENT - CONTINUE READING BELOW
Maynila sa mga Kuko ng Liwanag plays until today exclusively in selected SM Cinemas.
Share this story with your friends!
---
Help us make Spot.ph better!
Take the short survey
Load More Stories