10 Must-See Films That Celebrate Philippine Languages
Popcorn, palihug!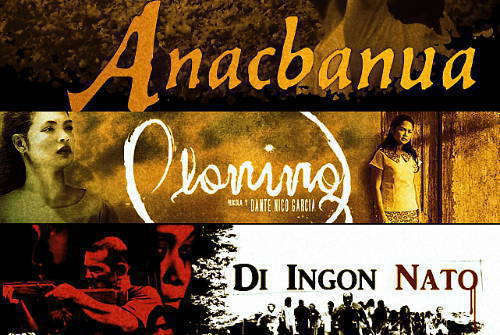 (SPOT.ph) One of the most commonly overlooked facts about the Philippines is its multilingualism. While everyone has been busy promoting patronage for local movies that use the local language, they keep forgetting that it's local languages. In the plural form. And no, sirs and madams, they are not dialects. There are more than 170 languages spoken in our country and behind each of those languages are myths, legends, folklores, and tales of epic proportions.
Here are 10 films that parade those stories with pride.
Cebuano: Panaghoy sa Suba (2004)
One-sentence Synopsi: Set during World War II, it tells the story of a banca operator named Duroy is in love with his village's most beautiful young lady, but he backs off when he finds out his brother has the hots for her, too.
Language Love: Cesar Montano, who plays Duroy, also produced and directed this film. The cast-which was mostly made up of Bisaya actors like Juliana Palermo, Flora Gasser, and Suzette Ranillo-delievered the Cebuano lines flawlessly.
Ivatan: Kadin / The Goat (2007)
One-sentence Synopsis: A boy named Peping is searching for his missing kambing.
Language Love: Hailing from the northern tip of the Philippines, Kadin rests on a plain but sturdy plot. Not much is known about the history and culture of the Ivatan but director Adolf Alix, Jr. didn't need to know much to show the beauty of Batanes. Alix hired a translator to communicate with the Ivatan children playing the lead role and give them pointers but he let them do most of the talking.
ADVERTISEMENT - CONTINUE READING BELOW
Ilonggo: Namets! (2008)
One-sentence Synopsi: It's a contemporary chick flick-type love story of two chefs who fall in love over food, particularly Ilonggo food.
Language Love: Lead stars Christian Vasquez and Angel Jacob are Ilonggos so they were sensational in the delivery of the melodious language. Ilonggo is like...chicken inasal to the ears.
Cuyunon: Ploning (2008)
One-sentence Synopsis: Based on a Cuyunon folk song, Ploning tells the story of the eponymous character who decides to care for a small child named Digo while she waits for the man she loves to return to Cuyo.
Language Love: The dialog uses Cuyunon and Tagalog interchangeably and features Cuyunon folk songs in the soundtrack. Although it didn't make it to the Academy Awards, Ploning earned numerous other accolades from various festivals but on top of all that, Judy Ann Santos was given the honor of being an "adopted daughter" of Cuyo, Palawan.
CONTINUE READING BELOW
Recommended Videos
Ilonggo: Yanggaw (2008)
One-sentence Synopsi: It's a smart, minimalist horror flick about a family who's dealing with the fact that their daughter is turning into an aswang.
Language Love: Lead stars Ronnie Lazaro and Joel Torre are Ilonggos so speaking the language was a breeze for them. The biggest surprise is Tetchie Agbayani, who pulls a Meryl Streep-ish move when she speaks the language, too.
Pangasinan: Anacbanua / The Child of the Sun (2009)
One-sentence Synopsis: A highly Westernized poet returns to Pangasinan, where he meets a muse who helps him cure his diseased mind and body.
ADVERTISEMENT - CONTINUE READING BELOW
Language Love: Anacbanua immerses you in Pangasinan language and culture. The language is one of the most widely spoken and yet, this is the first film that features dialog in the local vernacular. Read Ria Limjap's thoughts on this ambitious film here.
Cebuano: Ang Damgo ni Eleuteria (2010)
One-sentence Synopsi: A young woman in an impoverished barrio is pressured by her mother to become a domestic helper in Germany.
Language Love: The movie unfolds in real time and its dialogue is as real as it gets. You'll appreciate the fact that the Bisaya accent is celebrated and not caricatured in this movie. The language's poetic staccato is fascinating.
Tagbanwa: Busong / Fate (2011)
One-sentence Synopsis: A collection of folk tales of Palawan, Busong follows Punay, a woman born with wounds on her feet that prevents her from walking, and her brother Angkarang as they search the island of Palawan for a cure to her ailment.
Language Love: The dialog uses Tagbanwa and Tagalog interchangeably. Busong is very spiritual and wears the art house colors with great pride, filled with determination to promote the language and the culture of Palawan beyond its paradisiacal veneer.
Cebuano: Di Ingon Nato / Not Like Us (2011)
One-sentence Synopsis: A remote mountain village in Cebu is exposed to an infection that causes the dead to rise (Read: ZOMBIES!).
Language Love: The entire movie is in Cebuano, hurrah! The film features a lot of beautiful scenery from rural Cebu, almost to the point of excess. It has room for improvement but that hasn't stopped it from winning awards in Mexico, Brazil, and Buenos Aires-which means this Visayan language has been heard in those areas.
ADVERTISEMENT - CONTINUE READING BELOW
Cebuano: Palad ta ang Nagbuot (2013)
One-sentence Synopsi: It tells the story of a boxer who wants to make his fortune and with the heart of the woman he loves.
Language Love: A remake of the 1969 film with the same title, this film stars real life boxer Nonito Donaire Jr. Gloria Sevilla, hailed as "The Queen of Visayan Movies," is also in the film. If you want to learn the rhythm of the Cebuano language, you should watch this film.
Share this story with your friends!
---
Help us make Spot.ph better!
Take the short survey
Load More Stories