The Anatomy of Sean Ellis' Metro Manila, Sundance Award Winner
Sundance Film Festival Audience Award-winning film </em>Metro Manila</em> is showing in selected local theaters on October 9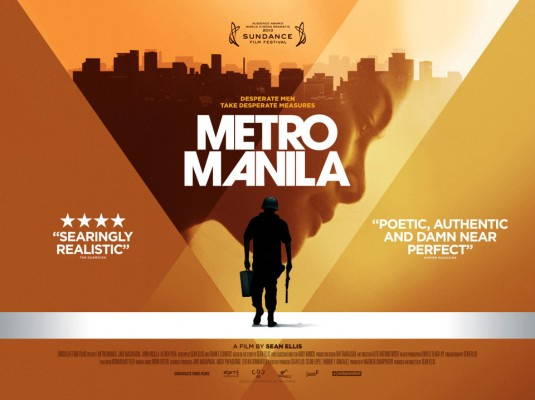 The Sundance Film Fest Prize-winning film Metro Manila hits selected theaters on October 9
(SPOT.ph) Despite having a story that seems to have already been done to perfection by someone else, Sean Ellis chose to make Metro Manila. If his name sounds familiar, he's the man behind the films Cashback and The Broken. He might've picked up a copy of Jessica Hagedorn's Manila Noir; his film turns the city into a character. No glitz, no glam, but carefully avoiding being morbidly fascinated with the slums.
The story follows Oscar Ramirez (Jake Macapagal) and his wife Mai (Althea Vega), who struggle to fit into the chaos that is Metro Manila. Oscar meets Ong (John Arcilla), who breaks his streak of bad encounters. But as the two make their way throughout Metro Manila as drivers of an armored van, Oscar begins to see what the city can take from you if you let it.
It's a film about a city but what else is a city but the people living in it? Here's a rundown of the people you'll meet (or is it the people you have already met?) while watching Metro Manila.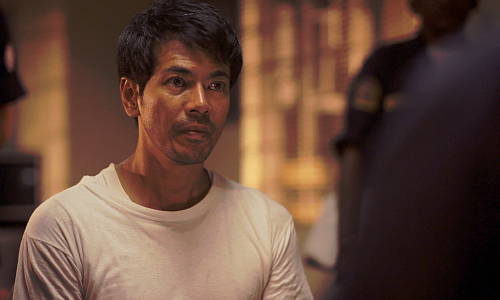 ADVERTISEMENT - CONTINUE READING BELOW
Jake Macapagal plays the incredibly endearing Oscar Ramirez
What You Want to Be: Oscar Ramirez (Jake Macapagal)
The story revolves around Oscar, an educated man who is forced into extreme poverty. His heart is in the right place and although he's smart, his naïveté is a source of amusement for the more jaded characters. His trusting nature makes him highly likeable but his optimism impairs his ability to detect malicious intent, allowing people to take advantage of him.
The City's Finest: Buddha and Charlie (Moises Magisa and Miles Canapi)
Buddha and Charlie aren't necessarily evil, just... too "dog-eat-dog" for everyone else's well-being. They have some cash, they hire some people, and they run their business. They're the bosses you have at work that you want to punch in the face for being insensitive to the fact that you're barely making ends meet and they keep asking for damn contributions to buy cake for some higher up who can probably afford her own damn cake.
CONTINUE READING BELOW
Recommended Videos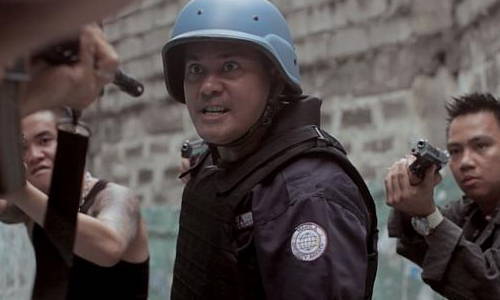 ADVERTISEMENT - CONTINUE READING BELOW
John Arcilla once again plays a security personnel but this time, he's pretty badass
What You Turn Into: Ong (John Arcilla)
Ong has been living in the city for too long. He is a kind man and he means no harm but think of him as the fury you feel towards corrupt public officials made flesh. He is the anger you feel at the injustice that you witness every day, whether it's people who cut in line who get on the train before you do or a former president who probably used your money to remove breast implants.
What You Are Trying to Avoid: Alfred Santos (JM Rodriguez)
Alfred Santos is the primetime news crime story of the day that you keep hearing. You keep telling yourself that you won't ever reach his levels of desperation. We wish you luck in that endeavor.
What You Want to Protect: Angel Ramirez (Erin Panlilio)
Angel is the daughter of Oscar and Mai Ramirez. She's the personification of the reason a lot of people wake up in the morning to go to work. Like her father, she is optimistic and kind with the added benefit of being young. Angel is obviously hope and you can call her clichéd but we all need trite things like that to restore our faith in humanity. Life's pretty gruesome but when you have something to live (or die) for, no matter how mundane, it can't be all that bad.
Catch Metro Manila in selected theaters on October 9, 2013.
ADVERTISEMENT - CONTINUE READING BELOW
Share this story with your friends!
---
Help us make Spot.ph better!
Take the short survey
Load More Stories