Top 10 Songs About Infidelity
Is cheating something to sing about? We list 10 songs that make infidelity a musical affair.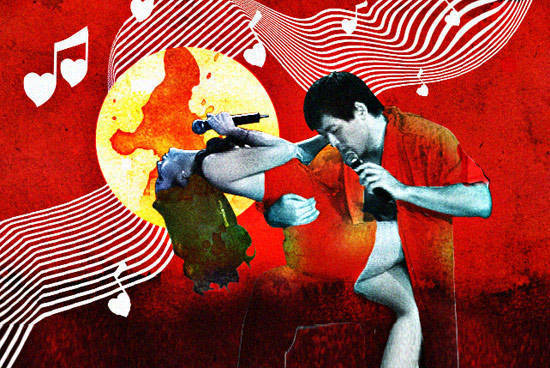 (SPOT.ph) Cheating on your spouse or lover may be a sin--but it seems composers draw inspiration from it. SPOT.ph lists 10 songs about cheating that have either become videoke session favorites or have left quite a mark in Pinoy pop culture. For the record, we don't condone infidelity and the ranking of the songs in this list is based on our personal preference (of the songs, not infidelity). We understand that you have your own personal favorite cheating ditties.
This article was originally published on October 12, 2010.
10. "Escape (The Pina Colada Song)"
Unfailthful plot: This Rupert Holmes tune, which made its debut in 1979, talks about a man who is bored with his current relationship. The singer assumes the persona and reveals, "I was tired of my lady." He also says that their partnership has become "like a worn-out recording." So, while his partner is sleeping, the man checks out the personal ads in the newspaper. One spiel arouses his interest. It starts with the line, "If you like pina coladas..." (Hence, the song title.) He answers the ad and sets up a meeting with the lady who placed it. As it turns out, the potential "new" lady in his life is actually his current one. The cute ending almost makes us forget that the two "leads" had planned their infidelity.
Cheating lyrics: "I didn't think about my lady/ I know that sounds kind of mean/ But me and my old lady/ Have fallen into the same old dull routine/ So I wrote to the paper/ Took out a personal ad."
ADVERTISEMENT - CONTINUE READING BELOW
9. "Sana Dalawa Ang Puso Ko"
Unfailthful plot: This gut-wrenching song by Bodjie Dasig of Bodjie's Law of Gravity was a hit in the 1990s. It talks about a guy who falls in love with two people. (We just realized that the song is not gender-specific.) He, of course, can't decide whom to pick. Thus, he wishes he had two hearts. Although this may seem illogical--as he would have been better off wishing he had a clone--we can just chalk it up to poetic license. Dasig does sound pretty good. By the way there's a 1995 movie which has the same title. The movie stars Rustom Padilla, with Alice Dixson and Dina Bonnevie as his love interests.
CONTINUE READING BELOW
Recommended Videos
Cheating lyrics: "Sana dalawa ang puso ko/ Hindi na sana nalilito/Kung sino sa inyo/ O sana dalawa ang puso ko/ Hindi na sana kailangan pang pumili sa inyo."
8. "Saving All My Love For You"
Unfailthful plot: This 1985 Whitney Houston hit tells the story of a devoted mistress who'd "rather be home feeling blue" than go out with an unattached man. She tells her man: "You've got your family/ And they need you there." She also knows that she will always be last on his list. Nevertheless, she's sticking with him despite her friends' objections. She spells it out: "You used to tell me we'd run away together/ Love gives you the right to be free/ You said be patient, just wait a little longer/ But that's just an old fantasy."
ADVERTISEMENT - CONTINUE READING BELOW
Cheating lyrics: "A few stolen moments is all that we share."
7. "Tukso"
Unfailthful plot: This enduring Eva Eugenio hit tells the story of a woman who is doing her darndest to resist temptation. The object of her agony is not named, but it's safe to say that the person in question makes her want to be bad. Though the woman in the song may not have acted on her forbidden urges yet, it's easy to discern that she's in danger of giving in to them.
Cheating lyrics: "Ngunit kung kaya ko/ Ako ay hindi padadaig/ Sa tuksong kayrami nang/ Winasak na damdamin."
6. "Delilah"
Unfailthful plot: The song, which came out in 1968, was popularized by Tom Jones. It's the story of a man who was deceived by his lover Delilah. He makes his discovery when he stakes out her place. Later on, he relates, "At break of day when that man drove away/ I was waiting/ I crossed the street to her house and she opened the door/ She stood there laughing/ I felt the knife in my hand and she laughed no more." This song probably continues to be a favorite piece for "amateur" singing contests in barangays.
Cheating lyrics: "She was my woman/ As she deceived me I watched and went out of my mind."
5. "Cry Me a River"
Unfailthful plot: Released in 2002, this song is from Justin Timberlake's first solo album, Justified. It talks about a guy who's still seething over his girlfriend's infidelity. A ceritfied hit, the song is rumored to be Timberlake's way of cofronting ex Britney Spears' alleged cheating. The video, which features a woman who could be mistaken for Spears made things more complicated.
ADVERTISEMENT - CONTINUE READING BELOW
Cheating lyrics: "You don't have to say what you did/ I already know/ I found out from him/ Now there's just no chance/ For you and me/ There'll never be/ And don't it make you sad about it."
4. "It Wasn't Me"
Unfailthful plot: Lotharios all over the world must have made this 2000 hit their official anthem. Shaggy and Ricardo "RikRok" Ducent tell the story of a guy who asks his friend's advice after his girlfriend catches him in flagrante delicto. Just as cheating men suppossedly adhere to the twisted adage, "Deny until you die," this song tells them to say, "It wasn't me" despite the presence of overwhelming evidence.
Cheating lyrics: "Honey came in and she caught me red-handed/ Creeping with the girl next door/ Picture this, we were both butt naked, banging on the bathroom floor."
3. "Part-Time Lover"
Unfailthful plot: This 1985 Stevie Wonder song talks about two lovers who are both committed to their respective partners. The persona croons: "We are strangers by day, lovers by night/ Knowing it's so wrong, but feeling so right." In other words, sneaking around turns them on--and to hell with everything else. They have even come up with elaborate ways to get in touch with each other ("Call up ring once/ Hang up the phone" and "If she isn't with me I'll blink the lights/ To let you know tonight's the night"). Obviously, the song was written back in the day when text messages were but a techie's dream.) In case you want a classier Wonder song about infidelity, there's always "Lately."
ADVERTISEMENT - CONTINUE READING BELOW
Cheating lyrics: "If I'm with friends and we should meet/ Just pass me by/ Don't even speak/ Know the word's 'discreet' with part-time lovers."
2. "Stupid Love" (or "S2pid Luv")

Unfailthful plot: Though many people may dismiss this song as a novelty piece, it's actually more substantial than you think. A hit in early 2002, this song by Pinoy rap group Salbakuta tells the story of a guy who fell in love with a two-timing girl. He chides her, "Para kang Sphinx/ Ugali mo'y napaka-sting." (Now, not all rap songs can refer to characters from Greek mythology!) The song also samples "Evergreen," a 1976 tune popularized by Barbra Streisand.
Cheating lyrics: "Yo!/ Anyway everyday iba't ibang guys ang iyong ka-text/ And then one time nahuli kita na mayroon kang ka-sex."
1. "Careless Whisper"

Unfailthful plot: Sung by English pop duo Wham (George Michael and Andrew Ridgeley in 1984, the song is all about a man who has an affair with a friend's partner. He is plagued by guilt--so much so that he swears, "I'm never gonna dance again/ 'Cause guilty feet have got no rhythm." The song became popular again in the Philippines because it was sung by Dr. Hayden Kho and actress Katrina Halili for their Celebrity Duets number. Unless you've been living under a rock, you'd know that the two reportedly had an affair while Kho was supposedly committed to Halili's friend Dr. Vicki Belo. The song was perfect for the real life drama.
ADVERTISEMENT - CONTINUE READING BELOW
Cheating lyrics: "I should have known better than to cheat a friend/ And waste the chance that I'd been given/ So I'm never gonna dance again/ The way I danced with you."
Art by Warren Espejo, flash box and lead photo from Celebrity Duets video screen capture.
Share this story with your friends!
---
Help us make Spot.ph better!
Take the short survey
Load More Stories