Top 10 Boy Band Songs We Can't Get Out of Our Heads
Warning: You may exhibit signs of LSS.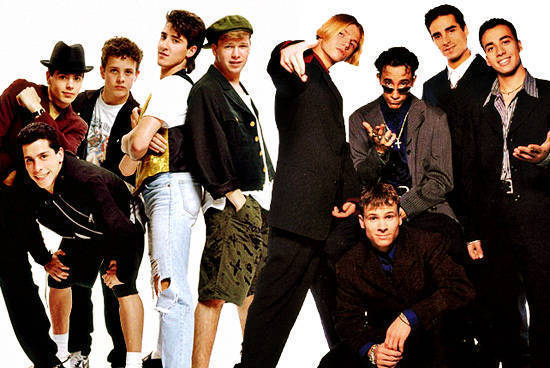 (SPOT.ph) Let's just make sure we're all on the same page here. When we say boy band, we don't mean boys that are actually in a band, playing different instruments and rocking out. "Boy band" is the term that partly defined '90s music: pretty boys that make teenage hearts go bumpety-bump with their synchronized dance moves and look-straight-into-the-camera smolder. They don't have songs that define a generation or move people to a revolution: their songs are those you can't get out of your head, even when you're well past your tweenage years. Current fangirl favorite, One Direction, is one such example. And to commemorate the opening later this week of their sure-to-be-blockbuster movie, we picked out 10 songs that showed us why the '90s was the best decade for hormonal teenage girls. Warning: this list may cause SEVERE LSS.
10. Code Red's "What Good is A Heart?
Album: Missin You Already (1999)
The song with only one dance move, Code Red teaches us more than how to wiggle our hips as we swing our arms alternately back and forth. We say amen, shaking our heads in agreement, to their lessons on using the heart despite the possible pain of love.
Best line: "Yes, I'm a man, but I cry,  I have fears, I won't lie..."
9. Blue's "Best in Me"
Album: All Rise (2001)
Blue came in late in the game, or maybe they were right on time. They came out during the time that both  'NSync and Backstreet Boys were about to take a hiatus and the world was ready for a British boy band. They promoted legal terminology with their first single,  "All Rise, " which was weird, but then they wooed us with  "If You Come Back. " But they really made us blush when they attributed every good feeling they ever had in the world to our presence in  "Best in Me. "
ADVERTISEMENT - CONTINUE READING BELOW
Best Line: "I don't ever wanna lose this feeling, I don't wanna spend a moment apart." Remember, it 's only clingy when the boy is not cute.
8. Menudo's "I'm Going Back to the Philippines"
Album: In Time (1987)
In Time was a Filipino-English album that the Puerto Rican band produced for their Filipinos fans. A song that could mean different things to different people, their "I'm Going Back to the Philippines" is an obvious chart-topper. The song is about meeting a lonely Filipino (with a yellow rose in her hair) in Makati and falling in love and coming back for her.
CONTINUE READING BELOW
Recommended Videos
Best line: "We knew we had to say goodbye/And for the last time we shared our dreams." Or you can just take her with you and dream together!
7. Take That's "Back for Good"
Album: Nobody Else (1995)
This song is, forgive our ineloquence, awesome on so many levels. The song with the rain and the boys dancing. Even a heart made of stone would soften at the shameless pleading for forgiveness.
Best Line: "In the twist of separation, you excelled at being free. Can't you find a little room inside for me?"
6. Boyzone's "Picture of You"
Album: Where We Belong (1998)
Boyzone has owned a lot of the songs they covered. We wanted to put "Love Me for a Reason" because everyone forgot the original when these Irish boys did their version -much like Whitney Houston completely owning "I Will Always Love You"-but it would be unfair to The Osmonds. Still, they have this infectious gem from the Mr. Bean movie that we adore because it speaks of a relationship that started off on the wrong foot, but then became the greatest bromance the world has ever known.
ADVERTISEMENT - CONTINUE READING BELOW
Best Line: "Why did it take me so long just to find the friend that was there all along?" Friendzone anthem right there!
5. Westlife's "Swear It Again"
Album: Westlife (1999)
They broke into the scene just before the 1990s ended, and under the management of boyband veteran Ronan Keating, these boys flew (without wings). They 're not as dance-y but they have heart and they let it all out in their songs!
Best Line: "The more I know of you is the more I know I love you." This sentence is not grammatical but we don't care.
4. 98 Degrees' "Invisible Man"
Album: 98° (1997)
We have to quote one extremely honest YouTube commenter: "It's an ugly guy anthem sung by goodlooking (sic) guys." It's true, but this is the song (the only hit worth noting in their first album) that put 98 Degress on the radar -before "Hardest Thing" and a collaboration with Mariah Carey catapaulted them to the boy band hall of fame. It has the charm of Les Miserables' "On My Own," but much more poignant to the hearts of teens.
Best line: "The way you look at him/I wish it was me sweetheart/Boy I wish it was me/But I guess I'll never be..." Friend-zoned much?
3. 'NSync's "Bye Bye Bye!"
Album: No Strings Attached (2000)
Why we're even explaining this is a waste of time, but we will anyway. This video illustrated what set 'N Sync apart from other boy bands: that they can dance using their hands and feet at the same time-and not just the hip-shaking, hand-waving attempts that others do. And, while other pretty boys were singing about passionate love or heartbreak, 'N Sync was rocking to break-ups. Plus, Justin Timberlake still had his iconic macaroni hair!
ADVERTISEMENT - CONTINUE READING BELOW
Best line: "Don't want to make it tough/I just want to tell you that I've had enough/It might sound crazy but it ain't no lie/ Baby, bye bye bye!"
2. New Kids On The Block's "Step by Step"
Album: Step by Step (1990)
The New Kids on the Block broke into superstardom with "Step by Step," cementing their place in boy band history. Their faith in the good methodology to get the girl is something that warrants admiration, don't you think?
Best Line: "Gonna get to you gir-uh-uh-url! "
1. Backstreet Boys' "I Want It That Way"
Album: Millenium (1999)
It's easy to fall into the trap of "Backstreet's Back" and "Get Down," but the first single from this legendary boy band's third album is quintessential Backstreet Boys. They made us believe we were their fire, their one desire! The image of them grooving in front of a plane? That's the stuff of legend.
Best line: "But we are two worlds apart/can't reach you, your heart/ when you say/ that I want it that way?" What are you talking about, Nick? We want it the same way!
Share this story with your friends!
---
Help us make Spot.ph better!
Take the short survey
Load More Stories