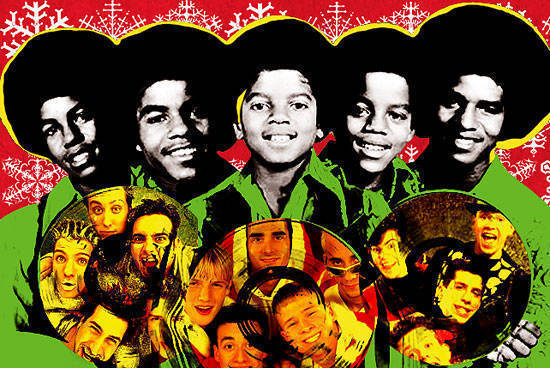 (SPOT.ph) There's no snow, no reindeer, and Santa Claus isn't real? Christmas can be somewhat depressing but fortunately, someone up there loves us enough to send singing and dancing boys to keep us company in our time of need during the cold breeze of... September!
It's officially the "-ber"-months! Christmas is here! What better way to start the celebration than boy bands taking the extra effort to serenade us with an original song fit for the season?
"Last Christmas" by WHAM!
We apologize in advance for the season-long LSS that you're going to get upon reading the title. Practically everyone has covered this song, including your neighbor's dog, and for good reason: it's a classic. It starts with bitterness and resentment but even in the most vengeful stage of heartbreak, the song encourages the woeful with the thought that the best revenge is happiness (in the form of a new hotter, better, stronger, faster partner).
ADVERTISEMENT - CONTINUE READING BELOW
"Santa U Are The One" by Super Junior
This song borders on creepy, with adult men singing about Santa "coming around" children's room at night. However, it's a fantastic song that pays tribute to the real meaning of Christmas: presents and the hardworking man who gives them to us. See how profound things get with a little sprinkle of holiday cheer? (We're sure Jesus has a place in Korea but Santa needs his time to shine too).
"Christmas Wish" by 98 Degrees
Listening to this song, we want to know what it is that caused the girl to leave in the first place. Maybe she's made of stone because these guys are all feelings and praying to the stars. But then again, maybe they weren't such sentimental fools during the summer season and now that the Christmas cold is creeping up, they're feeling the emptiness in their beds (and hearts?). In any case, this is a great upbeat replacement for "Pasko Na Sinta Ko." Boy band beats make the sad feels more bearable.
"After All It's Christmas" by A1
It starts off sobbing but finishes strong with "the greatest gift" being found (and we assume that it's love). On the technical side, cause we're such experts in music, the drum beat gives this song a festive edge and we feel like marching behind A1 as they keep on believing in the magic of Christmastime.
"Merry, Merry Christmas" by New Kids on the Block
It's peace and love and harmony they bring to all their sisters and brothers! If this song were Christmas food, it would be eggnog mixed with quezo de bola mixed with fruitcake mixed with the Christmas tree, stirred with the Christmas star, and garnished with Christmas lights. It doesn't sing of nauseatingly sweet romance like most other boy band carols, it sings of hand-holding on a global scale!
"Funky, Funky Christmas" by New Kids on the Block
ADVERTISEMENT - CONTINUE READING BELOW
This song is just, to quote the song, too "oh-so-Christmas-y" to ignore so we're sliding it in as an extra. Beyond the "merry" and the "happy" valley of Christmas cheer lies the plateau of "funky" fun that not everyone is equipped to handle. Be warned: there's a ballistic Santa that needs to be kicked and the festive cheers need to rhyme.
"Fa La La" by Justin Bieber featuring Boys II Men
"This is the time of year we can give it" and "One through ten on your list, you can get it" and "Wanna be your biggest gift." Ahem, ladies (and gents who like gents)? Christmas is just jollier with the men who want to make love to you like you want them to.
"The Chipmunk Song (Christmas Don't Be Late)" by Alvin and the Chipmunks
What do you mean they're not a boy band? They're all boys, they sing, and they dance! And how can we not include a song that evokes the scent of anticipation on Christmas eve? Admittedly, the Chipmunks are an acquired taste but hey, this is an easier cup of tea to swallow compared to, "All I Want For Chritmas Is My Two Front Teeth."
ADVERTISEMENT - CONTINUE READING BELOW
"It's Christmas Time Again" by The Backstreet Boys
Boyish good-looks? Check. Catchy hook? Check. Upper torso swaying with one hand outstretched, palm down, fingers splayed out in the general direction of screeching fan girl? Check. Repeated use of the word "down"? Check! The Backstreet Boys magic is all you need to get you started on the happiness of the holidays!
"Give Love on Christmas Day" by The Jackson 5
Ah, the good old days when Michael Jackson was alive and had an afro. While WHAM's anthemic carol has a hint of spite, Jackson 5 sung of the greatest excuse you can give when you show up to a Christmas party empty handed. Say it with us, "I'm giving you love because no greater gift is there than love. The world needs it now." (You can also try it as a pick-up line, but we can't guarantee the success.)
ADVERTISEMENT - CONTINUE READING BELOW
"Merry Christmas, Happy Holidays" by  N*Sync
This song loads up on Christmas symbols that Catholics / Christians have owned like God, Santa, love, reindeer, snow, et cetera but drops a footnote on the bridge saying that "no matter what your holiday / it's time to celebrate." Points for that guys, how thoughtful of you.
Share this story with your friends!
---
Help us make Spot.ph better!
Take the short survey
More Videos You Can Watch
Load More Stories