The Ultimate Videoke Set List
Mic check, mic check. We're ready to go!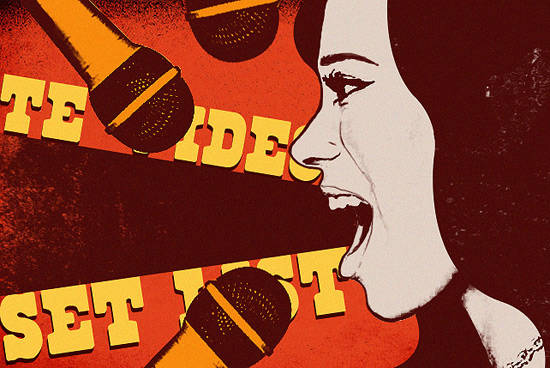 (SPOT.ph) This list will, unfortunately, not include "My Way." We don't want to be responsible should anything untoward happen to you.
Now, we know that we all have our videoke picks-songs that have never left our portable music device, the lyrics of which we know by heart. It's impossible to make the perfect set list for the ultimate videoke night but here at SPOT.ph, we eat impossible for breakfast. And lunch. And dinner.
We present to you the anatomy of a good videoke night. You can throw in your bittersweet lovesongs and we're not going to stop you if you want to make like Manong Driver and sing taxi cab hits. We're not here to judge your taste in music because videoke night is all about, as The Smiths put it, good times (for a change). No sad songs, no achy-breaky-hearts (although feel free to sing "Love is a Battlefield"!), and we'll leave the outrageous performances to former Disney popstars. We're here for fun and good vibes!
Tell us your favorites in the comment box!
Suggested read: Top 10 Sing-Along Spots in Manila.
1.  Something pop and famous (but not so new that it's not on the machines yet!)
Break the ice with a pop song. Start with something that everyone knows, preferrably with a catchy hook that is infectious enough to force people to sing along. Go for girl band hits and harmonize, with matching hip movement!
Suggestions: "Wannabe" by Spice Girls / "Say My Name" by Destiny's Child / "Teenage Dream" by Katy Perry
ADVERTISEMENT - CONTINUE READING BELOW
2. TURN AROUND!
You are not allowed to leave the room until you've sung this song. It is your offering to the videoke Gods and they really need it tonight.
Suggestion: "Total Eclipse of the Heart" by Bonnie Tyler (and as an added bonus, "I Need a Hero")
3. "Galit-galit" muna.
It is quite an unfortunate statistic that a sizeable amount of the population has an ex they can never forgive but that's okay. A little anger can be good, especially when belting it out in a videoke bar. There is no room for tears so sing something fierce. Keep the booze rolling and save the crying for later.
CONTINUE READING BELOW
Recommended Videos
Suggestions: "You Oughta Know" by Alanis Morissette / "Rolling in the Deep" by Adele / "Forget You" or better yet, "F*ck You" by Cee Lo Green
4. Vocal olympics!
If you're in a group, one person will sing a song just to prove they can shatter glass with the power of their vocal chords. If that person is you, we wish you well. However, if you want to avoid three minutes of listening to someone making a fool of his or herself, pick "Alone" and "I Will Always Love You" as soon as you can and shred it to pieces! Note that this includes any song by Celine Dion.
Suggestions: "Alone" by Heart / "I Will Always Love You" by Whitney Houston / "Titanium" by David Guetta feat. Sia
5. Do it duets!
ADVERTISEMENT - CONTINUE READING BELOW
Do it with your bro, do it with your best gal pal, do it sickeningly sweet with your significant other! There are two microphones in most of these places and you are entitled to use them both!
Suggestions: "Cruisin'" by Huey Lewis and Gwnyneth Paltrow / "Way Back Into Love" by Hayley Bennet and Hugh Grant / "The Prayer" by Josh Groban and Celine Dion
6. Good old oldies.
Keep the good vibes rolling with happy songs! Sure, John Green declared that pain demands to be felt but there are songs with a joyful beat that help the sorrow go down a little smoother. Skip the She and Him tracks and groove to sunshine pop at it's finest with The Turtles, The Foundations, or The Archies.
Suggestions: "Build Me Up Buttercup" by The Foundations / "Happy Together" by The Turtles / "Sugar, Sugar" by The Archies.
7. Royalty: Queen or Prince?
If you do not know who they are, it is your moral duty to find out. The best thing about singing either a Queen or Prince song is imitating their immeasurably awesome choreography.
Suggestions: "Kiss" by Prince / "Don't Stop Me Now" by Queen
8. Cyndi Lauper + Madonna + Lady Gaga
They're basically the same artist, so go ahead and pick any song from their repertoire. We encourage you to bring costumes, for full effect!
Suggestions: "Girls Just Want to Have Fun" by Cyndi Lauper / "Like a Virgin" by Madonna / "Bad Romance" by Lady Gaga
ADVERTISEMENT - CONTINUE READING BELOW
9. British Pop
If you must go slow, go slow with style. Re-enact that sad karaoke scene from 500 Days of Summer with a number from The Smiths or put on some sunglasses in the middle of the night, inside a dark room and sing something by Oasis.
Suggestions: "Please, Please, Please, Let Me Get What I Want" by The Smiths / "Wonderwall" or "Champagne Supernova" by Oasis
10.  Something anthemic to dance away the blues.
They've been done to death but trust us, after bottles and bottles of beer, you will want to get up and sing these songs.
Suggestions: "Fame" by Irene Cara / "I Will Survive" by Gloria Gaynor / "Dancing Queen" by ABBA / "I Love the Night Life" by Alicia Bridges / "Hot Stuff" by Donna Summers / "It's Raining Men!" by The Weather Girls
Encore: Aegis
Anything Aegis. Yes.
Suggestions: "Luha" or  "Halik" or "Basang Basang sa Ulan"
Share this story with your friends!
---
Help us make Spot.ph better!
Take the short survey
Load More Stories