The Veteran Film Society Presents: A Portrait of the Artist as Filipino
SPOT.ph blogger Ria Limjap on what makes this 1965 film a must-see classic.
(SPOT.ph) "A film without architecture is unthinkable," writes Gerard Lico in his essay, "Architecture in 24 frames per second," from his book Pa(ng) Labas: Projections of Filipino Space in Film. This is most especially true in Lamberto Avellana's 1965 film version of Nick Joaquin's  A Portrait of the Artist as Filipino, where almost the entire play is set in a beautiful old house in the oldest part of the city that suggests another age-in the playwright's words-"an Age of lamplight and gaslight, of harps and whiskers and fine carriages, an Age of manners and melodrama, of Religion and Revolution." (A world almost all gone today, except perhaps for the melodrama.)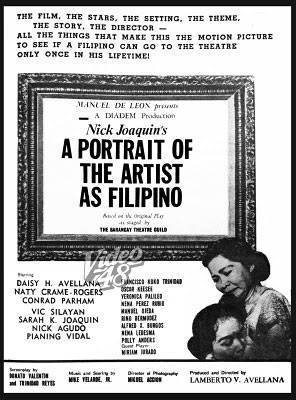 The film, like the play, opens with the narrator, Bitoy Camacho (Vic Silayan) reciting his ode to Manila, the "Noble and Ever Loyal City"-that is, the old walled city of Manila-Intramuros, which is already in partial decay even before World War II's bombs finish it off. Nick Joaquin's description of his beloved Manila is prophetic. He saw in the 1950s the city as it is today: "just another jungle of slums."
ADVERTISEMENT - CONTINUE READING BELOW
The drama is set in an a traditional Filipino bahay-na-bato on Calle Real in Intramuros, where the Misses Marasigan, Paula (Daisy H. Avellana) and Candida (Naty Crame-Rogers), live in genteel poverty with their aged father Don Lorenzo Marasigan, the great painter. To supplement their meagre income, they take on a boarder, the rakish and handsome music hall piano player Tony Javier (Conrad Parham) who does all sorts of unspeakably rude things like bring women back to the house and flirt with the overheated virgins who are his landladies. Paula, who is older and a stickler for propriety, is flinty in her resistance to his flattery. Candida, who is younger and sensitive, trembles when Tony comes to near.  Sheltered and vulnerable, the spinsters inhabit a strange sort of twilight world about to be blasted away by the looming war, they do not live in the present moment.
CONTINUE READING BELOW
Recommended Videos
Cosseted by the house and comforted by memories of the past, Paula and Candida Marasigan are nonetheless forced to deal with reality. Paula thinks of finding a job (as a rat catcher of all things) while Candida styles herself as a teacher of piano and Spanish-useless accomplishments suitable only for women from another era. The sisters are ill-equipped for the struggle to keep their dignity in an increasingly hostile world. When the electricity goes one night, they panic and shrink away from the windows, thinking their electricity has been cut off. It turns out the entire street, the whole city, is plunged in darkness for the practice black-out. When Paula and Candida realize this, they are hysterical in their relief. War is coming but it is nothing compared to the bitter humiliations of two poor spinsters. They adore their father with childlike ferocity, but they resent him as well. When he paints the portrait that hangs ominously in the living room, it becomes both the cage that traps them and their ticket to freedom-like the rest of the house, should they sell or keep, let go or move on?
ADVERTISEMENT - CONTINUE READING BELOW
Despite the archaic air of A Portrait of the Artist as Filipino, it remains a classic of Philippine literature and film. Lamberto Avellana himself wrote in the foreword of the 1966 edition : "PORTRAIT, the film, is now part of Philippine movie history." Manuel de Leon's Diadem Productions chose to make Portrait which they hoped to endow with "all the dedication, artistry and craftsmanship possible from Filipino players and technicians".
While the three national artists (Lamberto Avellana and Daisy Avellana both National Artists for Theater and Film, and of course Nick Joaquin for Literature) involved in the film-their "courageous effort to stem the continuing deterioration of Filipino movies"-have since passed on, it is Naty Crame- Rogers, who is keeping A Portrait of the Artist as Filipino alive. She mounts the play in her home Sala Theater with the Philippine Drama Company, which she founded. At the recent screening of the restored version of the film (by The Veteran Film Society), Naty Crame-Rogers spoke to a small crowd of cinephiles and wanted to know what the young people in the audience thought of the film. She remembers shooting the film clearly-the house was haunted and Nick Joaquin would visit the set frequently. It seems that such discernment and discipline for one's craft has all but disappeared in today's world, a parallel to the vanished "city of our affections" where tradition, beauty, and graciousness live, with everything in its right place.
***
P.S.
Watch for more special screenings from The Veteran Film Society! Details coming soon.
ADVERTISEMENT - CONTINUE READING BELOW
P.P.S.
By the way. My two cents worth on Erik Matti's On the Job: so good I saw it twice!
Share this story with your friends!
---
Help us make Spot.ph better!
Take the short survey
Load More Stories