She's the One: Cute 'n' cheesy
SPOT.ph blogger Ria Limjap on Bea Alonzo, Dingdong Dantes, being friend-zoned, and ensaymada.
(SPOT.ph) Without reservation, I will tell you that She's the One, the new romantic movie offering Star Cinema, is cute enough.  It's harmlessly entertaining and they are assured of box office sales by casting big stars (golden girl Bea Alonzo and Dingdong Dantes) in a typical plot (best friends falling in love) with a happy ending (again! surprise!)
Truth be told, I love Bea most when she's playing the nice girl because only she can be lovely even when slightly manang-ish and put-upon. Of course she's lit and photographed by cinematographer Dan Villegas and between the two of them, she really has that understated glow of a girl secretly in love with her best friend. Meanwhile Dingdong Dantes, who is perhaps only slightly less wooden than Richard Gomez at the height of his career, plays the palikero equally well. They have a palpable chemistry between them on-screen and when they hang out it seems like fun and as they bicker it feels somehow familiar and endearing. They are well-matched, these two, both spectacularly good looking and slightly bland, perfect leads for a romance and there's nothing like romance to get us out of a funk.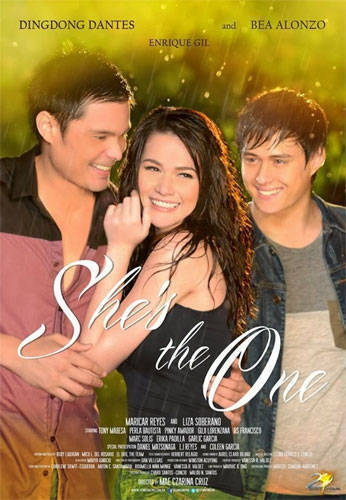 ADVERTISEMENT - CONTINUE READING BELOW
If only She's the One had concentrated on the central friendship of Kat and Wacky, which is really what gives the story its emotional core. Director Mae Czarina Cruz understands how to tug on the heartstrings of her audience-a legion of loyal girls trapped in the so-called friend zone, hoping to be noticed by their unattainable guy best friends. In one scene Wacky comes over to Kat's house (after dropping off his ditzy young date) with two tubs of ice cream and a box of cones. They eat one tub each and crumble cones into each other's ice cream and tease each other with the ease of old friends. She lectures him for his womanizing and he baits her for not having a boyfriend. It's obvious they are meant for each other (because after all, this is make-believe.) What could have been a really sweet love story about two friends was unfortunately smothered with a ton of unnecessary and gimmicky tricks, turning it into a great big fluffy cheese ball-the ensaymada of rom coms, if I may say, smothered in marshmallow crème frosting.
CONTINUE READING BELOW
Recommended Videos
But let me also say that I love ensaymada and I would never throw it out the window simply for being what it is. (However, I abhor marshmallow crème frosting.)
If I were to politely point out two small things about this movie-bear with me, I am really trying to complain less these days-I would ask: why hire the great Tony Mabesa (he plays Kat's lolo) and not give him a single speaking line in the entire movie?  I have no answers to that, only, that if four people are credited for writing a screen play you would think maybe one of them  would write at least a scene with speaking lines for Kat's lolo and lola (Perla Bautista). I mean, they are iconic actors in a movie starved for truly great acting.
ADVERTISEMENT - CONTINUE READING BELOW
The other tiny thing I would like to gripe about is the fact that they picked the WRONG Odette Quesada composition for this movie. While the kilig kolehiyalas behind me were singing along to this:
...which, of course, Dingdong sings to Bea in a karaoke scene...
I was hoping with all my jaded heart, they had chosen this one instead:
Because every Filipino girl who grew up listening to OPM and fell in love with her best friend sang this song-in the dark, crying, stuffing her face with ensaymada.
Share this story with your friends!
---
Help us make Spot.ph better!
Take the short survey
Load More Stories