MOVIE REVIEW: Captain Phillips
SPOT.ph blogger Paul Daza speaks highly of Tom Hanks' latest film
(SPOT.ph) STORY: Based on true events, Captain Phillips is the harrowing, suspenseful dramatization of the hijacking of the U.S. container ship Maersk Alabama by four Somali pirates in April, 2009. Tom Hanks plays the captain who was held hostage by the pirates for five days.
PLUSES
The eye-opening, nail-biting narrative. Like most mainstream moviegoers, I don't know that much about real-life, contemporary pirates. The cinematic pirates I'm familiar with are the ones who operate in the Caribbean under the leadership of Jack Sparrow, while "piracy" for me is synonymous with camcording and bootleg dvds. Now, thanks to scriptwriter Billy Ray and director Paul Greengrass-whose work here is based on Richard Phillips' non-fiction book, A Captain's Duty: Somali Pirates, Navy SEALS, and Dangerous Days at Sea-I now know a lot more about these hijackings involving desperate fishermen and ships carrying expensive cargo that were a major international problem until just recently. As was the case with other superb dramatizations of true stories such as Zero Dark Thirty, Lincoln, and The Social Network, Captain Phillips illuminates a true event or incident by distilling a ton of information and using the cinematic arts of scriptwriting, acting, cinematography, editing, and everything in between to present an informative and entertaining two-hour tale.
Among the details presented in the film that are bound to surprise viewers are the relative ease with which the underdog Somalis could hijack a US ship containing millions of dollars worth of cargo, the youth of the hijackers, and the importance given to Somali "ancestors" during a hostage negotiation. Other details-such as how lethal U.S. Navy SEALS can be with their weapons-are hardly surprising especially for those who've seen Zero Dark Thirty. But it's one thing to see SEALS raid a heavily guarded residential compound in an attempt to find Osama bin Laden, and another thing entirely to see how they try to resolve a hostage crisis in the middle of the ocean.
ADVERTISEMENT - CONTINUE READING BELOW
Having directed the acclaimed, true-to-life 9/11 drama United 93, director Paul Greengrass obviously knows a thing or two about mining claustrophobic suspense even from stories whose outcomes people already know about. Such skills are put to good use in Captain Phillips, which becomes an unrelenting nailbiter the moment Phillips sees on his radar that his ship is being pursued by two small boats. Of the many objects and devices that Greengrass uses to create tension and suspense in the film, however, the one I won't soon forget is the seemingly innocent towline the SEALS used to such deadly effect in one sequence.
CONTINUE READING BELOW
Recommended Videos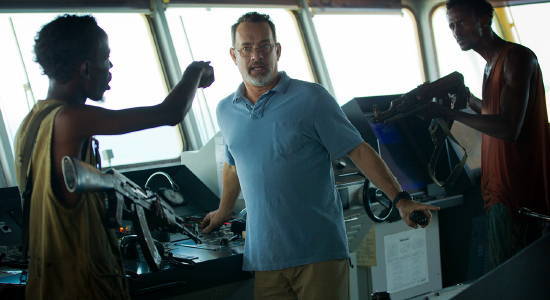 Tom Hanks in the title role. As Richard Phillips, the husband/father/captain who had the bad luck to be in the wrong waters at the wrong time, Tom Hanks gives his finest work since he played the title role in Forrest Gump. So perfectly pitched is Hanks as Richard Phillips that he even manages to make his character's fear of dying so palpable and affecting to us viewers despite his being deprived of the use of what is probably an actor's most important tool: his eyes.
ADVERTISEMENT - CONTINUE READING BELOW
The actors playing the pirates. Much has been made of the fact that the four men playing the pirates who take Phillips hostage are making their acting debuts here. And indeed, the film's almost documentary-like verisimilitude owes a lot to the fact that not only do these men play their parts completely convincingly, their onscreen presence never prompt our brains to ask that most distracting of questions, "Where have I seen this actor before?"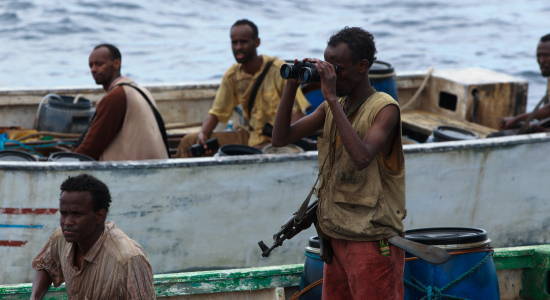 MINUS
That one out-of-focus shot. While it's true that the whip pans and handheld photography Greengrass uses here do give the film a less polished, more realistic texture, the illusion that we're watching "reality" and not a mere movie is destroyed by one crucial shot that's out of focus for several seconds. That it's slightly blurred is unforgivable because it's not a shot that required the skills of the world's most skilled  focus-puller...it's a simple medium shot of a man who is hardly moving. The shot jumps out precisely because it is the only one that's out of focus in the entire film, and worse, it's a depiction of one of the movie's most emotional scenes.
ADVERTISEMENT - CONTINUE READING BELOW
IN BRIEF: Though its subject matter isn't as instantly recognizable as the hunt for Osama bin Laden, Captain Phillips is right up there with Zero Dark Thirty as a supremely cinematic dramatization of true events.
RATING: 5 out of 5 spots.
Share this story with your friends!
---
Help us make Spot.ph better!
Take the short survey
Load More Stories