10 Fresh Tunes to Listen to This November
Music goodness by U2, Lady Gaga featuring R. Kelly, Oh Land, Greyhoundz, and more!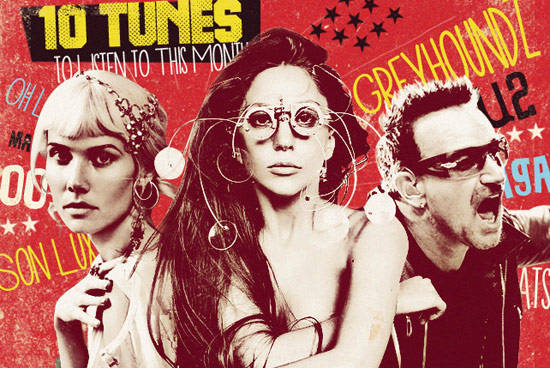 (SPOT.ph) This month, we bring you U2's latest piano-based rock release, Lady Gaga and R. Kelly's banging collab, Oh Land's LSS-inducing indie-pop single, Hoodlem's trippy track, and Son Lux's striking composition. Plus, indulge in OPM tracks by Greyhoundz with Loonie and Biboy Garcia, Maude, Slow Hello, Identikit, and Moonwlk. Happy listening!
Song: "Ordinary Love"
Artist: U2
The legendary Irish rock band is back with "Ordinary Love," new material for the Nelson Mandela biopic titled Mandela: Long Walk to Freedom. A snippet of the single was recently released as part of the movie trailer, and the short teaser is enough to make us want to hear more. From what we've heard, the piano-based rock track with Bono's signature falsetto is worth watching for.
Fun fact: The band is working on their 13th studio album, which is expected to drop early next year.
Song: "Ang Bagong Ako"
Artist: Greyhoundz feat. Loonie and Biboy Garcia
Greyhoundz prove their dedication to Pinoy rock with "Ang Bagong Ako," an in-your-face, heavy rock single featuring Loonie and Biboy Garcia. Reg Rubio and Loonie take charge of the vocals with verses that merge rock and hip hop.
Fun fact: The band describes itself as "a group of individuals who write and perform real music. Playing a fusion of rock, metal, hip hop, experimental, blues and juice."
Song: "Pyromaniac"
Artist: Oh Land
Danish singer-songwriter Oh Land's latest single from her new album, Wish Bone, is an addicting indie-pop tune held together by playful vocals and bubbly beats. We guarantee you'll be humming this ditty-with the occasional sing-along (that "woohoo" is infectious!)-in no time.
ADVERTISEMENT - CONTINUE READING BELOW
Fun fact: Oh Land's real name is Nanna Øland Fabricius.
Song: "Ride Your Car"
Artist: Maude
Terno band Maude continues to charm audiences with their pop-rock releases. Their latest, "Ride Your Car," is a feel-good single with catchy hooks and soothing vocals.
Fun fact: Luis Azcona, Dane Policarpio, Badong Rodriguez, and Glenn Calingasan make up Maude.
Song: "Do What U Want"
Artist: Lady Gaga feat. R. Kelly
Lady Gaga and R. Kelly's new collab is a pleasing electro-pop-R&B combo filled with gliding synths, snapping percussions, and banging bass. Top all that with clean vocals from both artists and you've got a club anthem.
CONTINUE READING BELOW
Recommended Videos
Fun fact: Lady Gaga's third studio album, ARTPOP, is set to come out this month.
Song: "You Know It's You"
Artist: Slow Hello
You'll fall deeper and deeper in love with Selena Salang's vocals with every listen. "You Know It's You" is a saccharine sweet, indie-pop treat from Slow Hello. Off the band's debut album, Audio Baby, the single will make a good companion during your senti holiday moments.
Fun fact: Among the band's influences are The Beatles, Death Cab for Cutie, Radiohead, and My Bloody Valentine.
Song: "Firing Line"
Artist: Hoodlem
"Firing Line" is such a beautiful, trippy song that's both calming and haunting. There's an unpredictable wave created by the fluctuating melodies and fading vocals that will leave you feeling vulnerable and entranced.
Fun fact: Hoodlem is a mystery act from Melbourne, Australia.
ADVERTISEMENT - CONTINUE READING BELOW
Song: "Weird Just Friends"
Artist: Identikit
"Weird Just Friends," off Out of the Floodways and Into Your Homes, is a sonic rock single with quick guitars, psychedelic synths, and spot-on female vocals. Enjoy the space-rock influence as you put this tune on loop.
Fun fact: Sandy Buladaco (vocals/lyrics), Joe De Jesus (guitars/noise), Manny Marinas (drums), Darrel Ballesteros (bass), and Beejay Esber (synths) form Identikit.
Song: "Lost It to Trying"
Artist: Son Lux
"Lost It to Trying" is grand in every aspect with its rock elements, choral vocals, complex instrumentation, and polarizing moods. The opening attacks you with teasing flutes, screeching synths, and dubstep hints before introducing dreamy vocals set against electro-rock harmonics.
Fun fact: Son Lux is Ryan Lott, a classically trained, post-rock, electronic, and alternative hip hop musician from New York.
Song: "Ole! Times Ten"
Artist: Moonwlk
We absolutely love our refreshing discovery. This electro, boy-girl-vocals single by Moonwlk makes us want to go on a road trip with this very song blasting out of our speakers. Layered synths and chant-like singing go perfectly together in "Ole! Times Ten."
Fun fact: Gabbi Buencamino (vocals) and Nicholas Lazaro (synths and vocals) form Moonwlk.
Share this story with your friends!
---
Help us make Spot.ph better!
Take the short survey
Load More Stories