MOVIE REVIEW: Blue Bustamante
In this Cinema One Original, a Filipino OFW ends up playing a superhero in a Japanese TV show.
(SPOT.ph) From its poster alone, Blue Bustamante should attract fans of super sentai (Japanese TV superheroes) and even most kids who grew up watching Bioman or Power Rangers. A smart period piece that firmly situates itself in the sentai subculture, the film addresses fan love, as well as problems of the diaspora. It manages to talk about the Filipino family and the struggles of the OFW while also prioritizing its sense of fun and playfulness.

Joem Bascon plays George Bustamante, an engineer who goes to Japan so that he can support his family. He loses his job there. He cannot bring himself to go back home or tell his family the sad news. However, in a stroke of luck, his best friend Roger (played brilliantly by Jun Sabayton) gets him cast as the Blue character in a super sentai show.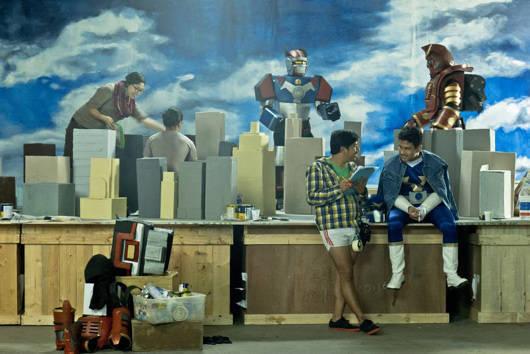 ADVERTISEMENT - CONTINUE READING BELOW
Roger (Jun Sabayton) and George (Joem Bascon)
This leads to George's adventures as a stuntman. He bungles the Japanese language and flails his way through action sequences. All the while, he has to hide what he is doing from his family. After all, he moved to Japan to become an engineer, not to dress up in a silly costume and pretend to be a superhero. Meanwhile, his son starts watching the show on TV.

The film finds a tone that speaks to viewers and draws on the nostalgia for super sentai. It features numerous gags that serve as knowing nods to its target audience. Also, you get the sense that the filmmakers love their material and want to have fun. As a result, even seemingly throwaway gags (like one character who has the power to disappear) become things to look forward to in the movie.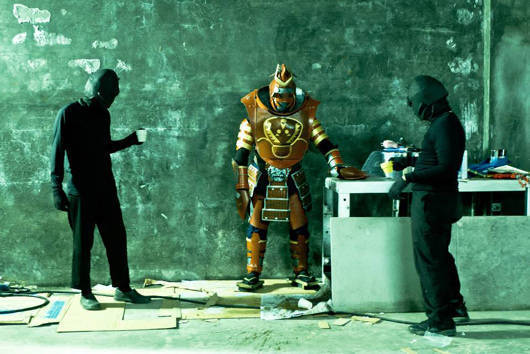 ADVERTISEMENT - CONTINUE READING BELOW
The film offers a behind-the-scenes look at the making of a super sentai TV show
Where it stumbles at times is when the humor relies on smart repartee. While Bascon hits some of the emotional points towards the end of the film, he seems to struggle with the humor that comes from the dialogue. Sabayton excels at this, and he seems to speak in a more natural manner. Bascon nails the comedic moments when things are lost in translation. But bouncing off of Sabayton, his character needed more snappiness, either in the script or the delivery.

This is a small quibble when taken in the larger context of the film. There are a lot of joyful moments-the first time George puts on the suit, the action sequences, an incredibly funny slow-mo sequence at a coffee shop, and many of the latter scenes involving George's son and his friends.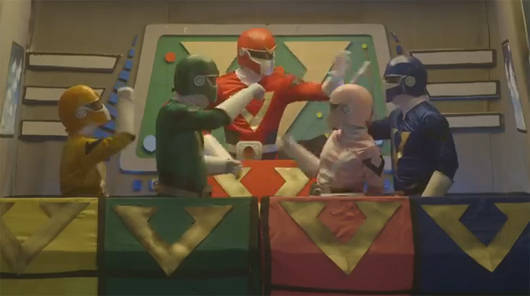 ADVERTISEMENT - CONTINUE READING BELOW
Fans of Bioman might also appreciate Blue Bustamante for having a similar look
The movie actually takes the OFW situation seriously, but uses fun and nostalgia to raise the issue, without making it too heavy. The pitfall when dealing with a major social issue is to fixate on it and beat viewers over the head with it. Here, we get a number of scenes that explore the sadness of being apart from family, the difficulties of being a father abroad, and the general loneliness of being an OFW.

It could be argued that the film needed to illustrate this more. There were other hefty social and emotional issues that were introduced or hinted at that could have been further explored. As it is, there were plot elements that were left hanging or needed to be fleshed out more. With the film clocking in at around 90 minutes, a longer cut that delved more into the drama of the situation might have made this a stronger film.
ADVERTISEMENT - CONTINUE READING BELOW

While it's far from perfect, this film is incredibly fun, and it should get a wider release so more people can enjoy it.
Rating: •••• 4 out of 5 spots.

Blue Bustamante was featured in the Cinema One Originals Digital Film Festival, which ran from November 11 to 19.
CONTINUE READING BELOW
Recommended Videos
Share this story with your friends!
---
Help us make Spot.ph better!
Take the short survey
Load More Stories