10 Fresh Tunes to Listen to This December
Hear the latest from The National, Solange, Lily Allen, populardays, and more!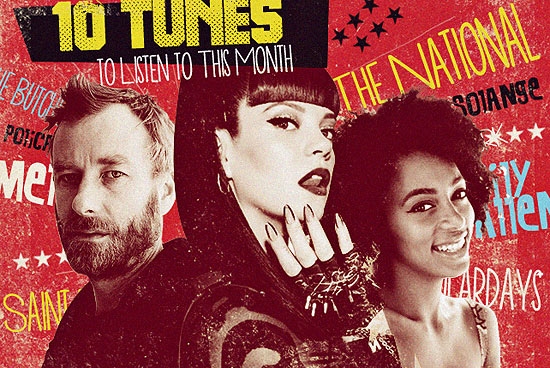 (SPOT.ph) Conclude 2013 with a fresh playlist! We bring you The National's folk-rock contribution to the Hunger Games: Catching Fire soundtrack, Solange's soulful R&B single, Lily Allen's clever statement track, Poliça's hypnotic release, and newbie Saint Raymond's indie-pop anthem. Plus, listen to local crowd-pleasers by populardays, The ButcherCons, Imelda, Runway Crimes, and Floating Sound Nation.
ADVERTISEMENT - CONTINUE READING BELOW
Song: "Lean"
Artist: The National
The National joins other music heavyweights in the Hunger Games: Catching Fire soundtrack. "Lean" is a soothing, folk-rock composition with gentle guitars and gloomy vocals. The grandeur of the track is obviously in its simplicity.
Fun fact: The National is set to perform live in Manila on February 20, 2014 as part of Febfest 2014.
Song: "December Song"
Artist: populardays
populardays releases "December Song" as a teaser for their forthcoming debut album to drop early in 2014. The single, with its sugary melodies and dreamy vocal styling, is beyond inviting, making us want to hear more from the local act.
Fun fact: The track was written by Erick Lucas back in 2001.
Song: "Cash In"
Artist: Solange
R&B songstress Solange's "Cash In" is off Saint Heron, a compilation of experimental R&B tracks recently released by her very own record label. The soulful single features a slow and steady buildup held together by Solange's passionate singing. Watch for the chilling and sexy backup vocals, too.
Fun fact: Solange is Beyoncé's younger sister.
ADVERTISEMENT - CONTINUE READING BELOW
Song: "Mary Wood"
Artist: The ButcherCons
The ButcherCons recently released a music video for their single "Mary Wood." There's so much punk energy in the track that you can't help but blast it on your speakers. Intense guitar riffs, forceful drums, and high-energy vocals will have you listening again and again.
Fun fact: "Mary Wood" is off the Bang Bang Alley soundtrack.
Song: "Hard Out Here"
Artist: Lily Allen
British artist Lily Allen is out with another biting and catchy single titled "Hard Out Here," which pokes fun at sexism in the music industry. The music video, featuring lots of twerking a la Miley Cyrus and reminiscent of Robin Thicke's "Blurred Lines," is just as thought-provoking as the lyrics ("Forget your balls and grow a pair of tits / It's hard out here for a bitch"). The autotune in the chorus works, too!
Fun fact: Allen last released an album in 2009 titled It's Not Me, It's You.
ADVERTISEMENT - CONTINUE READING BELOW
Song: "Great Wall"
Artist: Imelda
Imelda does rock and roll right in "Great Wall." Influenced by rock legends Led Zeppelin and Jimi Hendrix (to name a few), the local band dishes out heavy and groovy riffs with such raw vocals in this track.
Fun fact: Jam Pascual (vocals), Miguel Feria (guitar), Vincci Santiago (guitar), Diego Manzano (bass/back vocals), and Nash Ignacio (drums/percussion) make up Imelda.
Song: "Chain My Name"
Artist: Poliça
American synthpop band Poliça comes out with a more upbeat single this time. "Chain My Name" highlights non-stop synths and psychedelic beats supported by Channy Leaneagh's crooning. We suggest you pay attention to the lyrics though, as it offers a stark contrast to the song's dance-y beats.
Fun fact: The single is off Poliça's new album, Shulamith.
ADVERTISEMENT - CONTINUE READING BELOW
Song: "Through Statues"
Artist: Runway Crimes
Runway Crime's brand of alternative rock is so lush there's no weak spot in their single "Through Statues." Within the first minute, the track picks up, and you won't be able to get the guitars out of your head.
Fun fact: Among the band's influences are Deftones, Death Cab for Cutie, Toe, Taking Back Sunday, and Minus the Bear.
Song: "Young Blood"
Artist: Saint Raymond
Saint Raymond is a fresh, promising indie musician with a knack for catchy melodies. "Young Blood" combines groovy guitars, jangly elements, and accented vocals creating a perfect indie-pop anthem. Be sure to keep an eye out for this new artist.
Fun fact: Saint Raymond is Callum Burrows, a singer-songwriter from Nottingham, UK.
Recommended Videos
Load More Stories