10 Best Benedict Cumberbatch Moments
How do we love Benedict Cumberbatch? Let us count the ways.
(SPOT.ph) Benedict Cumberbatch proves that smart is the new sexy. The English actor has a knack for playing brilliant men, from Stephen Hawking to Sherlock Holmes to Julian Assange to Alan Turing in his upcoming film. Benedict became a household name with his portrayal of a modern-day Sherlock in the TV series, and cemented his status as one to watch with his role as John Harrison/Khan in Star Trek Into Darkness (2013). More recently, he played the dragon Smaug in The Hobbit: The Desolation of Smaug and he's also appearing in this year's Oscar contenders-12 Years a Slave and August: Osage County.
He's certainly one of the most in-demand actors working right now and has attracted a massive fan base. In interviews, you can see why he portrays geniuses so convincingly. He's smart and witty, with a cheeky sense of humor. Check out our clips of Benedict Cumberbatch's most charming moments.
10. The neutron cream prank.
Simon Pegg and Chris Pine tricked their Star Trek cast mates into dabbing "neutron cream" on their faces to prevent "neutron damage." The hapless Benedict, as well as John Cho and Karl Urban, walked around with spots of neutron cream on their faces. When Benedict is told that he's been had (past the one minute mark), his reaction is priceless!
9. Yippie-Yai-Yay!
While driving laps around a track during his guest stint on Top Gear, he quoted Die Hard to hilarious effect.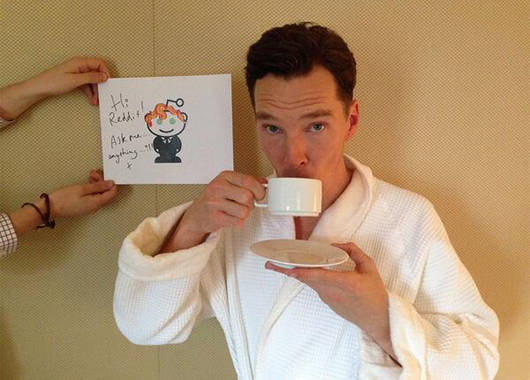 ADVERTISEMENT - CONTINUE READING BELOW
8. Cheek bone polishing party.
Benedict did an Ask Me Anything session for Reddit. A fan asked, "Do you, Matt Smith [Dr. Who], and Tom Hiddleston have cheek bone polishing parties?" His answer made all our fan fiction fantasies come true: "We like nothing better than buffing our Zygoma. And imagining a horny time traveling long overcoat purple scarf wearing super sleuth nordic legend fuck fantasy. Get to work on that, internet." Needless to say, fans quickly sent artworks of the three polishing each other's cheek bones.
7. Sexy bath.
The actor bulked up for his role in Star Trek and he was supposed to have a shower scene, but director J.J. Abrams decided to cut it. Thankfully, Conan leaked the video in his show. Here's a clip of Benedict's shower scene with a porn movie soundtrack.
CONTINUE READING BELOW
Recommended Videos
6. Spoiler alert.
Sherlock stars Benedict Cumberbatch and Martin Freeman recorded messages for their fans in Comic-Con. Benedict delivered a funny message, pretending to be confused about the project he was promoting. He also let slip the secret of how Sherlock survived his fall in last season's finale-a mind-boggling plot twist that fans are eagerly anticipating in the upcoming season. Catch Benedict's spoiler alert, complete with stuffed monkey illustration, in this clip.
5. Meet the otter.
Benedict has a lot of sass and you'll see it in his banter with David Letterman. He was a good sport about the memes comparing him to an otter and even made tongue-in-cheek comments about it. When he was prodded about the identity of the John Harrison character in Star Trek, he gave nothing away and handled it like a pro.
ADVERTISEMENT - CONTINUE READING BELOW
4. Chewbacca flashback.
Benedict is a master of doing impressions. He's also a big fan of Harrison Ford. So when he sat next to his idol on The Graham Norton Show, he couldn't help doing his best Chewbacca, which stunned Ford, in a good way.
3. Alan Rickman, is that you?
He also does a spot-on Alan Rickman. In fact, he did the voice work for Alan Rickman in The Simpsons. In this clip, he does his version of the thespian singing "Candle in the Wind." Judge it for yourself.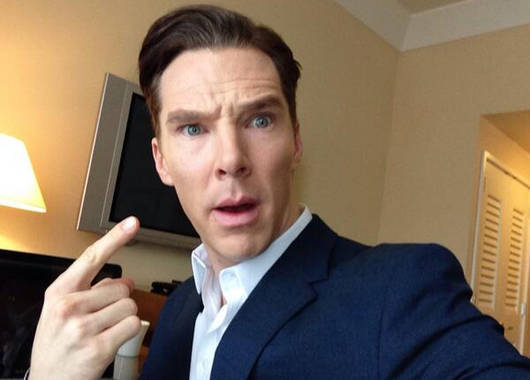 2. Ask Smaug.
Benedict took over the Twitter account for The Hobbit and sat down for a Q&A session dubbed #AskSmaug. Here are some snippets. Read the transcript here.
@Cholesteroldoc: What's your favorite pie? Or are you a cake loving dragon?
BC: Goat pie or dwarf cake.

@PondsAt221B: What kind of music do you think Smaug would enjoy?
BC: Liberace. A little bit of Burt Bacharach. And Enya.

@fondueatspeedys: would you rather breathe fire or be able to fly?
BC: Fly. Fly. Fly.And maybe fart fire while flying. To fly faster.
ADVERTISEMENT - CONTINUE READING BELOW
1. How to do an R. Kelly song
During Benedict's guest appearance on Jimmy Kimmel Live, he did a reading of R. Kelly's song "Genius" and managed to outdo R. Kelly. What can we say? We love you, Benedict! Promise!
Share this story with your friends!
---
Help us make Spot.ph better!
Take the short survey
Load More Stories