10 Fresh Tunes to Listen to This January
New year, new tunes! Hear the latest from Beyoncé, José González, Armi Millare, and more.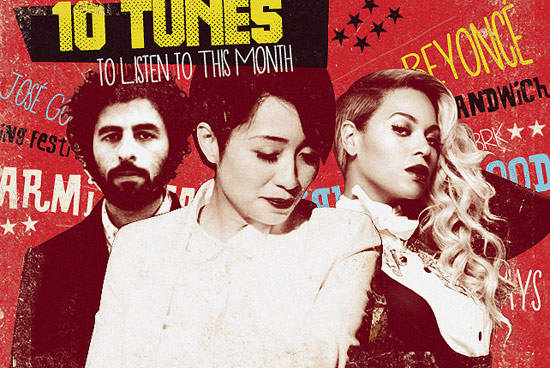 (SPOT.ph) Begin the year with fresh music picks. Here, we bring you Beyoncé's radio-friendly single, The Neighbourhood's surprising instrumentals, José González's reflective track, Miley Cyrus' stripped-down version of "Adore You," and SBTRKT's rich electrosoul collab with Jessie Ware, Sampha, and Tic. Plus, see Sandwich's newest music video, and listen to new releases from Armi Millare, Giniling Festival, Autotelic, and Idioms and Dispositions.
Song: "XO"
Artist: Beyoncé
"XO," off Beyoncé's self-titled surprise album, is an absolute crowd pleaser. The sugary sweet pop anthem is entrancing, getting you high on steady beats and Bey's smooth and subdued vocals. Watch the video, too, for feel-good visuals.
Fun fact: Beyoncé, the pop diva's self-titled stealth release featuring 14 songs and 17 videos, dropped on December 13, 2013. It features collaborations with Jay-Z, Frank Ocean, and Drake, to name a few.
Song: "New Romancer"
Artist: Sandwich
Local rock band Sandwich has released a new music video for their single "New Romancer." The track, featuring Myrene Academia and Mong Alcaraz's vocals, is refreshing. We can't resist the irresistible pop feel of this one.
Fun fact: The "New Romancer" music video is directed by Treb Monteras III.
Song: "Unfair"
Artist: The Neighbourhood
Here's something different from The Neighbourhood. In "Unfair," they go wordless. Clocking in at just over two-and-a-half minutes, the track starts off gloomy with dark beats and then creates a warmer vibe with light synths.
Fun fact: "Unfair," from the California indie band's upcoming LP titled #000000 & #FFFFFF, was released on Christmas day as a treat for their fans.
ADVERTISEMENT - CONTINUE READING BELOW
Song: "Yolanda"
Artist: Armi Millare
Up Dharma Down's Armi Millare recently shared a poignant composition titled "Yolanda." Perhaps a way to remember those we lost to the super typhoon, this track needs no words.
Fun fact: The female musician is very active in helping Yolanda survivors. She recently took part in a feeding drive led by actor Ping Medina.
Song: "Stay Alive"
Artist: José González
Swedish singer-songwriter José González sings "Stay Alive" for the Ben Stiller film The Secret Life of Walter Mitty. The track is delicate, from the reflective lyrics to González's unassuming vocals that complement the piano.
CONTINUE READING BELOW
Recommended Videos
Fun fact: José González will be in the Philippines for the Malasimbo Music & Arts Festival, which runs from February 27 to March 3, 2014.
Song: "Umaksyon Ka Na"
Artist: Giniling Festival
The guys of Giniling Festival waste no time in "Umaksyon Ka Na," an energetic number with crazy riffs and explosive drums. Don't let the music keep you from digesting the socially critical lyrics this band is also known for, though. They do more than just entertain.
Fun fact: The band's drummer Marco Ho is also known as Bogart the Explorer.
Song: "Adore You" (Acoustic)
Artist: Miley Cyrus
The controversial pop star is once again surprising everyone, this time with an acoustic version of her latest single, "Adore You." The emotionally charged track showcases Miley Cyrus's vocals, reminding us she really can sing.
Fun fact: The sexy music video for the non-acoustic version of the single premiered on VEVO on December 26, 2013 and currently has more than 36 million views.
ADVERTISEMENT - CONTINUE READING BELOW
Song: "Balik"
Artist: Autotelic
Electropop act Autotelic aims to rouse your emotions with this hypnotic single. It starts with subtle yet catchy electronic beats and slowly but surely progresses into a dance-y anthem. Like these guys are saying, you will want to dance, too.
Fun fact: Autotelic is composed of Josh Villena (vocals and guitar), Neil Tin (guitar), Eric Tubon (keyboard), Pabs Vargas (bass), and Gep Macadaeg (drums).
Song: "r u n a w a y"
Artist: SBTRKT featuring Jessie Ware, Sampha, and Tic
SBTRKT delighted the audience during his set at the Young Turks New Year's Eve party in Tulum, Mexico when he played "r u n a w a y," an unreleased collaboration from two years ago. The lush, electrosoul tune features Jessie Ware, Sampha, and Tic.
Fun fact: SBTRKT (pronounced "subtract") is Aaron Jerome of UK.
Song: "Just Like an Angel"
Artist: Idioms and Dispositions
"Just Like an Angel" is delightful in many aspects. Its catchy melodies, charming vocals, and overall simplicity do not demand much from the listener. It's so easy to sit back and enjoy this track.
Fun fact: Among the band's influences are Two Door Cinema Club, Phoenix, The Cure, and Tokyo Police Club.
Share this story with your friends!
---
Help us make Spot.ph better!
Take the short survey
Load More Stories