15 Minutes with Capital Cities
Indie pop band Capital Cities on their music videos, jingle writing, and upcoming shows in Manila.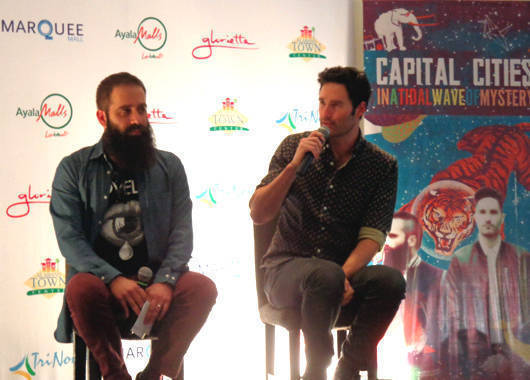 (SPOT.ph) Ryan Merchant and Sebu Simonian initially met on Craigslist in 2008 and worked as jingle writers until they formed a band, Capital Cities, in 2010. Since then the Los Angeles indie pop duo has released the digital singles "Safe and Sound," "Patience Got Us Nowhere Fast," and "I Sold My Bed, But Not My Stereo," which were compiled in a self-released EP. The band's debut album, In a Tidal Wave of Mystery, was released on June 2013.

Their hit single "Safe and Sound" gained a lot of Internet exposure, earning them the top spot in the Billboard chart for Alternative and German singles chart in 2013. The music video for the song won Best in Visual Effects at the MTV 2013 Video Music Awards. Just recently, their latest single, "Kangaroo Court," also topped the US Alternative Songs list.

Capital Cities will be performing in Ayala Malls over the weekend: January 11, 4:00 p.m. at Alabang Town Center and 7:00 p.m. at Glorietta, January 12, 3:00 p.m. at Marquee Mall and 7:00 p.m. at Trinoma. On Friday, they did a meet-and-greet with the press. Here are some of the things they shared:

On their expectations of Manila fans.
Ryan: "Based on the action that we see on Twitter, I think that the Philippine shows are probably going to be the best moments we're going to experience because we do get a lot of feedback from our fans out here, so thank you for your support."

On their inspiration for making dream-like music videos like "Safe and Sound" and "Kangaroo Court."
Ryan: "As far as music videos are concerned, whenever we write songs and when we release songs, we like to create a little world around the song so that people can engage with the music in a more surreal way. They're not just listening to music but we're actually bringing in visual components that lets them, I guess, connect more with the music in the same way as when I was five years old, the first music video and song that I connected with was 'Thriller' by Michael Jackson. That video is so iconic and it really made me become obsessed with music because of the visuals and because of the music. With 'Safe and Sound,' we wanted to have something that told the story of the song and visually represented that. I think it's important to build a world around the song in order to give fans a more surreal experience of it."
ADVERTISEMENT - CONTINUE READING BELOW

On their involvement in their music videos.
Sebu: "We're definitely very much involved in the creation of the music videos. 'Safe and Sound' actually revolved around previous attempts by us to make a music video on our own. The first incarnation of that video was Ryan and I basically pulled footage from the Internet of dancing and also war footage and kind of editing it together into this beautiful kind of chronological history of music. But then when we signed to Capitol Records and Universal, we had more of a budget so we decided to make a music video from scratch that included us dancing and all that stuff, and it became a mash-up of cultures and dancing cultures from the course of the last 100 years.
CONTINUE READING BELOW
Recommended Videos

"With 'Kangaroo Court,' that was definitely a vision and idea that Ryan and I came up with together. We co-directed that video with another director named Carlos Lopez Estrada. That video was exciting because we got to dress up in animal costumes and makeup. Ryan's was a zebra, I am a lion. If you haven't seen the video, I'm not going to spoil it for you but, you know, nature takes its course. We try to make statements with our videos and we do connect it with the song, of course, to reflect the idea of the song."

On the mystery behind Sebu's beard.
Sebu: "The mystery behind the beard are my genes. Genes are a mystery."

On the best gig they've played so far.
Ryan: "It's very hard to pinpoint one single gig but, I think Sebu mentioned before that we went to Mexico City for the first time recently. Our song had gone number one there on iTunes and on the radio so the crowds were really anticipating our performance. That was a very memorable performance. It was the largest gig we had ever done. We played in front of 50,000 people at a festival, and our show is very interactive and we try to get the audience to do this little dance at the end of our show. We have this section where we ask people to take off their clothing and wave it in the air. The crowd starting waving it. It was crazy seeing tens of thousands of people doing what you told them to do."
ADVERTISEMENT - CONTINUE READING BELOW

On the fans' versions of their songs.
Ryan: "We're truly flattered when we see that. Most importantly, we post them when we see what we think is talent. Some of these postings and covers are by truly talented artists that interpret our music in a very different way than we had necessarily imagined and that's why we want to share that."

On the making of "Safe and Sound."
Ryan: "The shoot itself only took one day. It was pretty quick. But the preparation for the video took a little while. We do a lot of dancing so we actually took dance lessons with this pretty well-known choreographer named Mandy Moore. The two of us were in this little studio everyday for probably two weeks, just learning different styles: 90s dancing, 70s dancing, Gene Kelly-era dancing. Sebu hurt his leg during the process but managed to take painkillers on the day of the shoot."

Sebu: "All the dancing you see me doing is on an injured Achilles heel. That's how good I am."

On jingle writing.
Ryan: "We worked on music for commercials for about 2 and a half years straight non-stop so we were constantly writing everyday and literally had three or four hundred ideas. Music is music so when you're constantly writing and creating, you're practicing and coming up with ideas. Most of it might be bad, but every once in a while you'll come up with something really interesting and catchy. The more you write, the more opportunities you have to come up with good stuff. As we were coming up with ideas through the years, some of it that didn't get used in commercials ended up in libraries or in the back of our minds, so we had a lot of material to work with."
ADVERTISEMENT - CONTINUE READING BELOW

On the song "Farrah Fawcett Hair."
Sebu: "We both came of age in the '80s so that influenced our thinking a lot. That song is about things in life that are undeniably good. We first had a version that we were playing live, the two of us doing most of the vocals for it. When we were producing it, it became the most experimental song in the album. It's the one song where we were like, let's just throw away any rules as far as pop song writing is concerned and just go crazy. So we have a gospel singer that comes in on the chorus. We got Andre 3000 from Outkast to do a verse on it. We have this guy named Frank Tavares who is this voice you hear on National Public Radio in the United States. He has this iconic voice and we were able to hire him to do voice-overs. So it was this song where we break all the rules and do whatever we want."

On their upcoming shows in Manila.
Ryan: "We're very much looking forward to playing these four shows in two days at the Ayala Malls. I would want to say, stretch before you come to the show and have something that you can take off and wave in the air. Have a layer-scarf, bandanna, something."       


Share this story with your friends!
---
Help us make Spot.ph better!
Take the short survey
Load More Stories