MOVIE REVIEW: The Wolf of Wall Street
This cautionary tale about the art of excess and greed is proof that Scorsese is truly one of the living cornerstones of cinematic storytelling.
(SPOT.ph) Unapologetic, feral, and hilarious, Martin Scorsese's The Wolf of Wall Street comes at you like a hungry canine. This unchained cinematic experience snarls, bites, and claws-and you'll love every second of it.
At first glance, Wolf is a blunt and candid look into the debauchery that defines every corner of Wall Street. But it is also a foray into the heart of stock market capitalism through the wildly solipsistic journey of a man whose audacity brought him to the deep trenches of money and power, but was never given an "off" switch. With its frenetic pace, slyly written script, and masterful acting performances, it's hard to deny that Wolf will be celebrated as a landmark film for years to come.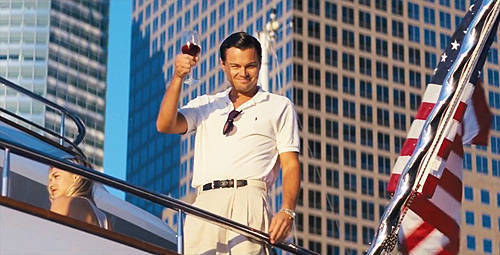 Cheers, old sport. (Oops, wrong movie!)
Brilliant Writing
With a script peppered with so much dark irony, you will marvel at how the legendary director maintains the indecency of the characters without destroying the exuberance and, most importantly, the humor that defines the film.
ADVERTISEMENT - CONTINUE READING BELOW
The story is based on the autobiography of Jordan Belfort (played in the film by Leonardo DiCapri0), a wisecracking broker who made a staggering amount of wealth by selling penny stocks. Wolf chronicles his dirty romp to the top of the money game and his inevitable downward spiral. The genius of the plot is found in the cinematic device that has been ubiquitous to Scorsese films over the years: the strong voice of the protagonist that can be heard throughout the entire film because we do see everything from his perspective. Scorsese wisely allows Belfort to narrate the events as they happen, breaking the fourth wall and addressing the camera from time to time. This is classic Scorsese; the master storyteller lets you in on the action as he infects you with the euphoric life within the suits and glamour of stock market trade-and then laughs at it with you.
CONTINUE READING BELOW
Recommended Videos
Wolf benefits from a sharply detailed script written by the same genius behind HBO classics like Boardwalk Empire and The Sopranos, Terence Winter. Dipping the audience into the corrupt, number-driven machinations of Wall Street, Winter's script carefully skirts alienating the audience by refusing to depend on industry jargon and stock market lingo. Instead, it shows-with remarkable precision-the "life" behind the trade by gleefully depicting scenes of manipulative marketing. We see Belfort and company lubricating their victims with their colorful words and carefully placed intonations, and we see the riotous lavishness of Belfort's sex, drugs, and rock 'n' roll lifestyle. Sex and drugs are at an overwhelming excess, while rock 'n' roll is replaced by financial maneuverings.
ADVERTISEMENT - CONTINUE READING BELOW
From his naïve beginnings as a start-up broker under the wing of one Mark Hannah (played by Matthew MaConaughey, who masterfully sets the tone of the film early on), Belfort starts to adapt and improvise, selling nightmare stocks as golden tickets to instant wealth. His main partner in business is Donnie Azoff (played with smoking tenacity by Jonah Hill), a perplexing and hungry lion who marries and fornicates with his cousin. And together, they go from a bunch of small-time cons stuck in a boiler room to running a financial giant, selling IPOs and consuming drugs, women, and everything they can get their filthy hands on. The only thing that remains constant is that NOTHING is actually legal.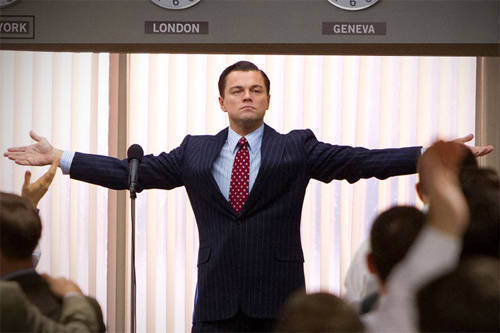 I'm the King of the World! (Damn, wrong movie again!)
A Brilliant, One-man Show
Building upon a powerful script, DiCaprio's Jordan Belfort takes center stage and goes full blast. DiCaprio, at the ripe age of 39, perhaps has given the performance of his career here. DiCaprio's swaggering, partying, drug-consuming tour de force performance is mesmerizing and infectiously funny. What has plagued his career, despite his undeniable talent, is the fact that the audience still sees DiCarpio on the screen, not the character that he is fleshing out.  But this time, DiCaprio provides his strongest acting performance by being Belfort, instead of merely imitating him.
ADVERTISEMENT - CONTINUE READING BELOW
Master of His Craft
Martin Scorsese has not lost the furious zest that has made him a legend in the film industry. Despite the length, the movie doesn't make you wish it were shorter. It does not beg you to hold on but instead, it attaches itself on you and never releases its grip. The execution of Scorcese's vision through his soaring camera work-with the help of his long-time editor Thelma Schoonmaker-is a testament to his mastery of this visual art.
From the first-person narrative breaking of the fourth wall to the cleverly spot-on soundtrack to the self-hating greatness, Wolf is a marvelous attempt to film a tragic tale and translate it with vulgar brilliance. And to say that Martin Scorsese perfectly nails it is a gross, insensitive understatement.
RATING: ••••• 5 out of 5 spots
Share this story with your friends!
---
Help us make Spot.ph better!
Take the short survey
Load More Stories